As Batman fans, you all finally know the wait is over. On June 22 Warner Bros. and DC released the highly anticipated feature-length animated film Batman: The Long Halloween, Part 1. Directed by Chris Palmer, Batman: The Long Halloween stars the voices of Jensen Ackles (Batman), the late Naya Rivera (Catwoman), Josh Duhamel (Harvey Dent), and Billy Burke (James Gordon). Based on the DC Comics storyline, The Long Halloween, takes us to Gotham City where a brutal murder on Halloween brings together Batman, James Gordan, and Harvey Dent as they try to figure out who done it. But after more murders happen on Thanksgiving and Christmas they soon learn that solving this crime will be harder than they think.
Batman: The Long Halloween, Part 1 Review
First I would like to say thanks to Warner Bros. Animation and DC for providing me with a copy of Batman: The Long Halloween to review. From start to finish this animated film has you on the edge of your seat. When the film starts you see right away how it got its R rating, but that is why it is so good. Right away you learn someone (The Holiday Killer) is killing criminals of Gotham but it isn't the crime boss you would expect. What really makes these killing interesting is that they only take place on holidays. Not only are these killings putting a strain on Batman, Commissioner Gordon, and District Attorney Harvey Dent, it is also bringing tension to the Gotham crime world and even make some criminals jealous.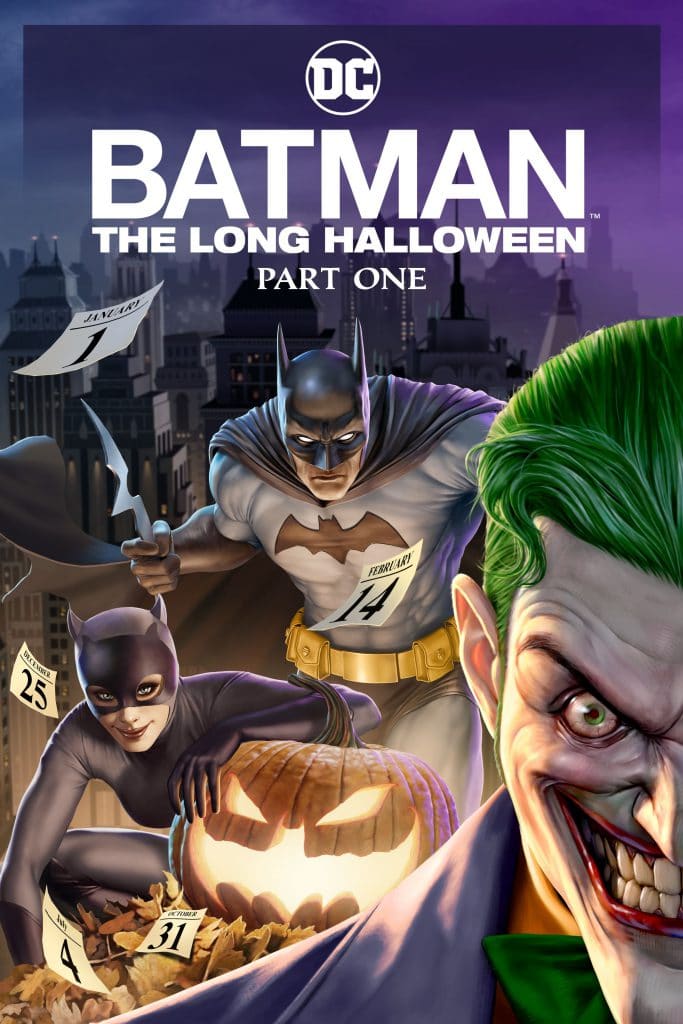 As a DC fan, this is what you want your animated films to be like, dark and full of action. Batman The Long Halloween, Part One has it all; murder, deception, love, and betrayal. Just when you think you know who the Holiday Killer is, you find out very fast you are wrong. You also get to see some of Batman's nemeses as well like the Joker, Calendar Man, Catwoman, and a few other surprises. Oh yeah and before I forget, make sure to watch all the way to the end, there might be a surprise for you in the credits.
My Final Thoughts
Batman: The Long Halloween is a much watch. If you are a fan of the comic story you will see it follows it quite well. The animation is amazing. They did a great job giving you kind of a classic Batman series look mixed with the art style Jeph Loeb and Tim Sales 1996 comic series. The storyline was great and fast pace. There was plenty of action and some of the murders will leave you thinking "Oh My God!"
The cast was also amazing in this film. Jensen Ackles (Batman) Josh Duhamel (Harvey Dent), Billy Burke (James Gordon), and the rest of the all-star cast did great not only bringing the characters to life but also making you feel their emotional battles as well. Also, we can not forget about the late Naya Rivera. Sadly in what ends up being one of her last screen roles, Rivera knocked the Catwoman out of the park. She and Ackles were wonderful together in this film. So do yourself a favor and grab Batman: The Long Halloween, Part One, and watch it! Also, the best thing is that you will not have to wait long for part two. It will be released on Digital July 27, and on Blu-Ray on August 10.
We Want To Hear From You
What are your thoughts on the Batman: The Long Halloween, Part One animated film? What was the most surprising moment for you? Also, are you excited about Part Two heading our way in July / August? That Hashtag Show wants to hear from you!
You can tell us your thoughts by leaving a comment below or hitting me up at starwarsnerd574. You can also join us at the DC Fanatics Facebook page to chat about all things DC. Also, make sure to stay up to date on all comic and collectibles news by following us at ThatHashtagShow.com.