Breaking word from The Hollywood Reporter is that we have yet another cast member who has joined the cast of The Mandalorian.  Joining the likes of Pedro Pascal, Carl Weathers, and Gina Carano is none other than the gravely one himself – Nick Nolte!
The talent they are adding to this show is both impressive and clicky.  This is one of those cast lists where each actor/actress is so type-cast that either this show will be a total joke and two dimensional, or it will be one of the greatest jobs of casting in TV history.
Nick Nolte has a long and distinguished resume spanning 45+ years.  Some of his classic roles North Dallas Forty, 48 Hours, Down and Out in Beverly Hills, Cape Fear, and many others.  Nick has not aged well, and when Hollywood wants to draw his age out even more, he looks positively ancient.  Think of a Santa Claus that will kick your ass while verbally thrashing you.  Also the years have taken a rough voice and transformed it into pure gravel and grit.
Who Could He Play?
While there is no word on his role, as is the case with all but Pascal, Nick's age poses some interesting possibilities.  The role will not be action based which is obvious due to his age.  This leaves a couple of possibilities.  The first possibility would be some type of crime boss or fringe baddie who the Mandalorian either works for or is working against.  Nick's scenes of rage through out his career are convincing to the say the least.
Another possibility would be that he is a Mandalorian of some sort.  Given the age, he could be an elder Mandalorian reaching back to the Clone War era and the fall of Mandalore.  He could be the key to getting our protagonist on the track to restore Mandalore and its people with his stories of the Clone Wars.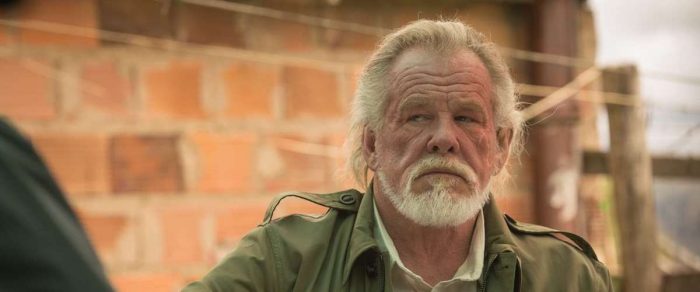 Then again he could be cast simply for psychotic, ranting fun!  This is a wonderful add to the cast.  In a little less than a year we may finally find out everyone's roles.  If you trust the names Favreau and Filoni, this show feels to be shaping up to be pure magic.