Ready to get spooky? You can start planning your month-long Halloween watch early. Freeform just revealed their official 31 Nights of Halloween lineup!
This year actually marks the 25th anniversary of 31 Nights of Halloween.
"Over the last 25 years, our viewers have grown up with '31 Nights of Halloween' as a time-honored tradition to watch Halloween favorites and connect with their loved ones during this special time of the season," said Simran Sethi, EVP of Programming and Content Strategy at ABC Entertainment and Freeform. "There's something sentimental about these holiday classics that brings a real sense of comfort and nostalgia to people, and we look forward to celebrating this anniversary with another spirited lineup."
The marathon of spooky flicks runs from October 1 – 31. You'll catch fan favorites like Hocus Pocus, Tim Burton's The Nightmare Before Christmas, The Addams Family, and more. This year will also mark the Freeform premieres of Encanto, Zombies, and Zombies 2.
Check out the full lineup for 31 Nights of Halloween 2023 below.
PS: Wondering what the most overplayed movies are this season? Hocus Pocus and Hotel Transylvania are tied at 18 showings, the most any film appears during 31 Nights of Halloween this October. But the lineup also features an additional 8 showings of Hotel Transylvania 3: Summer Vacation. So if you turn on Freeform during October, you're most likely to see Drac, Mavis, and the gang.
31 Nights of Halloween Lineup
Sunday, Oct. 1
7:00 a.m. EDT/PDT – "Mrs. Doubtfire"
10:10 a.m. EDT/PDT – "Scared Shrekless"
10:40 a.m. EDT/PDT – "Halloweentown"
12:45 p.m. EDT/PDT – "Goosebumps 2: Haunted Halloween"
2:50 p.m. EDT/PDT – "The Haunted Mansion" (2003)
4:55 p.m. EDT/PDT – "Tim Burton's The Nightmare Before Christmas"
6:35 p.m. EDT/PDT – "Hocus Pocus"
8:45 p.m. EDT/PDT – "Hotel Transylvania"
10:50 p.m. EDT/ PDT – "Hotel Transylvania 3: Summer Vacation"
1:00 a.m. EDT/PDT – "Decorating Disney: Halloween Magic"
Monday, Oct. 2
10:30 a.m. EDT/PDT – "The Simpsons: Treehouse of Horror"
11:00 a.m. EDT/PDT – "Goosebumps 2: Haunted Halloween"
1:00 p.m. EDT/PDT – "Twitches"
3:00 p.m. EDT/PDT – "Twitches Too"
5:00 p.m. EDT/PDT – "Shrek Forever After"
7:00 p.m. EDT/PDT – "Hotel Transylvania"
9:00 p.m. EDT/PDT – "Hotel Transylvania 3: Summer Vacation"
12:00-2:00 a.m EDT/PDT – "The Simpsons: Treehouse of Horror " episodes
Tuesday, Oct. 3
10:30 a.m. EDT/PDT – "Decorating Disney: Halloween Magic"
11:30 a.m. EDT/PDT – "Twilight: Special Edition"
2:30 p.m. EDT/PDT – "The Twilight Saga: New Moon"
5:40 p.m. EDT/PDT – "Hocus Pocus"
7:50 p.m. EDT/PDT – "Cruella"
12:00-2:00 a.m EDT/PDT – "The Simpsons: Treehouse of Horror" episodes
Wednesday, Oct. 4
10:30 a.m. EDT/PDT – "The Twilight Saga: New Moon"
1:30 p.m. EDT/PDT – "The Twilight Saga: Eclipse"
4:30 p.m. EDT/PDT – "The Haunted Mansion" (2003)
6:30 p.m. – 11:00 p.m EDT/PDT – "The Simpsons: Treehouse of Horror" marathon
12:00 a.m. EDT/PDT – "Halloweentown"
Thursday, Oct. 5
10:30 a.m. EDT/PDT – "The Twilight Saga: Eclipse"
1:30 p.m. EDT/PDT – "The Twilight Saga: Breaking Dawn – Part 1"
4:00 p.m. EDT/PDT – "The House with a Clock in Its Walls"
6:30 p.m. EDT/PDT – "Monsters, Inc." (Disney-Pixar)
8:30 p.m. EDT/PDT – "Monsters University" (Disney-Pixar)
12:00 a.m EDT/PDT – "Halloweentown II: Kalabar's Revenge"
Friday, Oct. 6
10:30 a.m. EDT/PDT – "The Twilight Saga: Breaking Dawn – Part 1"
1:00 p.m. EDT/PDT – "The Twilight Saga: Breaking Dawn – Part 2"
3:30-11:00 p.m EDT/PDT – "Family Guy" episodes
12:00 a.m. EDT/PDT – "Little Shop of Horrors" (1986)
Saturday, Oct. 7
7:00 a.m. EDT/PDT – "ZOMBIES" – Freeform Premiere
9:00 a.m. EDT/PDT – "ZOMBIES 2" – Freeform Premiere
11:00 a.m. EDT/PDT – "Scared Shrekless"
11:30 a.m. EDT/PDT – "Shrek Forever After"
1:30 p.m. EDT/PDT – "Tim Burton's The Nightmare Before Christmas"
3:10 p.m. EDT/PDT – "Hotel Transylvania"
5:10 p.m. EDT/PDT – "Hocus Pocus"
7:20 p.m. EDT/PDT – "The Addams Family" (1991)
9:25 p.m. EDT/PDT – "Addams Family Values"
11:30 p.m. EDT/PDT – "The House with a Clock in Its Walls"
Sunday, Oct. 8
7:00 a.m. EDT/PDT – "Scared Shrekless"
7:30 a.m. EDT/PDT – "Shrek Forever After"
9:30 a.m. EDT/PDT – "The House with a Clock in Its Walls"
12:00 p.m. EDT/PDT – "Hotel Transylvania"
2:05 p.m. EDT/PDT – "Miss Peregrine's Home for Peculiar Children"
5:10 p.m. EDT/PDT – "The Addams Family" (1991)
7:15 p.m. EDT/PDT – "Addams Family Values"
9:20 p.m. EDT/PDT – "Hocus Pocus"
11:30 p.m. EDT/PDT – "The Craft" (1996)
Monday, Oct. 9
10:30 a.m. EDT/PDT – "Miss Peregrine's Home for Peculiar Children"
1:35 p.m. EDT/PDT – "Bewitched" (2005)
3:40 p.m. EDT/PDT – "The Craft" (1996)
6:10 p.m. EDT/PDT – "Hocus Pocus"
8:20 p.m. EDT/PDT – "Maleficent: Mistress of Evil"
12:00-2:00 a.m. EDT/PDT – "The Simpsons: Treehouse of Horror" episodes
Tuesday, Oct. 10
10:30 a.m.-1:00 p.m. EDT/PDT – "Family Guy" episodes
1:00 p.m. EDT/PDT – "Twilight: Special Edition"
4:00 p.m. EDT/PDT – "The Twilight Saga: New Moon"
7:00 p.m. EDT/PDT – "Halloweentown"
9:00 p.m. EDT/PDT – "Halloweentown II: Kalabar's Revenge"
12:00-2:00 a.m. EDT/PDT – "The Simpsons: Treehouse of Horror" episodes
Wednesday, Oct. 11
10:30 a.m.-1:00 p.m. EDT/PDT – "Family Guy" episodes
1:00 p.m. EDT/PDT – "The Twilight Saga: Breaking Dawn – Part 1"
3:30 p.m. EDT/PDT – "The Twilight Saga: Breaking Dawn – Part 2"
6:00-11:00 p.m. EDT/PDT – "The Simpsons: Treehouse of Horror" marathon
12:00 a.m. EDT/PDT – "Ready or Not"
Thursday, Oct. 12
10:30 a.m. EDT/PDT – "The Twilight Saga: Breaking Dawn – Part 1"
1:00 p.m. EDT/PDT – "The Twilight Saga: Breaking Dawn – Part 2"
3:30 p.m. EDT/PDT – "Mrs. Doubtfire"
6:30 p.m. EDT/PDT – "Toy Story of TERROR!" (Disney-Pixar)
7:00 p.m. EDT/PDT – "Hotel Transylvania"
9:00 p.m. EDT/PDT – "Hotel Transylvania 3: Summer Vacation"
12:00 a.m. EDT/PDT – "Twitches"
Friday, Oct. 13
10:30 a.m. EDT/PDT – "Toy Story of TERROR!" (Disney-Pixar)
11:00 a.m. EDT/PDT – "Tim Burton's The Nightmare Before Christmas"
12:35 p.m. EDT/PDT – "The Haunted Mansion" (2003)
2:35 p.m. EDT/PDT – "Hotel Transylvania"
4:40 p.m. EDT/PDT – "Hotel Transylvania 3: Summer Vacation"
6:50 p.m. EDT/PDT – "Hocus Pocus"
9:00 p.m. EDT/PDT – TBA
10:00 p.m. EDT/PDT – TBA
12:00 a.m. EDT/PDT – "Twitches Too"
Saturday, Oct. 14
7:00 a.m. EDT/PDT – "Mrs. Doubtfire"
10:10 a.m. EDT/PDT – "Monsters Vs. Aliens: Mutant Pumpkins from Outer Space"
10:40 a.m. EDT/PDT – "Miss Peregrine's Home for Peculiar Children"
1:45 p.m. EDT/PDT – "Tim Burton's The Nightmare Before Christmas: Pop 'N Knowledge Edition"
3:25 p.m. EDT/PDT – "Hocus Pocus: Pop 'N Knowledge Edition"
5:35 p.m. EDT/PDT – "The Incredibles" (Disney-Pixar)
8:15 p.m. EDT/PDT – "Incredibles 2" (Disney-Pixar)
10:55 p.m. EDT/PDT – "Hotel Transylvania"
1:00-2:00 a.m. EDT/PDT – "Family Guy" episodes
Sunday, Oct. 15
7:00 a.m. EDT/PDT – "Miss Peregrine's Home for Peculiar Children"
10:05 a.m. EDT/PDT – "Twitches"
12:10 p.m. EDT/PDT – "Twitches Too"
2:15 p.m. EDT/PDT – "The Haunted Mansion" (2003)
4:20 p.m. EDT/PDT – "Hotel Transylvania"
6:25 p.m. EDT/PDT – "Hocus Pocus"
8:35 p.m. EDT/PDT – "Cruella"
11:50 p.m. EDT/PDT – "Goosebumps 2: Haunted Halloween"
Monday, Oct. 16 – DISNEY 100
10:30 a.m. EDT/PDT – "Spider-Man" (2002)
1:10 p.m. EDT/PDT – "Spider-Man 2" (2004)
4:20 p.m. EDT/PDT – "Goosebumps 2: Haunted Halloween"
6:25 p.m. EDT/PDT – "Monsters, Inc." (Disney-Pixar)
8:30 p.m. EDT/PDT – "Monsters University" (Disney-Pixar)
12:00-2:00 a.m. EDT/PDT – "The Simpsons: Treehouse of Horror" episodes
Tuesday, Oct. 17
10:30 am. EDT/PDT – "Spider-Man 2" (2004)
1:30 p.m. EDT/PDT – "Spider-Man 3" (2007)
4:30 p.m. EDT/PDT – "Shrek Forever After"
6:30 p.m. EDT/PDT – "Toy Story of TERROR!" (Disney-Pixar)
7:00 p.m. EDT/PDT – "Hotel Transylvania"
9:00 p.m. EDT/PDT – "Hocus Pocus"
12:00-2:00 a.m. EDT/PDT – "The Simpsons: Treehouse of Horror" episodes
Wednesday, Oct. 18
10:30 a.m. EDT/PDT – "Halloweentown"
12:30 p.m. EDT/PDT – "Halloweentown II: Kalabar's Revenge"
2:30 p.m. EDT/PDT – "Halloweentown High"
4:30 p.m. EDT/PDT – "Toy Story of TERROR!" (Disney-Pixar)
5:00 p.m. EDT/PDT – "Hotel Transylvania"
7:00-11:00 p.m. EDT/PDT – "The Simpsons: Treehouse of Horror" marathon
12:00-2:00 a.m. EDT/PDT – "The Simpsons: Treehouse of Horror" episodes
Thursday, Oct. 19
10:30 a.m. EDT/PDT – "Little Shop of Horrors" (1986)
12:35 p.m. EDT/PDT – "Mrs. Doubtfire"
3:15 p.m. EDT/PDT – "Miss Peregrine's Home for Peculiar Children"
6:15 p.m. EDT/PDT – "Hocus Pocus"
8:25 p.m. EDT/PDT – "The Sorcerer's Apprentice" (2010)
12:00 a.m. EDT/PDT – "Little Shop of Horrors" (1986)
Friday, Oct. 20
10:30 a.m. EDT/PDT – "Miss Peregrine's Home for Peculiar Children"
1:30 p.m. EDT/PDT – "Bewitched" (2005)
3:30-8:00 p.m. EDT/PDT – "Family Guy" episodes
8:00 p.m. EDT/PDT – "Aladdin" (2019)
12:00 a.m. EDT/PDT – "Bewitched" (2005)
Saturday, Oct. 21
7:00 a.m. EDT/PDT – "Twitches"
9:00 a.m. EDT/PDT – "Twitches Too"
11:00 a.m. EDT/PDT – "ZOMBIES"
1:00 p.m. EDT/PDT – "ZOMBIES 2"
3:00 p.m. EDT/PDT – "The Haunted Mansion" (2003)
5:05 p.m. EDT/PDT – "Hocus Pocus"
7:15 p.m. EDT/PDT – "Hotel Transylvania"
9:20 p.m. EDT/PDT – "Hotel Transylvania 3: Summer Vacation"
11:30 p.m. EDT/PDT – "Little Shop of Horrors" (1986)
1:30 a.m. EDT/PDT – "Family Guy"
Sunday, Oct. 22
7:00 a.m. EDT/PDT – "Halloweentown"
9:10 a.m. EDT/PDT – "Halloweentown II: Kalabar's Revenge"
11:10 a.m. EDT/PDT – "Halloweentown High"
1:10 p.m. EDT/PDT – "Return to Halloweentown"
3:20 p.m. EDT/PDT – "Hotel Transylvania"
5:25 p.m. EDT/PDT – "Hotel Transylvania 3: Summer Vacation"
7:35 p.m. EDT/PDT – "Encanto" – Freeform Premiere
9:45 p.m. EDT/PDT – "Hocus Pocus"
11:55 p.m. EDT/PDT – "Shrek Forever After"
Monday, Oct. 23
10:30 a.m. EDT/PDT – "ZOMBIES"
12:35 p.m. EDT/PDT – "Twitches"
2:40 p.m. EDT/PDT – "Twitches Too"
4:40 p.m. EDT/PDT – "Shrek Forever After"
6:45 p.m. EDT/PDT – "Hotel Transylvania"
8:50 p.m. EDT/PDT – "Hocus Pocus"
12:00-2:00 a.m. EDT/PDT – "The Simpsons: Treehouse of Horror" episodes
Tuesday, Oct. 24
10:30 a.m. EDT/PDT – "Family Guy"
11:00 a.m. EDT/PDT – "Frankenweenie" (2012)
1:00 p.m. EDT/PDT – "Miss Peregrine's Home for Peculiar Children"
4:00 p.m. EDT/PDT – "Hotel Transylvania"
6:05 p.m. EDT/PDT – "Tim Burton's The Nightmare Before Christmas"
7:45 p.m. EDT/PDT – "Cruella"
12:00-2:00 a.m. EDT/PDT – "The Simpsons: Treehouse of Horror" episodes
Wednesday, Oct. 25
10:30 a.m. EDT/PDT – "Family Guy" episodes
11:30 a.m. EDT/PDT – "Miss Peregrine's Home for Peculiar Children"
2:30 p.m. EDT/PDT – "Bewitched" (2005)
4:30 p.m. EDT/PDT – "The Craft" (1996)
7:00 p.m. EDT/PDT – "Goosebumps 2: Haunted Halloween"
9:00 p.m. EDT/PDT – "The Haunted Mansion" (2003)
12:00-2:00 a.m. EDT/PDT – "The Simpsons: Treehouse of Horror" episodes
Thursday, Oct. 26
10:30 a.m. EDT/PDT – "Family Guy" episodes
11:30 a.m. EDT/PDT – "Bewitched" (2005)
1:35 p.m. EDT/PDT – "The Craft" (1996)
4:05 p.m. EDT/PDT – "Goosebumps 2: Haunted Halloween"
6:10 p.m. EDT/PDT – "Maleficent: Mistress of Evil"
8:50 p.m. EDT/PDT – "Hocus Pocus"
12:00-2:00 a.m. EDT/PDT – "The Simpsons: Treehouse of Horror" episodes
Friday, Oct. 27
10:30 a.m. EDT/PDT – "The Amazing Spider-Man" (2012)
1:30 p.m. EDT/PDT – "The Amazing Spider-Man 2" (2014)
4:30 p.m. – 11:00 p.m. EDT/PDT – "Family Guy" episodes
12:00-2:00 a.m. EDT/PDT – "The Simpsons: Treehouse of Horror" episodes
Saturday, Oct. 28
7:00 a.m. EDT/PDT – "Halloweentown"
9:05 a.m. EDT/PDT – "Halloweentown II: Kalabar's Revenge"
11:05 a.m. EDT/PDT – "Halloweentown High"
1:05 p.m. EDT/PDT – "Frankenweenie" (2012)
3:05 p.m. EDT/PDT – "Shrek Forever After"
5:10 p.m. EDT/PDT – "Monsters, Inc." (Disney-Pixar)
7:15 p.m. EDT/PDT – "Monsters University" (Disney-Pixar)
9:45 p.m. EDT/PDT – "Hocus Pocus"
11:55 p.m. EDT/PDT – "Hotel Transylvania"
Sunday, Oct. 29
7:00 a.m. EDT/PDT – "ZOMBIES"
9:00 a.m. EDT/PDT – "ZOMBIES 2"
11:00 a.m. EDT/PDT – "Shrek Forever After"
1:00 p.m. EDT/PDT – "Scared Shrekless"
1:30 p.m. EDT/PDT – "Tim Burton's The Nightmare Before Christmas" 30 th Anniversary
3:10 p.m. EDT/PDT – "The Haunted Mansion" (2003)
5:15 p.m. EDT/PDT – "Hotel Transylvania"
7:20 p.m. EDT/PDT – "The Addams Family" (1991)
9:25 p.m. EDT/PDT – "Addams Family Values"
11:30 p.m. EDT/PDT – "The Craft" (1996)
Monday, Oct. 30
10:30 a.m. EDT/PDT – "The Craft" (1996)
1:00 p.m. EDT/PDT – "Hocus Pocus"
3:00 p.m. EDT/PDT – "The Addams Family" (1991)
5:00 p.m. EDT/PDT – "Addams Family Values"
7:00 p.m. EDT/PDT – "Hotel Transylvania"
9:00 p.m. EDT/PDT – "Hotel Transylvania 3: Summer Vacation"
12:00-2:00 a.m. EDT/PDT – "The Simpsons: Treehouse of Horror" episodes
Tuesday, Oct. 31
10:30 a.m. EDT/PDT – "Family Guy"
11:00 a.m. EDT/PDT – "Hocus Pocus"
1:00 p.m. EDT/PDT – "The Haunted Mansion" (2003)
3:00 p.m. EDT/PDT – "Tim Burton's The Nightmare Before Christmas"
4:35 p.m. EDT/PDT – "Hotel Transylvania"
6:40 p.m. EDT/PDT – "Hotel Transylvania 3: Summer Vacation"
8:50 p.m. EDT/PDT – "Hocus Pocus"
12:00-2:00 a.m. EDT/PDT – "The Simpson: Treehouse of Horror" episodes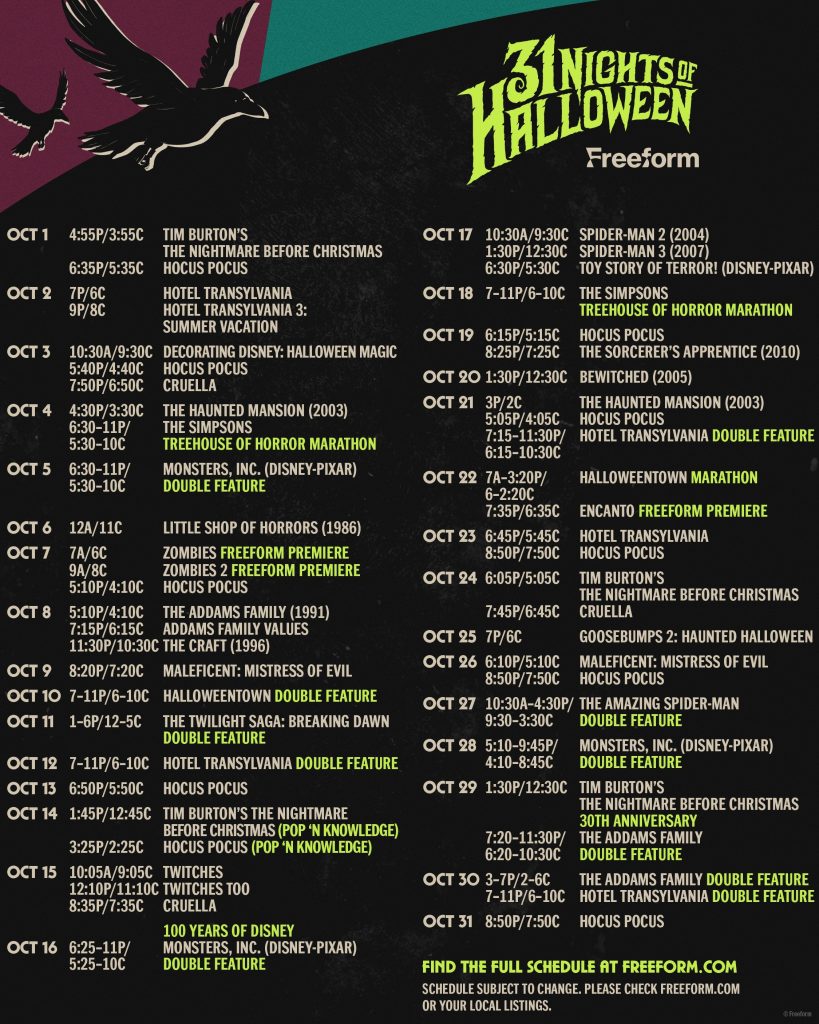 Keep Reading: