After this past season of the hit Disney+ series The Mandalorian it looks as if the main focus of the story is now going to be about Bo-Katan Kryze. For Bo-Katan fans this is great. Not only do we get to see her bring Mandalore back to greatness but we also have a lot of great collectibles to choose from because of her presence in The Clone Wars, Rebels, and The Mandalorian. Well, thanks to Gentle Giant Ltd. we have a few Bo-Katan pieces to choose from to add to our collections. So, today I am going to review the Star Wars: The Clone Wars Bo-Katan Kryze Mini Bust.
Star Wars: The Clone Wars – Bo-Katan Kryze Mini-Bust
Thanks to our friends over at Gentle Giant Ltd. I was able to get a out of the box look at this Bo-Katan piece and like many of their other mini-busts this one looks amazing. Like most of Gentle Giants Ltd.'s items, this mini-bust has a limited run of 3000 pieces and is available at gentlegiantltd.com for $99.99. You can check out the official details of this mini-bust and my full review below.
A Gentle Giant Ltd. release! The Mandalorian leader is captured in her animated look in this all-new 1/7 scale resin bust. Depicting Bo-Katan Kryze with her dual pistols in hand, this bust also comes with both helmeted and unhelmeted heads, for two dynamic display options. Measuring approximately 6 inches tall, this bust is limited to 3,000 pieces and comes packaged in a full-color window box. Designed by Barry Bradfield, sculpted by Paul Harding!
Star Wars: The Clone Wars – Bo-Katan Kryze Mini-Bust Review
As always when doing my reviews there are a few things I look at. Those things are packaging, sculpt and paint quality, and displayability. I also always like to get the negatives out of the way first so we can always finish up on the good stuff. So without any more waiting here are my cons and pros of this mini bust.
Cons Of The Star Wars: The Clone Wars – Bo-Katan Kryze Mini-Bust
OK, let's get the worst part over and look at some of the cons of the Star Wars: The Clone Wars – Bo-Katan Kryze Mini-Bust. Well, with this being a mini bust there really isn't a lot of bad going on with it, but here are the couple of things that stuck out to me.
Unlike a lot of the mini-busts, the Bo-Katen mini-bust comes with interchangeable heads. I have noticed you really have to make sure you get the neck post in correctly because it will be loose and not look right.
Also with at least mine, the magnet that holds the next in the bust seemed kind of weak. But I also have to note that I received an Artist Proof (AP) piece so there are expected to be a couple of flaws.
Some also may think that $99.99 is a little steep for a 1:7 mini-bust. Bust if you are a Gentle Giant Ltd. Guild Member you can at least save a little money.
Pros Of The Star Wars: The Clone Wars – Bo-Katan Kryze Mini-Bust
Now it is on to the fun stuff, the positives. This might be a 1:7 scale mini-bust but it does have a lot of good things going for it. Here is a look at all the pros of the Star Wars: The Clone Wars – Bo-Katan Kryze mini-bust.
The Bo-Katan Mini-Bust is packaged pretty well. The bust is tied into a styrofoam block and has plastic around some of the parts to protect the paint.
If you are a keep-it-in-the-box person the box comes with a window to view the bust. Also, the back of the box gives you a brief summary of the statue and some nice box art.
If you like to change up the look of your statues this mini-bust comes with two interchangeable heads. One with and without her Mandalorian helmet on.
The heads attach with a magnet to help hold them in place.
From the base to the rocket pack the sculpt on this mini-bust looks great.
From the worn distressed look of Bo-Katan's helmet to the colors on her armor and blasters the paint job does a great job in making this bust look like it came straight from the animated series.
With this mini-bust being a 1:7 scale it will not take up a lot of space in your collection making it easy to display.
The base of this bust has some good with to it and makes it not as easy to knock over.
Each statue comes with an individually numbered certificate of authenticity.
My Final Thoughts
As a collector, I am a fan of being able to change the look of some of my statues, and for that reason, I feel that the Star Wars: The Clone Wars – Bo-Katan Kryze mini-bust is a must-have for any Bo-Katan Fan. I also think that it is really neat that Gentle Giant Ltd. gives their fans a chance to receive AP statues. There really isn't enough of anything that would make me say stay away from this bust. The details are amazing, it looks just like the animated version of Bo-Katan, and it will look great in your collection. I can keep going on and on about this mini-bust but I think this review covers it all.
We Want To Hear From You
What are your thoughts on the Star Wars: The Clone Wars – Bo-Katan Kryze mini-bust from Gentle Giant Ltd? Is this a must-have for your collection? Also, what other items from Gentle Giant Ltd. are you looking forward to? That Hashtag Show wants to hear from you.
You can tell us your thoughts by leaving a comment below or hitting me up on any of my social media platforms at NerdyVet574. You can also join me at the Midwest Star Wars Fanatics on Facebook to chat about all things from the galaxy far far away. Don't forget to stay up to date on all the Star Wars news by following us at ThatHashtagShow.com. More importantly, be safe, We can't wait to see you all at Celebration 2025.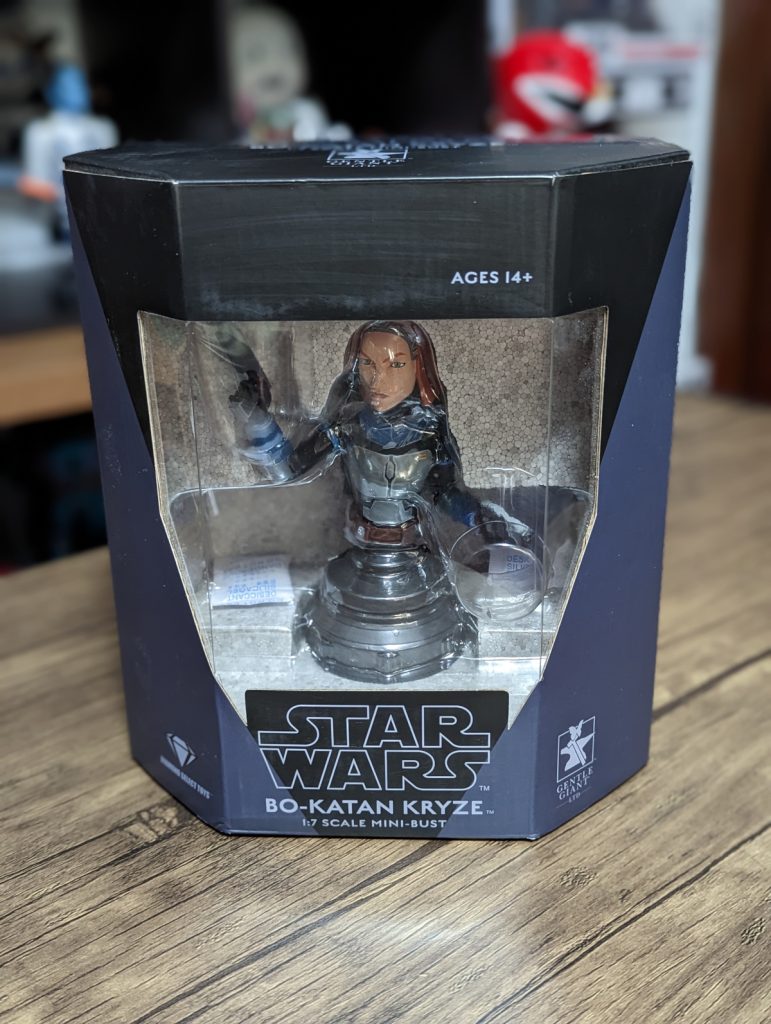 SEE ALSO: