Whether you're looking for love, scares, or cocaine-fueled bears, there's a premiere for everyone this February.
It's a big month for sci-fi fans as Marvel kicks off Phase 5 with Ant-Man and The Wasp: Quantumania, and Star Trek: Picard kicks off its final season with the TNG cast. You can also dive into the drama of some popular returning shows, including Peacock's Bel-Air and Netflix's You.
Check out our list below for the biggest February premieres across theatrical, streaming, and linear cable for movies and television.
Premiering February 1 – 7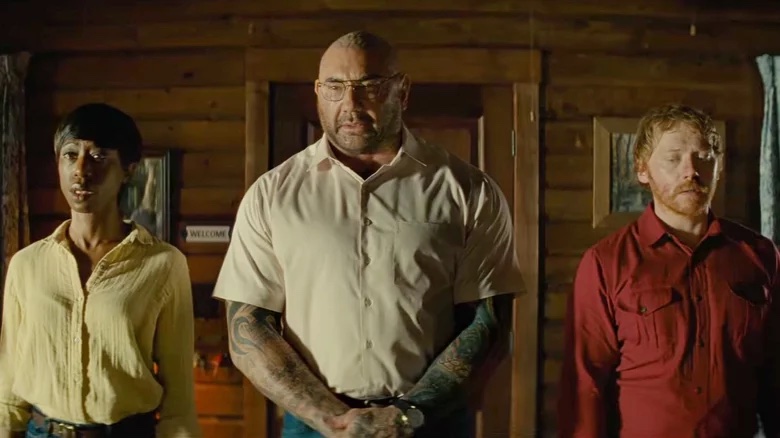 February 1
THE ARK series premiere (Syfy)
BLACK PANTHER: WAKANDA FOREVER streaming premiere (Disney+)
GUNTHER'S MILLIONS series premiere (Netflix)
SAM & KATE series premiere (Peacock)
February 2
FREERIDGE series premiere (Netflix)
LOWNDES COUNTY AND THE ROAD TO BLACK POWER documentary premiere (Peacock)
February 3
80 FOR BRADY film premiere (Theatrical)
THE AMAZING MAURICE film premiere (Theatrical)
DEAR EDWARD series premiere (Apple TV+)
HARLEM season 2 premiere (Prime Video)
KILLING COUNTY series premiere (Hulu)
KNOCK AT THE CABIN film premiere (Theatrical)
ROWDY documentary premiere (Freevee)
SPOILER ALERT film premiere (Peacock)
STAND documentary premiere (Showtime)
TRUE SPIRIT film premiere (Netflix)
February 5
GRAMMY AWARDS(CBS)
MURDER IN BIG HORN series premiere (Showtime)
MURF THE SURF series premiere (MGM+)
February 7
ALL THAT BREATHES documentary premiere (HBO)
7 TOUGHEST DAYS series premiere (Disney+)
Premiering February 8 – 14
February 8
BILL RUSSELL: LEGEND documentary premiere (Netflix)
A MILLION LITTLE THINGS season 5 premiere (ABC)
NOT DEAD YET series premiere (ABC)
SOUTH PARK season 26 premiere (Comedy Central)
February 9
HARLEY QUINN: A VERY PROBLEMATIC VALENTINE'S DAY SPECIAL (HBO Max)
STOLEN YOUTH: INSIDE THE CULT AT SARAH LAWRENCE series premiere (Hulu)
February 10
AT MIDNIGHT film premiere (Paramount+)
LOVE IS BLIND: AFTER THE ALTAR season 3 premiere (Netflix)
MAGIC MIKE'S LAST DANCE film premiere (Theatrical)
SERIOUSLY RED film premiere (Theatrical)
SOMEBODY I USED TO KNOW film premiere (Prime Video)
YOUR PLACE OR MINE film premiere (Netflix)
YOU season 4 premiere (Netflix)
February 14
LOVE TRIP: PARIS series premiere (Freeform)
PERFECT MATCH series premiere (Netflix)
PLANET SEX WITH CARA DELEVIGNE series premiere (Hulu)
SWALLOWED film premiere (Theatrical)
WHAT ABOUT LOVE film premiere (Theatrical)
Premiering February 15 – 21
February 15
AFRICAN QUEENS series premiere (Netflix)
FULL SWING series premiere (Netflix)
MARLOWE film premiere (Theatrical)
WINNIE-THE-POOH: BLOOD AND HONEY film premiere (Theatrical)
WU-TANG: AN AMERICAN SAGA season 3 premiere (Hulu)
February 16
ANIMAL CONTROL series premiere (Fox)
STAR TREK: PICARD final season premiere (Paramount+)
THE UPSHAWS season 3 premiere (Netflix)
February 17
ANT-MAN AND THE WASP: QUANTUMANIA film premiere (Theatrical)
CARNIVAL ROW final season premiere (Prime Video)
HELLO, TOMORROW! series premiere (Apple TV+)
MAKE OR BREAK season 2 premiere (Apple TV+)
THE 12TH VICTIM series premiere (Showtime)
February 19
AMERICAN IDOL season 21 premiere (ABC)
THE COMPANY YOU KEEP series premiere (ABC)
FOUND series premiere (NBC)
MAGNUM P.I. season 5 premiere (NBC)
Premiering February 22 – 28
February 22
MURDAUGH MURDERS: A SOUTHERN SCANDAL series premiere (Netflix)
SNOWFALL season 6 premiere (FX)
February 23
BEL-AIR season 2 premiere (Peacock)
OUTER BANKS season 3 premiere (Netflix)
February 24
BRUISER film premiere (Hulu)
COCAINE BEAR film premiere (Theatrical)
THE CONSULTANT series premiere (Prime Video)
FORMULA 1: DRIVE TO SURVIVE season 5 premiere (Netflix)
PARTY DOWN reboot/season 3 premiere (Starz)
THE RELUCTANT TRAVELER series premiere (Apple TV+)
WE HAVE A GHOST film premiere (Netflix)
February 26
THE BLACKLIST final season premiere (NBC)
Keep Reading: