Get those slappers ready, tell your friends that they're banished if they play as Oddjob, and get ready for GoldenEye 007 to finally hit next-gen consoles. The game is coming to Nintendo Switch Online, and Xbox Game Pass this Friday, January 27th. The game originally changed the world of console shooters when it released on the Nintendo 64 in 1997.
Nintendo Switch users get the bonus of online multiplayer with a subscription to the $50-a-year Expansion Pack tier of Switch Online. However, it's unknown if the Switch version will support twin-stick controls or not. The Xbox version (playable on Xbox One, Xbox Series X/S) will include twin-stick controls, achievements, and 16:9 resolution up to 4K Ultra HD. If you own Rare Replay, you'll get access to GoldenEye for free. The Xbox version will only have split-screen multiplayer and the single-player campaign to work with. PlayStation users are left out in the cold.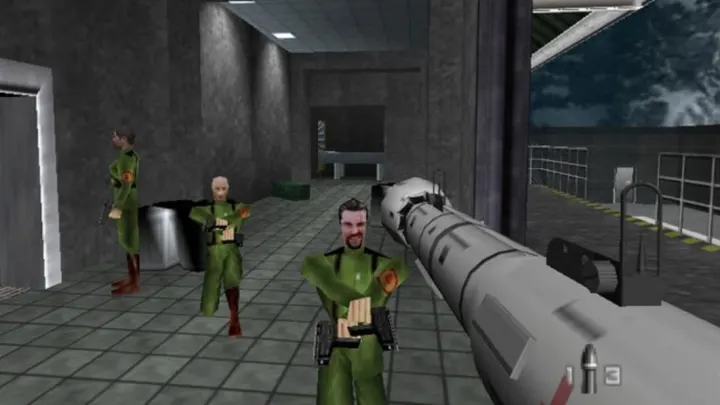 The game is based on the 1995 classic Pierce Brosnan's debut film, GoldenEye. The game is considered a landmark in the history of video games, especially for console gaming. At that time, shooters on consoles couldn't keep up with PC games. It became the N64's third best-selling title, with 8.09 million units sold. The only other games to beat it out were Super Mario 64 and Mario Kart 64.
The game is releasing on Xbox and Switch because Microsoft bought Rare in 2002, giving them access to a majority of the non-Nintendo IP titles they've made, like Banjo Kazooie.
This remaster and console release has been a long time coming. The first rumors of a GoldenEye port to new consoles sprung up in the Xbox 360 era. The game was so far along that it even popped up on Xbox Live Arcade for a short time. The licensing rights with all the different Bond characters in the game complicated matters to the point that it's only coming out now. However, these versions don't appear to be the remaster we saw before. The Switch version is identical to the N64 version, and the Xbox version has a graphical upscale.
James Bond is celebrating his 70th anniversary this year since his first appearance in Ian Fleming's novel Casino Royale.
For more on Gaming News, make sure to check back to That Hashtag Show.
Keep Reading: