The Empire Strips Back – the Unauthorized Burlesque Parody is extending its engagement in Hollywood through Saturday, January 28. We spoke to creator Russall S. Beattie about the impressive amount of work and dedication it takes to put on an event of this caliber. We also discussed what fans can expect when they go to a show.
Interview with creator Russall S. Beattie
The Empire Strips Back celebrates the resurgence of burlesque, while delivering a powerful experience for fans of the art form as well as the classic Star Wars film series. Created by Russall S. Beattie, the show takes audiences to a galaxy far, far away, creating one of the most unforgettable (and unauthorized) theatrical versions of the beloved franchise.
First imagined in 2011 by Beattie, the original production was booked in a small, 150-seat room in Sydney for a one-off, three-night run. Fast-forward to seven national sold-out Australian tours, an enthusiastic audience of over 100,000+, and a Huffington Post video feature boasting 20+ million viral views.
The Empire Strips Back – the Unauthorized Burlesque Parody
Combining striptease, song and dance, troupe routines, and plenty of humor, audiences are transported into the world of burlesque to witness a menacing troop of seriously sexy Stormtroopers, a dangerously seductive Boba Fett, tantalizing Twi'leks, a delightfully lukewarm Taun Taun, a lady-like Skywalker, and of course, scantily clad and daring Droids. Even Darth Vader will explore her feminine side with a fantastical twist.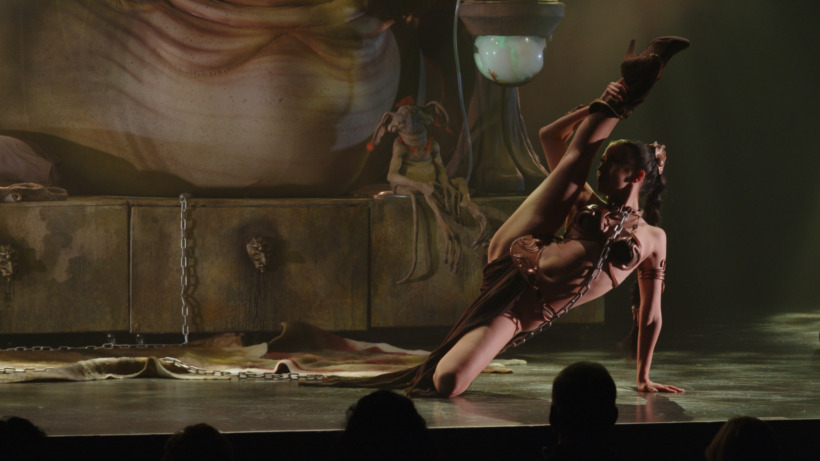 On its last U.S. tour, The Empire Strips Back will be in Hollywood until January 28th.
Calendar listing for The Empire Strips Back
Venue: Montalbán Theatre, 1615 Vine Street, Hollywood CA 90028
Dates: NOW through January 28, 2023
Times: Thursdays and Fridays at 8 pm; Saturdays at 7 pm and 9:30 pm; Sundays at 7 pm
Duration: 2 hours including a 15-minute intermission
Tickets start at $44.00 at empirestripsback.com
The Empire Strips Back Photo Gallery
Photo Credit Craig Ridgwell for The Empire Strips Back
Keep Reading: