THIS IS A NON-SPOILER REVIEW FOR EPISODES 1 & 2 OF CRIMINAL MINDS: EVOLUTION
The original Criminal Minds ran 15 seasons with a whopping 324 episodes and still to this day, is one of the most watched shows in syndication.  And while its two spin-offs Beyond Borders and Suspect Behavior failed to find their audience, it was only a matter of time before this show was rebooted.  But, I never imagined that it would be so soon and with many of the same cast members returning.  The show just finished its long run in 2020 and now two years later, here we are with Evolution.  
THIS SERIES IS GUILTY PLEASURE COMFORT FOOD…
Before I get started with my review, I want to preface that I have been a huge fan of Criminal Minds since its very first episode in 2005… So, I have a soft spot in my heart for this series. It's a show that, despite its grisly nature, is something I watch as guilty pleasure comfort food. Furthermore, Paramount graciously provided critics with two episodes ahead of release… so, this will be more of my initial thoughts on this revival, rather than an in-depth review of the entire season.
WHERE IS MATTHEW GRAY GUBLER AKA DR. REID!?
Now, let's talk about the huge elephant in the room… which is the absence of Matthew Gray Gubler as Dr. Reid, who was in nearly every episode of the original show.  Gubler and Kirsten Vangsness as Garcia, were my favorite characters on the show… so, I was gutted to hear that he would not be returning.  From what I've heard though, both he and Daniel Henney who played Simmons, have not counted out returning to the show just yet… But, it was more of a case that their schedules just didn't coincide with shooting for this season.  And instead of the writers killing their characters off, they have expertly created a loophole for them to return if they wish.
HOW IS THE CHARACTER DEVELOPMENT THIS SEASON?
Yet, as much as I love Reid… I was surprised by how quickly I came to terms with his absence.  That's all due to the fact that this cast has such wonderful chemistry that they've built with each other throughout the years… And a few cast members missing doesn't take away from that.  I also feel as though the writers have made it a point to focus on deeper character development in this new series.  Though Criminal Minds has always worked because it wasn't just about the crimes, but the people that solved them… The original show would usually dedicate just a few small moments in each episode to further the character's story arcs.  But, with Evolution I can tell the writers have a little more room to breathe; where they can give their ensemble some excellent scenes of real substance and growth.  
DOES THIS REBOOT HAVE A NEW FORMAT?
This leads me to the show's new format, which is what I was most excited about going in.  While Criminal Minds was relegated to the new-case-every-week framework… The fact that Evolution was going to streaming, promised that it could do something completely different.  And initially, when the plot was released, it sounded as if the showrunners were going to have the entire season be centered around a single case.  I was thrilled by the prospect of this because I always felt that having to cram an entire mystery into 40 minutes was too much of a rush.  It's hard to set up the crime, introduce victims and suspects, build tension and keep the audience guessing… when all you're doing is constantly racing to get to the finish line.
Sadly, I was let down in Episode One, when it seemed that they were just going to be doing the Case Of The Week again. And while they are doing that, in Episode Two they more clearly set up that this season will have an overarching mystery that will connect each of the cases together. How are they doing that? By introducing a mastermind serial killer who has created a network of like-minded sadists online during the pandemic. And the BAU must track down each of these killers (one per episode) in hopes that they will lead them to the big bad.
WHAT IS THE MAIN MYSTERY OF EVOLUTION ALL ABOUT?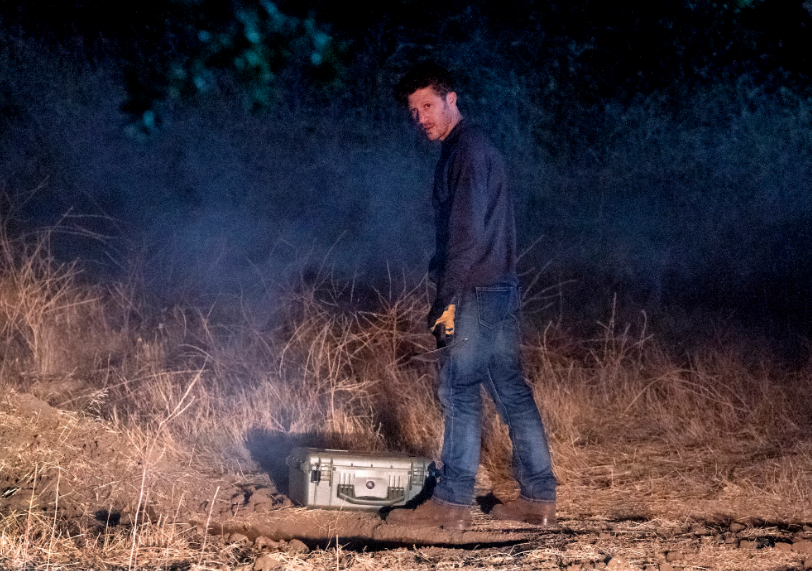 There's a part of me that is content with this plot… as it gives room to build nuance in the main mystery, all the while giving viewers the quick fix that they have come to expect from the show, as well. But, there's another part of me that would have liked for them to have taken a big risk with this reboot… and had the focus be on one case, spanning ten episodes with no mini-cases acting as a distraction. Maybe in season two they could try something like this?
THIS REBOOT IS STREAMING… DOES IT TAKE ADVANTAGE OF THAT?
I think my biggest takeaway from these two episodes, is that the showrunners have not taken advantage of the freedom that being on a streaming platform provides. While there are a few tweaks here and there, like a shorter season, the minor change in format, and a couple of expletives that wouldn't fly on network TV… Criminal Minds: Evolution is pretty much, just more of the same. I was expecting possibly a bigger budget, with higher production value and more of a refined touch… but, in that way, this show has not evolved at all.
WILL DIEHARD FANS BE HAPPY?
The thing is though, that's okay… for now. I don't think this revival was made to pick up a bunch of new fans, even though the writers have done a great job of cluing anyone in who is fresh to the franchise. Evolution was definitely made for people, like me, who have spent way too many hours of their life watching the BAU catch serial killers. And the showrunners have delivered exactly what those fans have come to love about this show. I just hope that in Season Two, they decide to take more risks and try something completely new.
Criminal Minds: Evolution will be Streaming on Paramount+ November 24th, 2022.
For More Reviews, make sure to Stay Tuned to That Hashtag Show!