Fans of the Spy x Family manga on Shonen Jump at Viz Media would've definitely noticed that this week's chapter seems a bit on the short side. As it turns out, Tatsuya Endo has a very good reason for that: exhaustion. He even drew his own official fan art to illustrate his exhaustion. Check it out below:
Tatsuya Endo: You Need a Vacation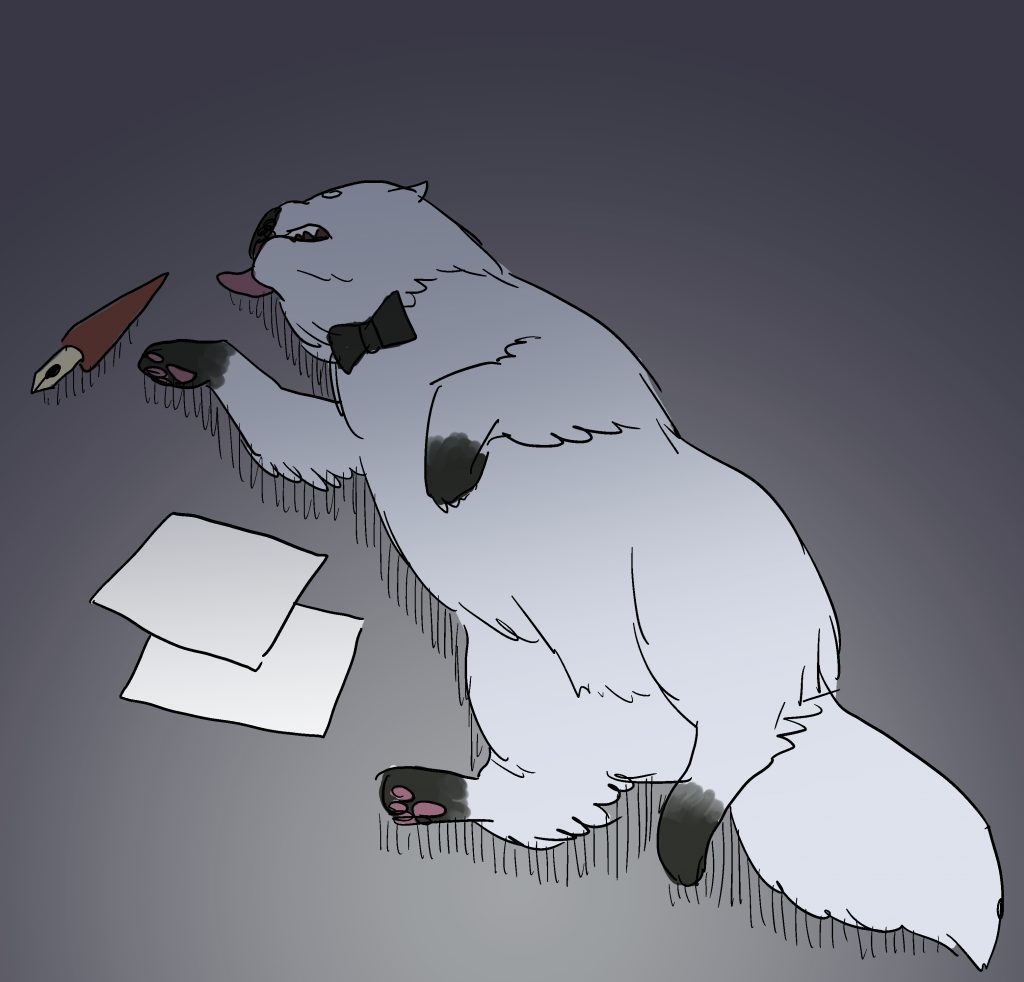 Tatsuya Endo took to Twitter to apologize for the length of this week's chapter of Spy x Family. Or rather, the lack of length, given that Ch. 68.1 is only 8 pages long, even counting the beautifully drawn and colored titled page. His apology came with that bit of artwork above, featuring Bond Forger (the Forger family's clairvoyant dog) lying collapsed on a greyed out floor. Lying next to the exhausted canine are 2 blank sheets of paper, and an old-fashioned ink pen. Clearly, Bond here is a perfect author avatar for Tatsuya Endo. In particular, his exhausted state.
See, Tatsuya Endo's Twitter post also comes with some Japanese text. Endo explains in that text that this week's short Spy x Family chapter is due to exhaustion from working on the current tankōbon volume of the manga, which is currently Volume 10. As a result, Endo is just too tired to do anything more than that short chapter. He even practically begs for forgiveness in the last sentence of the text. Frankly, given what an incredible story Endo has brought us in the form of Spy x Family, I think that's the least we can do. Heck, I think we can go one step further and insist that he take a short vacation from writing/drawing the manga. He seems like he needs it.
Spy x Family: Details
Spy x Family is an action comedy spy manga series by Tatsuya Endo. Shueisha originally published this manga in Japan under their Jump Comics+ imprint in their magazine Shonen Jump+. Viz Media is licensing this manga for its NA release.
Of course, I can't talk about the Spy x Family manga without talking about the recently very popular anime adaptation. Wit Studio (Attack on Titan season 1-3, The Ancient Magus' Bride, Ranking of Kings) and CloverWorks (The Promised Neverland, Wonder Egg Priority, My Dress-Up Darling) are the animation studios behind the anime. Kazuhiro Furuhashi is the director and screenplay writer, with Makoto Miyazaki and Shūhei Mutsuki of [K]NoW_NAME composing the music. Lastly, Crunchyroll is licensing this anime for its NA release.
As for what Spy x Family is about? Well, Crunchyroll has an official synopsis for us on the anime's page. Check it out below:
"World peace is at stake and secret agent Twilight must undergo his most difficult mission yet—pretend to be a family man. Posing as a loving husband and father, he'll infiltrate an elite school to get close to a high-profile politician. He has the perfect cover, except his wife's a deadly assassin and neither knows each other's identity. But someone does, his adopted daughter who's a telepath!"
You can watch the first cour of Spy x Family on Crunchyroll or Hulu. As for the ongoing second cour though, you can only watch it on Crunchyroll. For now, at least.
Source: Twitter