FOR THOSE WHO HAVE YET TO SEE VESPER, THIS IS A NON-SPOILER REVIEW.
The new dystopian science-fiction film Vesper caught my eye many months ago when its first trailer was released. It is so rare for us to get original independent genre fare with visuals that look this good, so I was definitely intrigued. My only worry was that this film would end up going overboard on the CGI and dazzling imagery, and forget about telling a captivating story. So, I am pleased to announce that not only is Vesper a visual marvel, but it is also a riveting and intelligent tale that will surely please fans of the genre.
WHAT IS VESPER ALL ABOUT?
The film follows the titular Vesper, a brilliant young girl who lives on the outskirts of a society brought to ruin through an ecological disaster.  She spends her days tending to her bedridden, paralyzed father (whose consciousness has been transferred into a flying drone) and works on bio-engineering her own garden.  But, everything is upended when two citadel-dwellers crash-land near their home, at once bringing hope to young Vesper's dreams of trekking to the citadel for a better life… yet, also bringing forth unforeseeable dangers with the secrets that these strangers carry.  
IS THIS AN ACTION-PACKED MOVIE? OR MORE OF A SLOW-BURN?
Vesper, being a European-made film in English, feels as if it is science-fiction for the arthouse crowd.  While it is chock-full of astonishing VFX work, both CGI and practical… none of it feels over-the-top or showy, like in most studio genre efforts.  Rather all of the visuals feel camouflaged, seamlessly blending into this brilliantly-rendered world.  And just like the VFX, the film itself is extremely understated, operating in a quiet, low-key way that will confuse viewers who are looking for a bombastic action-packed sci-fi piece.  And in that way, I don't think Vesper is going to be the easiest sell for general audiences… though I hope that people who are tired of IPs and looking for something bracingly original, will seek it out.  
IS VESPER HARD TO FOLLOW?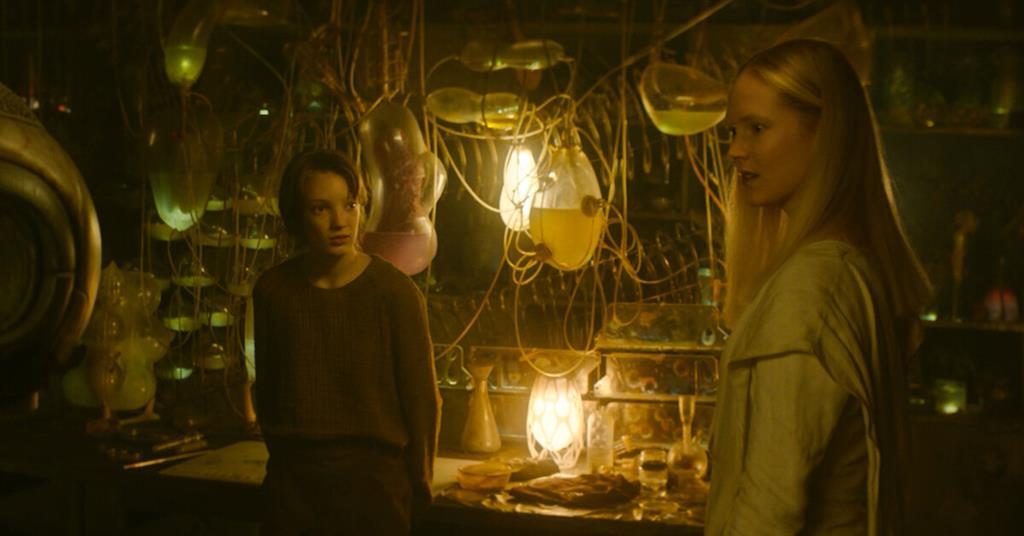 I think the environmentally-conscious story is certainly compelling to get viewers on board… With a script that does a fantastic job of explaining the vast mythos of this world in an easy-to-understand way. There were so many questions I had at the beginning of Vesper, mostly revolving around the rules of this world… And our writer/director's (Kristina Buozyte & Bruno Samper) miraculously answer a lot of them. Slowly by surely, like peeling back an onion to reveal a new piece closer to the core. I must say though, that while I think there are so many fascinating concepts in this films and most of them I had a grasp on, they are not fully fleshed out. I feel like this is a world that is worthy of being further explored… But, with this two-hour feature we have only just scratched the surface.
DOES THIS FILM HAVE A HEART? OR IS IT ALL ABOUT THE VISUALS?
I have heard word that some critics found the movie to be emotionally hollow. And some who have said, this is merely just another young-adult dystopian movie.  And I could not disagree with both of those sentiments more.  The film rides or dies on our young protagonist Vesper, and she is marvelously brought to life by Rafiella Chapman.  This androgynous, tough-as-nails, wise-beyond-her-years character and the relationship she has with her father, is a complicated one and also serves as the emotional crux of the film.  In fact, the doting bond between children and their parents is examined at length… And in a very intriguing way here.  But, that unwavering connection between Vesper and her father really allowed me to become emotionally invested in these characters and this film.  
JUST ANOTHER YA DYSTOPIAN MOVIE!? NO…
And as for people saying this is just another Young-adult dystopian movie… I'm not sure what movie they were watching. Because even though it stars a 13-year-old protagonist in a dystopian world… Its similarities to the once-booming, over-saturated YA craze of blockbusters ends there. This is a very mature, slow-burn, heady piece of science-fiction that is much more in line with Guillermo Del Toro's Pan's Labyrinth or the works of David Cronenberg, than The Maze Runner or Divergent franchises.
ANY ISSUES WITH VESPER?
If I have any qualms with Vesper, it's that this isn't the most rewatchable of films.  There's not a lot here that would want to make me come back for more… Unless the story was continued in future installments.  The overall mood of the movie is somber and grim, with very little uplifting moments.  And while I do appreciate the slow burn that I've previously mentioned, there were a few moments here that seemed to saunter along at a tedious pace.  So, while I was captivated by Vesper's story and visuals… I can't say that I necessarily enjoyed my time with it.
IS IT WORTH WATCHING?
Even so, I recommend this movie to all of my viewers and I hope it is discovered by as big of an audience as possible. This is independent filmmaking on a massive scale, that has taken advantage of every cent of its budget, and is so passionately and lovingly crafted by its creators, who are attempting to bring us something on the silver screen we have never seen before. How often can you say those things about a film nowadays?
Vesper will be in Select Theaters and Streaming on VOD September 30th, 2022.
For more Reviews, make sure to Stay Tuned to That Hashtag Show!