"I guess every once in a while, both suns shine on a womp rat's tail." Today Sideshow and Hot Toys have revealed the pre-order for the Cobb Vanth sixth scale figure. This figure was first announced back in 2021, but no details or head sculpt were shown. With this announcement, we now get a full look at the figure including the Timothy Olyphant head sculpt. Cobb Vanth was first introduced in live-action in Season 2 of The Mandalorian and also returned for a memorable appearance in The Book of Boba Fett. The character has become a favorite of many fans so this new figure will be a welcome addition to many collections, including mine.
COBB VANTH SIXTH SCALE FIGURE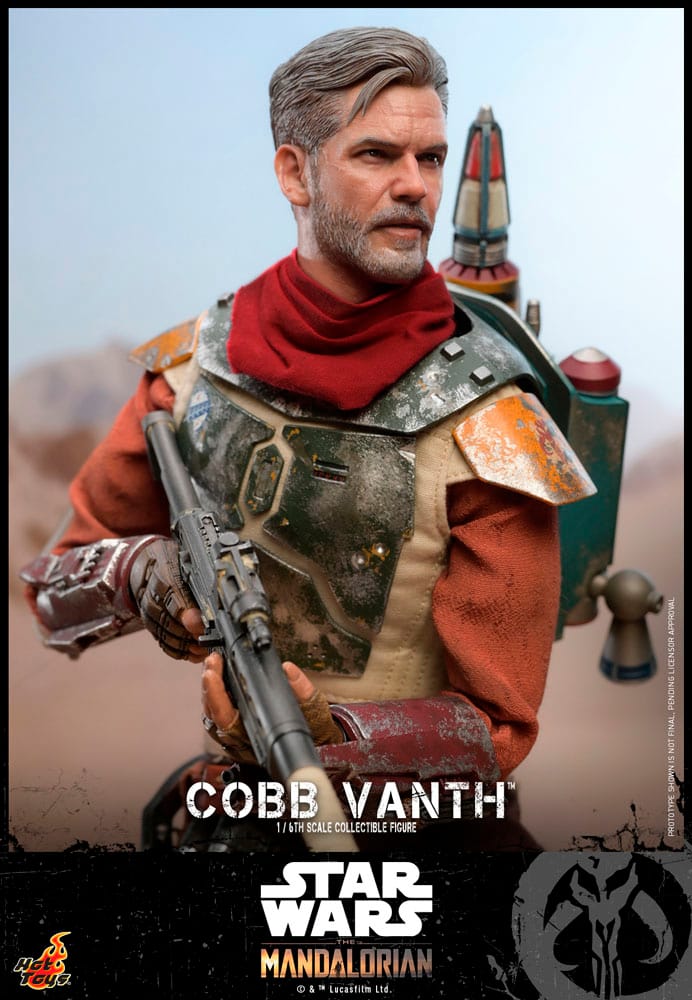 The marshal of Mos Pelgo™, a small town on Tatooine™, Cobb Vanth has earned the trust of the townsfolk as a capable peacekeeper and leader. Vanth, at one time, the was keeper of Boba Fett™'s Mandalorian armor, which he bought off of Jawa™ traders.
Sideshow and Hot Toys are delighted to officially present the beloved marshal as the Cobb Vanth Sixth Scale Collectible Figure!
The collectible figure is skillfully crafted featuring a newly developed head sculpt with incredible likeness, an interchangeable Boba Fett helmet, a detailed costume with Mandalorian armor pieces, a jetpack, a blaster rifle, a blaster pistol, a selection of accessories, and a themed display base!
Expand your The Mandalorian collection with this Cobb Vanth Sixth Scale Figure today.
WHAT'S IN THE BOX
The Cobb Vanth Sixth Scale Figure features:
Authentic and detailed likeness of Timothy Olyphant as Cobb Vanth in Star Wars: The Mandalorian
One (1) newly developed head sculpt with highly-accurate facial expression, detailed wrinkles, and skin texture
One (1) interchangeable Boba Fett helmet with an articulated rangefinder
Specially applied distress effects on armor, weapons, and accessories
Body with over 30 points of articulations
Approximately 31 cm tall
Six (6) pieces of interchangeable gloved hands including:

Relaxed hands
Gesture hands
Pistol holding right hand
Right fist

Each piece of head sculpt is also specially hand-painted
PHOTO GALLERY
WE WANT TO HEAR FROM YOU
What are your thoughts on the Cobb Vanth Sixth-Scale Figure? Is this a must-have for your collection? Also what other Star Wars figures would you like to see them add to their lineup? Well, That Hashtag Show wants to hear from you!
You can tell us your thoughts by leaving a comment below or finding me on Twitter at TheIndianaSlone. Also, make sure to stay up to date on all your Entertainment and Pop Culture news by following us at ThatHashtagShow.com.
KEEP READING