Bullet Train is the type of movie that I will always love to some degree. It's an action-sort of a murder mystery set almost entirely on one set piece, the titular bullet train. There's intrigue, assassins, gangs, murder, comedy, and a giant anime-costumed character that gets punched. If you can't tell, Bullet Train is immensely fun, doesn't take itself too seriously, and does what all great action movies do, they take from the past, combine that with another genre, and give you something that feels fresh in an action climate that's all about big budgets, and stars that are impervious to damage.
Bullet Train is based on the book Bullet Train (マリアビートル) by Kōtarō Isaka. That novel follows a former hitman who's trying to find who injured his son. All the while, competing hitmen are searching for a case filled with cash and the son of the most powerful crimelord in Japan, the White Death. Naturally, that setup leads to plenty of conflict among the train passengers with various ulterior motives.
Running down the list, we have: Ladybug (played by Brad Pitt), Prince (played by Joey King), Tangerine (played by Aaron Taylor-Johnson), Lemon (played by Brian Tyree Henry), Kimura (played by Andrew Koji), The Elder (played by Hiroyuki Sanada), and The Wolf (played by Benito A Martinez Ocasio 'Bad Bunny'). it also stars Sandra Bullock, Michael Shannon, Zazie Beetz, and Logan Lerman. David Leitch (Deadpool 2, Hobbs & Shaw, John Wick) directs Bullet Train with a script from Zak OIkewicz.
That might be a large cast list, but surprisingly, no one gets lost in the shuffle. Bullet Train relies on a frenetic and speedy editing style that combines with the pace to ensure that there's really no break in the action. Instead of slowing down the film to give the audience a break, those breaks are given with comedy and levity at certain points. There is an action sequence in the film that gives both of the combatants a physical break, while a train attendant has to wheel a snack cart between them. It's one of the funniest scenes in the film and a great way to pace the film.
All About The Action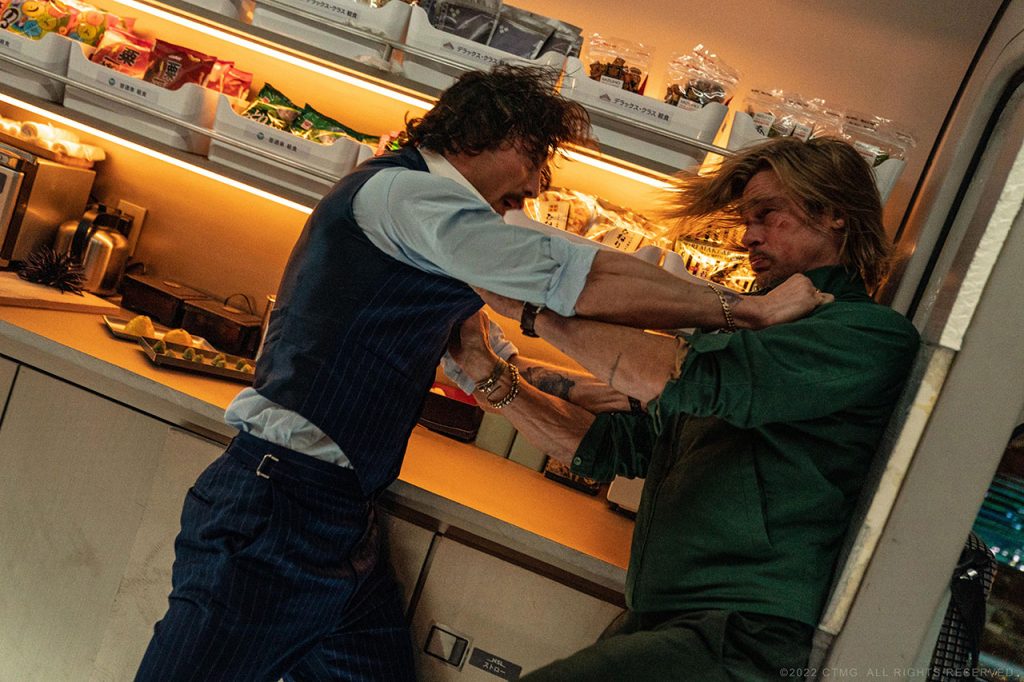 Bullet Train goes from mini-set piece to mini-set piece and then explodes near the end with a gargantuan set piece. Each car of the train plays host to a fight or a conflict between the hitmen on the train. Whether that's Tangerine and Ladybug duking it out in the back of the train, or The Wolf and Ladybug fighting in the dining car. Each piece has stunts and hard-hitting fights that feel very real. They're choreographed incredibly well.
When it comes to the characters in the film, they're all very well written and they each get their own shine. The only point where the film stumbles a bit is in the beginning when they have to introduce everyone. It bogs down the beginning of the film with introductions and is the only real stumble. It breaks up the action too much for needless backstory that could have been explained in an easier way. Ladybug doesn't need any of the backstories, he's introduced as taking on a job because "Carver" had a stomach issue. Brad Pitt gives the character a ditzy essence that's charming and hilarious. This role feels a lot like Jack Burton in Big Trouble In Little China. It's a fish out of water and the true "hero" and character that gets the revenge is revealed later.
Outside of Pitt, the other performances range from good to great. Joey King as Prince is absolutely irredeemable in the best way. She's awful, she does whatever she wants to get her way, and uses everyone on the train. Throughout the movie, I kept thinking "this girl is truly awful" and it leads to a great performance by King. Taylor-Johnson and Tyree Henry are a perfect match as Lemon and Tangerine. If these two don't star in a Lethal Weapon-style film down the line, it would be a shame. As always, Hiroyuki Sanada is a badass and gets his moments to shine.
Carefree Describes It Best
Throughout the 126-minute runtime, Bullet Train just feels carefree. It doesn't try to reinvent anything involving the style of mid-to-late 2000s action that it purveys. You get pure action, some lighthearted moments, and even a couple of emotional sections, especially between Lemon and Tangerine. It all adds together to give you exactly this: warring hitmen all trying to kill each other and make off with the money.
That action gets you in the theater, and the interaction between all of the characters and their quirks keeps you there. Bullet Train is all about karma, and what goes around, comes around. That thread unites all the characters in the film. There's a huge theme of good luck vs. bad luck also. Ladybug routinely confesses about his bad luck, while Prince shares that she always seems to be lucky.
In a sea of movies these days where the stars like Dwayne Johnson, Vin Diesel, and others only kick ass, it's refreshing to see Brad Pitt get his ass kicked a bit in Bullet Train. The movie is bloodier than you'd expect. There are swords and guns involved here, but some of the best gore and action happens because of the train. People get sucked out of open doors, are smashed on top of the train, and there are plenty of smaller bloody effects.
David Leitch keeps the whole thing running smoothly, besides the missteps at the beginning, and it's very much his style. It's no wonder he brings the same sort of "immense fun above anything else" style from a film like Hobbs & Shaw here. If you liked Deadpool 2, this one fits right in. There are plenty of gargantuanly budgeted action films these days, but Bullet Train does more than some of those films on a $90 million budget. It squeezes out every last drop of action and you're left with a thrilling movie that sticks the landing. The cast, writing, and action setpieces all carry this one to an enjoyable end.
Bullet Train hits theaters on August 5th, 2022.
For more reviews, make sure to check back to That Hashtag Show.
Keep Reading: