What happens when you take a bit of every spy tale out there and add some major star power to it? You get The Gray Man from Netflix. The movie, based on the book of the same name, is by Mark Greaney, who collaborated with Tom Clancy on his final books and continued the legacy of the Jack Ryan character. If you've seen or read any of those books, The Gray Man will be very familiar. However, it sidesteps some of the spy thriller intrigues and goes full bore into action territory. To adapt the novel, there's another bit of spy movie royalty doing so, Christopher Markus, Stephen McFeely, and Joe Russo. Together, the three of them wrote the MCU movie Captain America: The Winter Soldier, among other multi-billion dollar films like Avengers: Endgame.
Take a bit of what made The Winter Soldier so special (besides Chris Evans), add in some Tom Clancy, and bump the action up, and you've got The Gray Man. Through all of that action though, it's more than just set pieces. You get the creation of what could be the next biggest action spy in Six/Court Gentry (Ryan Gosling), you also get Chris Evans being absolutely devilishly evil with one of the most killer mustaches on film.
If you've seen any of the Russo Brothers' previous films, you know what you're signing up for. The Gray Man has incredibly slick action sequences with no wasted space, The script is tight but doesn't really leave much for interpretation, which works in the film's favor because it never gets bogged down in the details. They give you what you need to know, and then you're off with a movie where Chris Evans has to hunt down Ryan Gosling. The idea sells itself.
One Of The Best Action Ensemble Casts In Recent Memory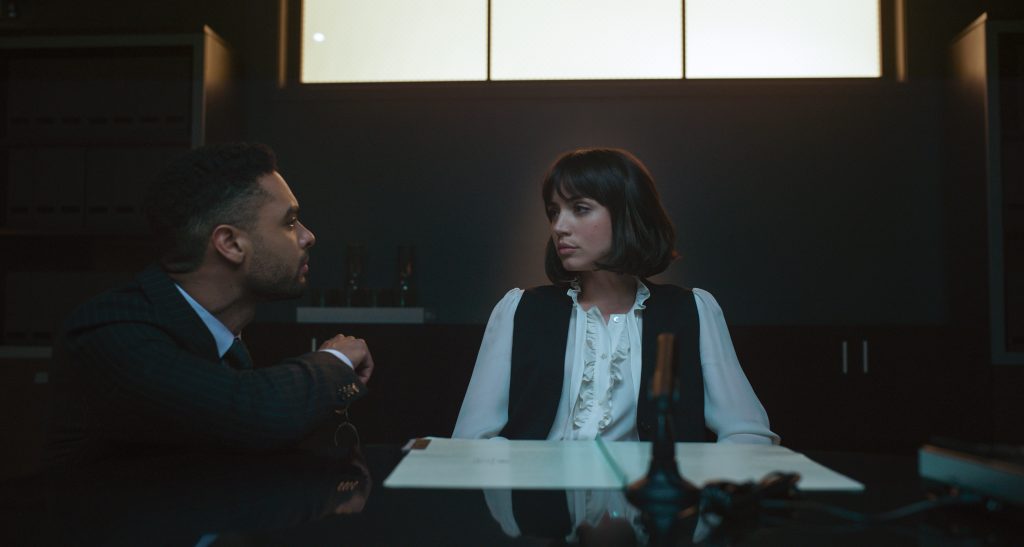 The Gray Man has some serious star power at the top of the bill and it only continues as you go down the cast. At the top, Ryan Gosling and Chris Evans are both fantastic in their roles. Evans' turn as Lloyd Hansen is a stroke of genius on the filmmaker's part. We've seen Chris Evans play villains before, but nothing like what he does in The Gray Man. It's so delightfully evil, with plenty of one-liners, quips, and excellent body language. If you loved his turn as Captain America, he takes that kind of energy and uses it for evil. it's one of the most charismatically evil performances of this era of action films.
For everything that Evans is, Gosling isn't in the film. He's smooth, cool, calculating, and brutal. After about ten minutes of the ass he kicked in Drive and The Nice Guys, this is a similar turn for Gosling as Matt Damon had in The Bourne Identity. Plenty of audiences are going to see just how great of an action-lead Gosling is. The action sequences and scenes between him and Chris Evans are the absolute highlights of the film.
Ana de Armas finally gets a longer look as an action heroine, Dani Miranda, in The Gray Man. After her scene-stealing performance in No Time To Die, she continues kicking ass and taking names here. Her role is great, she's not anyone's romantic interest, she doesn't even really like Six, yet, she has to save his ass and help him. When I say that Ana de Armas needs her own action franchise, you'll believe me after watching this movie.
More On The Rest Of The Cast
Rounding out the cast is Regé-Jean Page, Jessica Henwick, Billy Bob Thornton, and Julia Butters. Page is as slimy and secretive as they come as the Agency Director Carmichael. He has some great scenes with de Armas and Henwick, particularly in the latter half of the film as Lloyd Hansen is decimating anything in his path to get to Six. Billy Bob Thornton and Butters have great chemistry together as niece and uncle, and their chemistry with Gosling is even better. Julia Butters gives a performance that's grounded but realistic to what a teenager would do in a situation where their "babysitter" is actually a CIA operative. The parallels between Claire (Butters) and Six are also very apt.
Finally, for Indian fans out there, don't fret, Dhanush gets plenty of run as bounty hunter Avik San. His entrance in the film comes as a pivotal moment, and he kicks an outrageous amount of ass. His action scenes are given the same attention to detail, length, and care as the fights between Evans and Gosling. He's also pivotal to the plot in an honorable way, that's surprising for an action film and sets him up to possibly return down the line. I was incredibly impressed by his scenes, this is a great introduction to him for American audiences.
Action Setpieces That Rival Any Blockbuster Out There
On the level of action sequences, The Gray Man fits right in with Mission: Impossible and Hobbes and Shaw. The film goes over the top with the action, but it never verges into completely breaking the suspension of disbelief. If you're looking for negatives here, it might recycle two character deaths that happen in the same way, and some of the set pieces on display are a bit derivative of others in the genre, but it makes up for that with gravitas and the performances involved. Even the nameless goons that are killed have more flair and personality than most action films out there.
This isn't an art-house movie, it was never advertised as one. For an action film, the plot holds up. It doesn't break under the stress of everything going on around it, and that's all you can really ask for. This movie is not built for the plot, it's built for the performances and action. If that's what you're looking for, you'll enjoy The Gray Man. Everything has a throwback feel to it, back to the days of those classic Harrison Ford action/thrillers, but with updated sensibilities for modern action set pieces. If this doesn't turn into a gargantuan action franchise, I'll be shocked. Having a rotating door of incredibly likable actors join as the villain would be awesome. The Gray Man simply works, it does the job as an action film, and it's endlessly entertaining.
Watch The Gray Man in select theaters on July 15th, and on Netflix worldwide on July 22nd, 2022.
For more Movie Reviews, make sure to check back to That Hashtag Show.
Keep Reading: