Pretty Little Liars was a hit series that was loosely based on Sara Shepard's book series of the same name. PLL ran for 7 seasons on Freeform saying its final goodbye in 2017. Now, 5 years later, HBOMax has revived and updated the series with Pretty Little Liars: Original Sin and we're so glad they did!
Pretty Little Liars: Original Sin takes place in the small town of Millwood. 20 years ago, the town was torn apart after the death of high school girl, Abigail Waters. However, just like every smalltown – it has its secrets. Now, these lies are trickling down onto the daughters of the women who were involved and a new A is terrorizing everyone.
THE NEW PRETTY LITTLE LIARS: ORIGINAL SIN CAST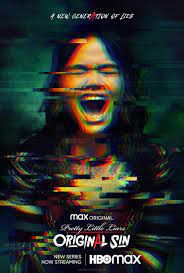 We have 5 new little liars, Imogen (Bailee Madison), Tabitha (Chandler Kinney), Noa (Maia Reficco), Mouse (Malia Pyles), and Faran (Zaria Simone). Each girl has a very distinct personality and trauma. Yes. Trauma. Which gets shared and slowed unfolds throughout the series.
In the original series, the parents are barely involved. This time around they are a huge focus and Hollywood royalty is abound! Carley Pope plays Imogen's mother, Davie. Sharon Lean plays Tabitha's mother, Sidney. Noa's mother, Marjorie, is Elena Goode. Lea Salonga plays one of Mouse's two mothers. Finally, Zakiya Young plays Faran's mother, Corey.
WHAT IS THE ORIGINAL SIN?
As the series goes on, we learn more about the mothers in their youth, the way they bullied Abigail Waters, and eventually what happens the night of her death. The story is told through multiple flashbacks which is a great device for this.
Each new Little Liar has serious trauma they're dealing with and the series doesn't sugarcoat it. However, it does piecemeal it so as to not overwhelm and give everything away. In a way, it seems as if this new series is trying to fix the "original sin" of the OG Pretty Little Liars series by not allowing lines to be blurred or creepy things to be acceptable. Looking at you Ezra and Aria. These girls are smart, Gen-Zers who don't go for that garbage.
A is back with a vengeance! This time, it's not someone in a black coat. No. Now, A seems to be very tall and broad-shouldered and wears a jumpsuit and Leatherface-esque mask. A is using new devices to torment the guilty from Letters to text messages, and a little bit of light stalking A isn't letting anyone out of their sight.
THIS SHOW IS NOT ON FREEFORM
While it doesn't seem like we'll get any original cast members making cameos on Pretty Little Liars: Original Sin, there are a couple of nods that are fun to catch.
I also need to point out that this series is on CABLE. Just like the HBOMax treatment of Gossip Girl this version is much darker, scarier, and more adult. In one of the first moments in episode one, we see the Sherif receiving oral sex from a minor. If that doesn't set I tone, I don't know what does.
So, a little forewarning, this isn't a teen show on basic cable. That being said, I really enjoyed this updated version of Pretty Little Liars and think it's definitely worth a watch if you're a fan of the original series or not. If you like fun, Young Adult Horror then this show is for you.
Pretty Little Liars: Original Sin drops its first 3 episodes TODAY, July 28th. Then, the series will release one episode at a time for the next two weeks. Followed by another 3 episode drop for the finale episodes.
KEEP READING