Peacock is focusing on the kids! It is expanding its animated kids' programming by bringing some old and new favorites Some of those are Megamind's Guide To Defending Your City and Abominable and The Invisible City. Also coming back in season 2 of Babble Bop! Along with these titles are new ones such as Dino Pops, Press Start!, and Team Mekbots Animal Rescue just to name a few.
Megamind Is Back!
As some will recall Peacock's Megamind's Guide to Defending Your City and Abominable and the Invisible City are both sequels. Megamind's Guide to Defending Your City is the sequel to the 2010 hit Megamind. It tells the story of Megamind, an intelligent supervillain turned superhero. In the sequel, he is learning the ropes of being a superhero while his every move is being recorded by his brainbots. Thus making him the first superhero influencer around!
Returning to executive produce the series are Alan Schoolcraft and Brent Simons, who are responsible for writing the original movie. Alongside them is Eric Fogel. Producing the series is DreamWorks Animation in CG animation form.
The Magic Of the Yeti
Another sequel coming to Peacock is Abominable and The Invisible City. Continuing from the 2019 film, it follows Everest the Yeti and his friends Yi, Jin, and Peng. The gang realizes that the magical world they knew exists thanks to Everest is actually closer than they think. Not only is it closer, but it is filled with animals that need their help. The series tells of these heartfelt and magical adventures.
Executively producing these fun adventures is Jim Schumann with Katherine Nolfi working as co-producer. This, like Megamind, is being produced by DreamWorks Animation in CG Animation Format.
Groving with Season 2 Of Babble Bop
Another familiar name returning to Peacock will be Babble Bop! Coming back for season 2, Babble Bop will bring us more toe-tapping music and dance to listen to. Made for Pre-K children, Babble Bop gives us a new and original take on nursery rhymes while giving fun dances to follow along to. As well as fun preschool play. Each episode will revolve around one familiar song. All the while following our heroes Lilly, Miguel, Izzy, Hugo, and Sam as they dance, paint, dress up or help their parents throughout the day.
Babble Bop's executive producers will be Raja Khanna and Dan Fill. Alongside them is Christine Thompson as producer and Katherine Stanford as the writer. Directing the series will be Luke Jurevicius and Tim D.P. Thompson.
Press Start Into A Gaming World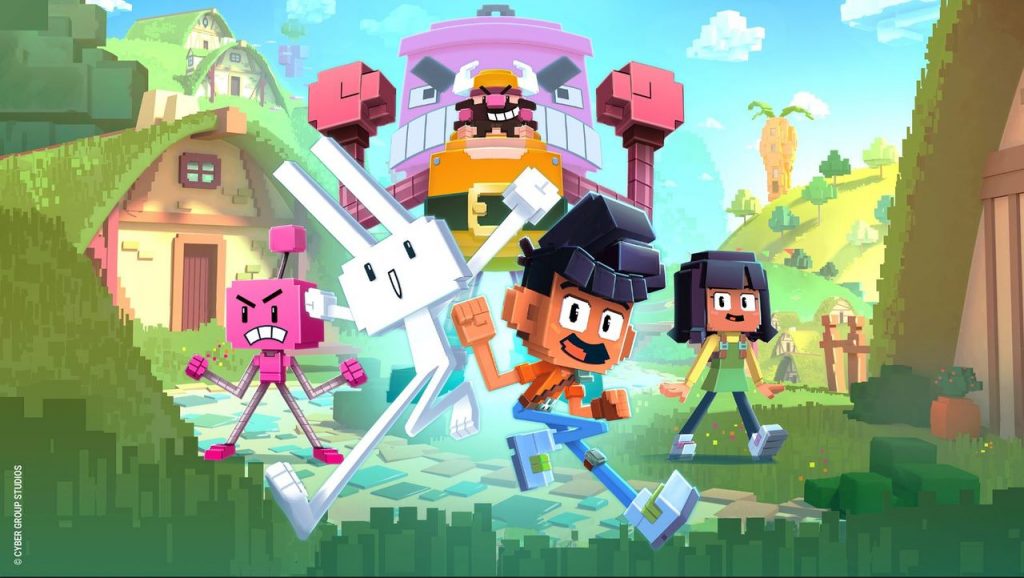 Following the sequels Peacock has some new shows coming. The first of those is Press Start! A fun adventure show based on the best-selling book Press Start that is written and illustrated by Thomas Flintham. The show tells of two siblings Sunny and Rue who transport into their favorite game "24 Karat Quest". The story takes place in the siblings' real world and Rabbit Boy's "game" world. After transporting into the world, the siblings must help Rabbit Boy save the game world from destruction by Villain Bosses.
As mentioned, the story comes from Thomas Flintham's bestselling book. Acting as executives are Dominque Bourse, Karen K. Miller, Pierre Sissmann, and Scott Kraft. And, producing it is Cyber Group Studios in an animated CG comedy-adventure. Each episode is 11 minutes long with 52 episodes in total.
Saving The Animals With Mekbots
The second new show on Peacock is Team Mekbots Animal Rescue. Telling the adventures of Kawhi, Mateo, Mei-Lin, and Frost, four kids around the world who love animals. They use their tech skills to create Mekbots which are each inspired by a different animal. Each episode is of the Children who are from different cultures using teamwork, compassion, and environmental smarts to work together. Working together they save animals from all over the world.
This series is created by More Minds Studio. While executive-producing it is Rob Hudnut and Mads Munk. Joining in as editor is Shane Amsterdam with Steed Sun as Art director. The producing company will be M2 Animations. Also, each episode will be 7 minutes long with there being 39 episodes.
Dino Fun
Finally, the last new show on Peacock is Dino Pops. This is a story where Dinosaurs still roam the land. But, they are nice dinosaurs who are often hilarious. Aiding children in making it familiar will be elements of today such as ice cream cones and race cars. Each episode tells of a different dinosaur, diving into their traits and their habits. Meanwhile, all facts shown in the series will be given by Paleontologist Dr. David Pol. Dr. David and his team have discovered fossils of over 20 different dinosaurs.
Creating this series is Ailing Zubizarreta. Also with her is Maria Benel and Nico Ferrero working as executive producers. Matt Doyle is the head writer. As well as Movius Lab Kids producing the series in a fact-based educational series. Clearly, this is an impressive line-up and these are not even all the shows hitting Peacock soon!
So, if you have a preschooler or even a young child, now is the time to get the Peacock. For all streaming services news don't forget to check back on THS