This year marks the 60th anniversary of one of our favorite Marvel Superheroes, Spider-Man. To celebrate this amazing anniversary I will be taking a look and reviewing a few of the Spider-Man items around the Spider-Verse that Diamond Select Toys (DST) has to offer. The items I will be looking at over the next couple of weeks will be the Spider-Man (Lamppost), Spider-Man (Miles Morales), Spider-Man Gallery Dioramas, and the Miles Morales Legends in 3-Dimensions Bust. The first item I will be starting with is the Spider-Man (Lamppost) Gallery Diorama. This Gallery Diorama retails for $49.99 and is available at DiamondSelectToys.com and local shops like my friends over at TRG Toys & Collectibles.
Diamond Select Toys – Spider-Man (Lamppost) Gallery Diorama
As a Spider-Man collector, you are always looking for that next piece to show off in your collection, and if you are familiar with Diamond Select Toys you already know they have a lot of Spider-Man options to choose from. Well, thanks to our friends over at DST I was able to check out and review a few of these options starting with the Spider-Man (Lamppost) Gallery Diorama.
A Diamond Select Toys release! The battle continues! Spider-Man joins the fight in the newest entry in a new sub-line of Marvel Gallery Dioramas, perching atop a lamppost over a rubble-strewn environment. Designed to display on its own or with others in the series, this approximately 10-inch sculpture is made of high-quality PVC and features detailed sculpting and paint applications. Packaged in a full-color window box.
Designed by Nelson X. Asencio and hand-sculpted by Jean St. Jean!
The Spider-Man (Lamppost) Gallery Diorama Review From Diamond Select Toys
If you are a collector of the Gallery Diorama lineup you know this is a great and affordable way to add good quality pieces to your collection. So today im going to share with you my thoughts on the Spider-Man (Lamppost) Gallery Diorama. Now I like to get the negative things out of the way first so we can focus on the good things this piece has to offer. So without any more waiting here are the cons and pros of this Spider-Man Gallery Diorama.
Cons
First, we will take a look at some of the cons of the Spider-Man (Lamppost) Gallery Diorama. Now there really isn't a lot bad about this statue but there were a couple of this that I notice when looking over this piece.
While the shadowing on the Spider-Man (Lamppost) Gallery Diorama looks good there are some areas that seem like they used a little too much. One of those areas that stood out to me was the face.
The next thing is that on the back of the smoke rising from the rubble there was a small spot of red paint. Now im sure this is not on every statue but I like to report what I see. The good thing is that when displayed you won't be able to see it.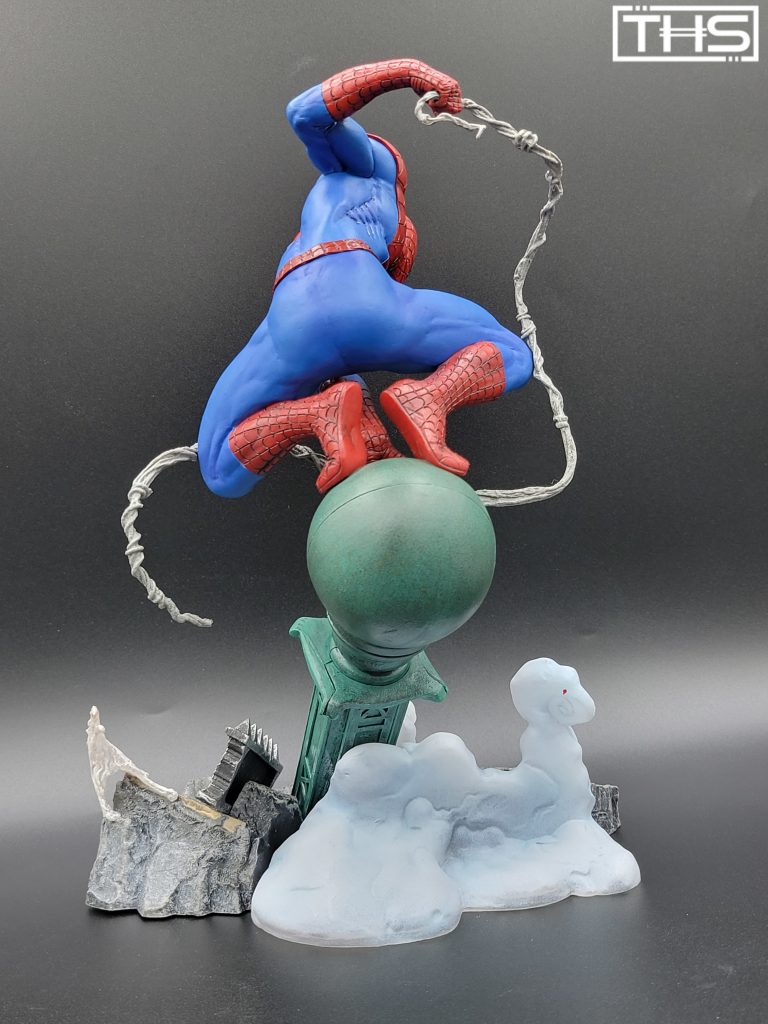 Pros
Now it is time to look at all the goods things the Spider-Man (Lamppost) Gallery Diorama has to offer.
If you are an in-box collector the box comes with a window so the diorama is easy to see. Also, the box is very colorful and tells about the statue on the back. So still in the package, this will look good in your collection.
The Spider-Man diorama comes as one piece so there is no assembly required.
Other than some of the shadowing issues I talked about the paint application on the Spider-Man diorama looks good and brings a lot of detail to it.
The base for the diorama really helps make everything flow together. From the lampost to the smoke and rubble all around this simple statue tells a big story. Also, the base is wide which makes this Spider-Man (Lamppost) Gallery Diorama easy to display without fear of it falling over easily.
The Spider-Man diorama is also very lightweight so it is very easy to move around as you look for the right place to put it.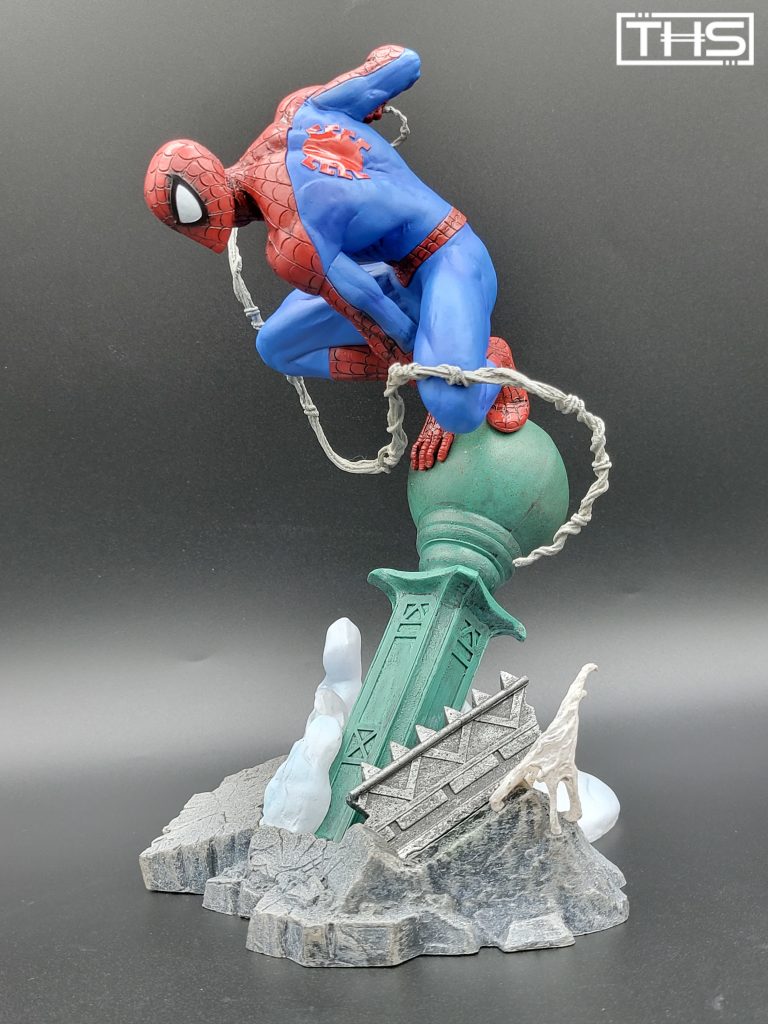 My Final Thoughts
If you are a fan of Spider-Man and are looking for a fun piece to add to your collection the Spider-Man (Lamppost) Gallery Diorama is a must. You can't go wrong with the $49.99 price point for a statue that has this much detail. This diorama is fun and tells a story about the fearless web-slinger. This gallery Diorama is great for someone who is starting out as a collector or for someone that has to have it all. While this is not one of the best of the spider-man pieces from Diamond Select Toys it is not the worst either. The couple of cons that were pointed out were not enough for me to say swing away from this piece.
We Want To Hear From You
What are your thoughts on the Spider-Man (Lamppost) Gallery Diorama from Diamond Select Toys? Is this a must-have for your collection? Also, what are some of your favorite Diamond Select Toys pieces in your collection? That Hashtag Show wants to hear from you!
You can tell us your thoughts by leaving a comment below or hitting me up at starwarsnerd574. Or you can also join us on the Marvel Fanatics Facebook page and chat about all things Marvel. Also, make sure to stay up to date on all the Marvel and Collectibles news by following us at ThatHashtagShow.com.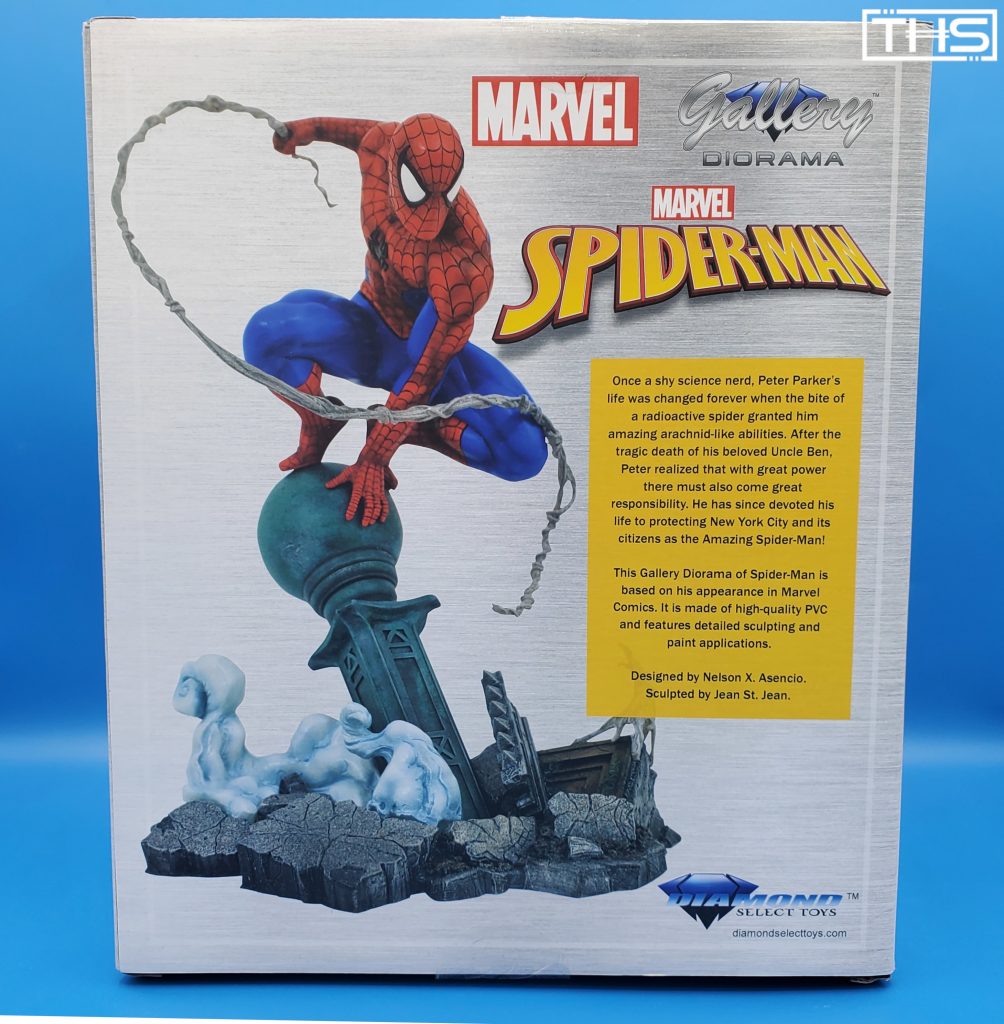 SEE ALSO: