Cowabunga TMNT fans! If you are a fan of TMNT and a toy collector you will want to check out this new set available now at Walmart.com. Get ready to head back to 1993 with the new Teenage Mutant Ninja Turtles: Sewer Heroes 4-Figure Bundle. This four-pack takes some of your favorite TMNT characters and turns them into superheroes. This radical four-pack retails for $49.97 and is available now to pre-order at Walmart.com. You can check out the official details below.
TMNT: Sewer Heroes 4-Figure Bundle
We're taking TMNT fans back to the beginning with Original Classic Action Figures! This special Sewer Heroes 4-Figure Bundle comes with Super Mike (The Red, White and Blue Reptilian Ranger), Super Don (The Bad Boy Buster), Mighty Bebop (The Muscle-Bound Mutant Menace) and Rhinoman (The Humongous Horned Half-Wit)! Each figure includes an exclusive set of accessories, outfits—and, of course, a sidekick! It's a super bundle of Sewer Heroes, ready for action below and above the skyscrapin' skyline of New York City!
Teenage Mutant Ninja Turtles: Sewer Heroes 4-Figure Bundle with Accessories
SUPER DON: Comes with his Turtle "T" Shield, Batty Boomerang Wrist Launcher, and Tad "Sidekick" Pole
MIGHTY BEBOP: Comes with his Fisty Shield, Tranquilizin' Dart Wrist Rifle, and Harey the Beefed-Up Bunny Sidekick
RHINOMAN: Comes with his Rhino-Plated Shield, Turtle-Terminatin' Laser Gun, and Nutty the Squirrelly Sidekick
RETRO PACKAGING: Each figure is packed out in their classic Sewer Heroes branded blister card, featuring a high-rise NYC building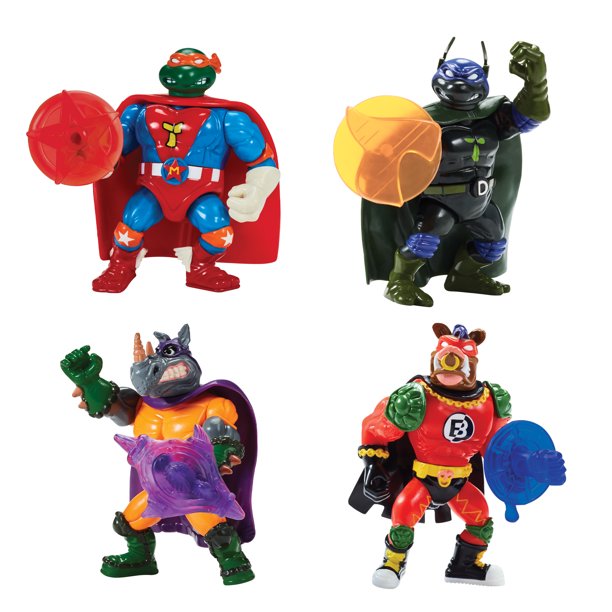 We Want To Hear From You
What are your thoughts on the return of the Teenage Mutant Ninja Turtles: Sewer Heroes 4-Figure figures? Is this set a must-have for your collection? Also, what other TMNT bundles would you like to see? That Hashtag Show wants to hear from you!
You can tell us your thoughts by leaving a comment below or hitting me up at starwarsnerd574. You can also join me on The Toy Fanatics Facebook page to see the latest collectible and Toy release news. Also, make sure to stay up to date on all the Pop Culture and SDCC news by following us at ThatHashtagShow.com.
Source: Walmart.com
SEE ALSO: