FOR THOSE OF YOU WHO HAVE YET TO SEE NOT OKAY, THIS IS A NON-SPOILER REVIEW.
Have you ever felt so conflicted with a movie, that you couldn't put your finger on whether you loved it or hated it?  Well, that is how I felt after watching Hulu's new original film Not Okay.  So, I want to dive into the negatives first and then the positives… And hopefully, come up with some kind of conclusion by the end of it.
WHAT IS NOT OKAY ALL ABOUT?
The movie follows Danni Sanders, an aimless aspiring writer with no friends, no romantic prospects and — worst of all — no followers. Who fakes an Instagram-friendly trip to Paris in the hopes of boosting her social media clout. When a terrifying incident strikes the City of Lights… Danni unwittingly falls into a lie bigger than she ever imagined.
DOES NOT OKAY SUFFER FROM AN IDENTITY CRISIS?
Starting with my many issues… This film is tonally all over the place and suffers from an identity crisis.  It feels as if it wants to be Mean Girls with a message behind it… one moment its dishing awkward dead-pan humor reminiscent of early 2000s comedies, then it becomes a Gen Z-Millennial wish-fulfillment fantasy, and then it's a dark, biting satire with extremely heavy and dramatic themes.  And Not Okay never succeeds in this juggling act, especially when we're talking about the comedy… which to me, was just plain cringe-worthy.
IS THIS A "MESSAGE MOVIE"?
The film also has so much that it's trying to say that you could call it a "message movie" and not be wrong.  It's a meditation on our young generation's reliance on social media for meaning and purpose.  How likes, comments, and subscribers can be our only means for validation, the only way we feel as if we can be seen. It's a critique of influencer culture.  How do people take what is not theirs and call it their own?  How we shape others' narratives to benefit and bolster ours.  It's a rallying cry to a country that says it condemns violence, yet supports the problem and chastises its victims.  Yes, Not Okay is all of those things…. And when it decides to get serious and not gloss over these themes, it is shockingly poignant.  But, too often, all of this gets muddled in the movie trying to be way too many things at once.  
WHY HOLD BACK…? GIVE US THE GOOD STUFF!
There is a really fantastic movie somewhere in the depths of Not Okay… one that could've been a cult classic. One that isn't afraid to go completely against the norm and deliver something divisive, brave and provocative. And what is so frustrating is that there are moments of brilliance in this film, in which you could use those adjectives to describe it… but then the screenplay completely fumbles those moments in the next scene. Too often than not, it feels as if Quinn Shepherd's film is holding back… attempting to be something for everyone, rather than being unapologetically its own unique vision. And because of this, it just might alienate audiences entirely.
LET'S GET TO THE POSITIVES…
Now to our positives… Surprisingly, what really worked for me was when the movie went full-on dark. When the movie doesn't pull any punches and does zero favors for its anti-hero. Not Okay subverts all expectations by pretending it's going to be one thing and then pulling the rug out from under you. This is no redemption movie, which was extremely refreshing and unexpected.
IS OUR LEAD CHARACTER ONE YOU CAN ROOT FOR?
Many audiences will be totally turned off from the get-go by our mostly-delusional, apathetic and selfish lead character.  Danni Sanders is so unlikeable and her actions are so reprehensible that they might make you sick.  And at first, I kept wondering why our writer/director hadn't spent more time in the beginning, giving Danni some redeeming qualities to make her actions later, more palatable.  Because, as a viewer, we have been conditioned to always root for our lead character in a movie.  And then by the end, you realize this is not Shepherd's prerogative at all… and to make this character relatable, would have taken away the great impact this movie's finale has.  I appreciate the fact that, in this regard, Not Okay doesn't take the easy or expected route.  By making Danni an amoral protagonist and her journey of self-discovery a wildly unpredictable one, Shepherd has created a nuanced and fresh, if completely unsympathetic character.
HOW IS THE CAST?
And that leads me to the cast; who are all fantastic and are able to elevate the often-times embarrassing dialogue.  Zoey Deutch uses her girl-next-door charm to her advantage, by making it a sly front for Danni's deplorable personality.  This character could have been entirely unwatchable, but Deutch makes it so, you just can't look away.  Dylan O'Brien (who co-stars with Deutch in this year's underrated gem The Outfit) is having the time of his life, being just as sickeningly loathsome as our lead.  He plays Colin, a chain-vaping, idiotic, wannabe playboy so well, that you'll want to punch O'Brien in the face, by the end.  And lastly, there's Mia Isaac, who is having a helluva month, after starring in the just-released Amazon Prime Original Don't Make Me Go.  She plays a school-shooting survivor named Rowan, and the actress brings real gravitas and impact to the film when everyone else around her is all playing garbage humans.      
IS NOT OKAY WORTH A WATCH?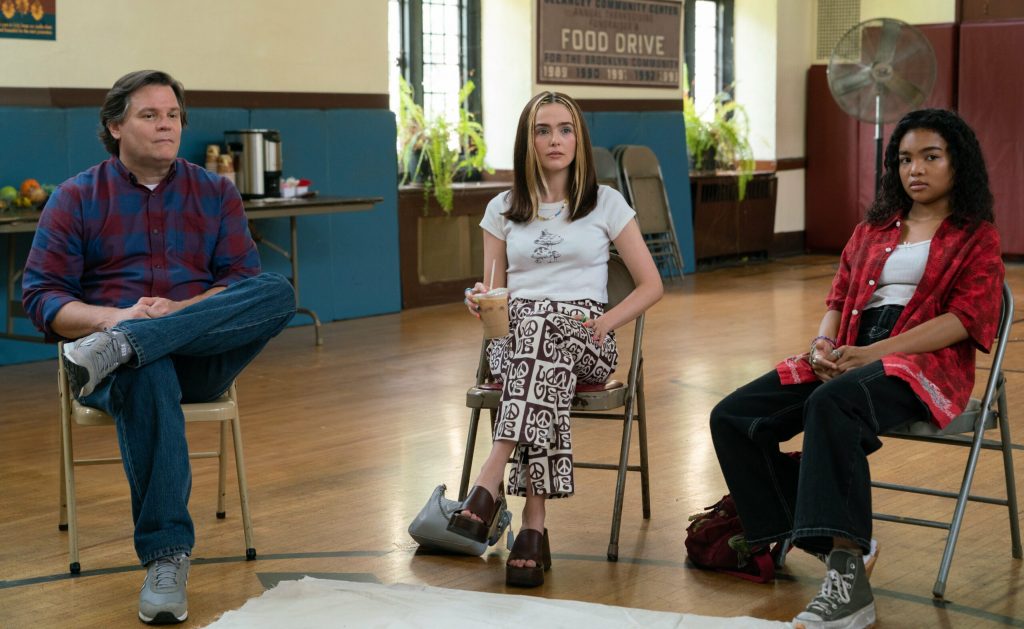 I spent a great deal of time after the movie, thinking about it… which is normally, always a good sign.  But, here, I just kept thinking about how frustrated I was, that Not Okay didn't go all the way to the dark side.  Instead of sugar coating much of its subject material, as it has…I craved for it to get down and dirty and in the trenches, with what it was trying to say.    This film just doesn't have the razor-sharp wit or deep insight that it thinks it has, to pull off what it's trying to accomplish.  But, I am still going to recommend that more-forgiving viewers check this out.  Because not only am I morbidly curious to see how others are going to react to this movie… I also think that there's enough there to get people talking.  And for me, that's always a sign that at least something went right.
Not Okay will be streaming on Hulu Friday, June 29th, 2022.
For More Reviews, make sure to Stay Tuned to That Hashtag Show!