With Dark Specter taking over the Morphinaut, how are the NEW Squadron Rangers going to stop him?! This Finale finishes with a huge reveal that has a long-term effect on the Rangerverse.
Hello darkness my old friend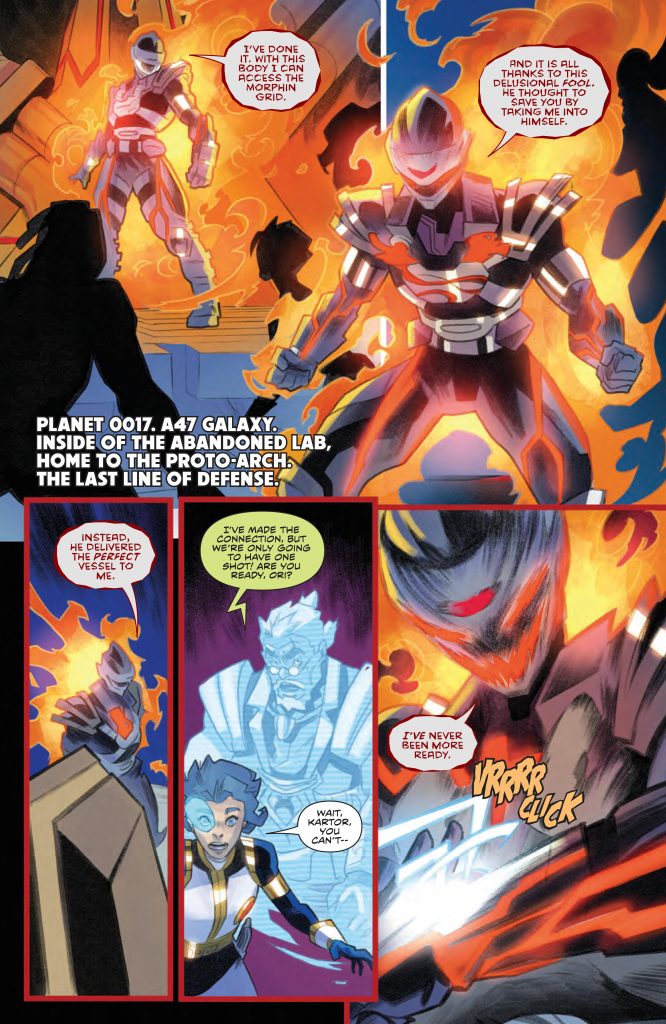 Dark Specter having takes advantage of the Morphinauts hubris and doubt. He takes over his body and turns the suit into the now-famous black style, Phantom Ranger. Even going as far as saying that "You're a PHANTOM of what you used to be." The Squad having their backs to the wall are ready to do whatever is necessary to stop him. Going as far as destroying the Protoarch if needed, but first, they'll try just turning it off.
The "Dark Specter Ranger" reemerges from the arch. It's now a rip in the grid and can't be shut. A frantic battle ensues, weapons wooshing, kicks flying. They notice that their own grid energy seems to affect their foe, giving them AN IDEA!
At this point of my review, I would usually spoil the rest of the plot. But I think this story as a whole is TOO IMPORTANT! I suggest you go out and get this NOW! This isn't summed up in several panels, but pages that add so much to the Power Rangers lore, it would cheapen all the hard work Nicole Andelfinger and the rest of the team put into these six issues.
Thoughts from my MORPHIN HEART
This 6-part series has really been eye-opening! Like I said, this adds to the lore so much that it makes you as a long-time fan really think about the untouched stories and places we can go in a medium like this. Where this story ends even makes you wonder if it could have some effect on the later/current stories in the PR universe. The last panel of the book, of course, could set up a sequel, which I would love to see.
There is even a 2-page spread that makes all the stunning covers by Dan Mora make sense. That Ah-HA moment is what makes reading comics so wonderful. Simone Raggizoni and the rest of the art team really have made such a beautiful planet and conversely fluid and action-filled fight scenes. I'm praying that Boom! Studios make this into a hardcover book with an appendix going over all the powers and gear the Squadron Rangers have at their disposal. A cover gallery for all the fabulous artwork over the series. YES BOOM TAKE THIS IDEA AND MY MONEY!
Covers that span a UNIVERSE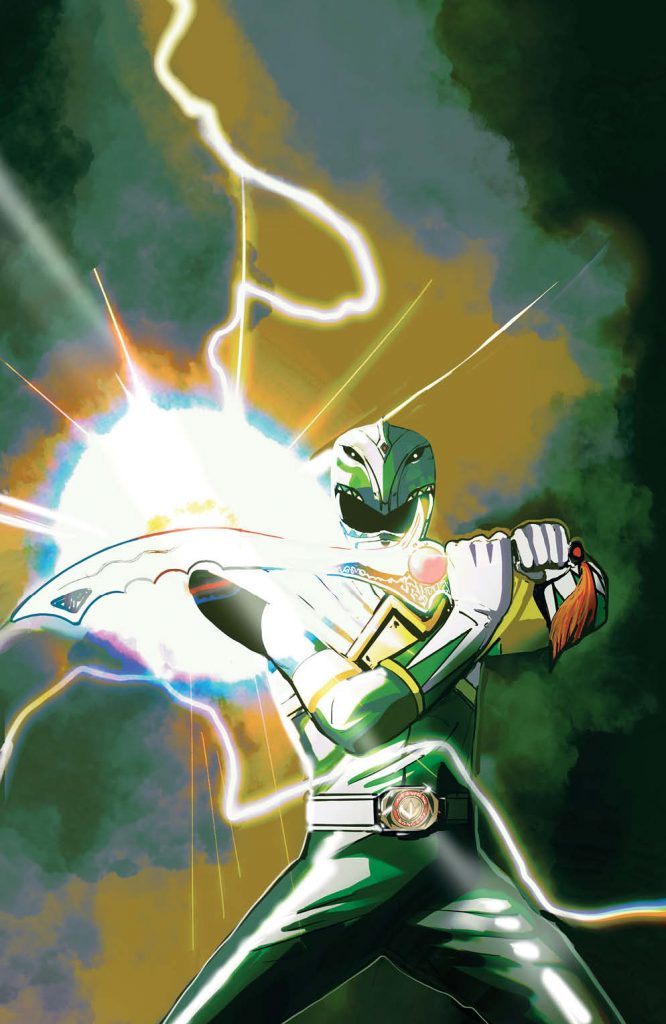 All the covers are available in full art (Virgin) Variants and you can of course get them at your LCS.
While you're at it head on over to our That Hashtag Show Facebook page for all your Power Rangers news.
Please consider following me personally at OFF THE CUFF GAMING on other social media platforms.
Keep up with ThatHashtagShow.com for all your latest Power Ranger news and "May the Power Protect YOU!"
For more on comics, make sure to check back to That Hashtag Show.
Keep Reading: