This June, LGBTQIA+ characters from a galaxy far, far away will grace the covers of your favorite Marvel Star Wars comics. These are just a few of the special covers and issues being released to celebrate Pride Month. Marvel Comics has previously announced a special Marvel's Voices: Pride one-shot, among other releases for the month. Keep reading for all the details and also a look at the Pride variant covers being released, beginning June 15.
STAR WARS PRIDE VARIANT COVERS
New York, NY— May 19, 2022 — Revealed today on StarWars.com, Marvel Comics and Lucasfilmhave teamed up to celebrate Pride Month with a new collection of stunning STAR WARS PRIDE variant covers. Debuting on all of Marvel's STAR WARS titles starting in June, these variant covers showcase LGBTQIA+ characters from throughout the Star Wars galaxy and were created by an incredible lineup of LGBTQIA+ talent. Each cover also features a special Pride versions of the series' title along with the official Star Wars Pride logo.
Here are the characters fans can see in this year's collection:
Marvel Comics' breakout character and star of her own ongoing series, Doctor Aphra
Fellow archaeologist and self-proclaimed "arch-nemesis" of Doctor Aphra, Kho Phon Farrus
Sabé, Saché and Yané, former handmaidens of Padmé Amidala who currently play a pivotal role in the STAR WARS: DARTH VADER comic series
T'onga, a former bounty hunter currently being pulled back into action in the STAR WARS: BOUNTY HUNTERS comic series and her wife, Losha
Jedi Padawans of the High Republic era, Lula Talisola and Zeen Mrala
Vi Moradi, the Resistance spy who can often be found by guests visiting Black Spire Outpost at Batuu
Resistance Commander Larma D'Acy, known for her appearances in Star Wars: The Last Jedi and Star Wars: Rise of Skywalker, and her wife, Resistance Pilot Wrobie Tyce
"For me it's one of the greatest honors and pleasures to highlight the wonderful diversity of characters in comics," artist Javier Garrón told StarWars.com. "Maybe we come to stories because it's sci-fi, or action, or thriller, or whatever, really. But if we stay in them, if those stories stick with us, it is because of the characters."
Check out all seven STAR WARS PRIDE variant covers now and pick them up starting on June 15! For more information, visit Marvel.com.
FIRST LOOK AT VARIANT COVERS
On Sale 6/15
STAR WARS: BOUNTY HUNTERS #24 PRIDE VARIANT COVER by JAN BAZALDUA – 75960609602202431
On Sale 6/22
STAR WARS: OBI-WAN KENOBI #2 PRIDE VARIANT COVER by DEREK CHARM – 75960620396300231
STAR WARS: DARTH VADER #24 PRIDE VARIANT COVER by KEI ZAMA – 75960609601502431
On Sale 7/6
STAR WARS: THE MANDALORIAN #1 PRIDE VARIANT COVER by PHIL JIMENEZ – 75960609986300181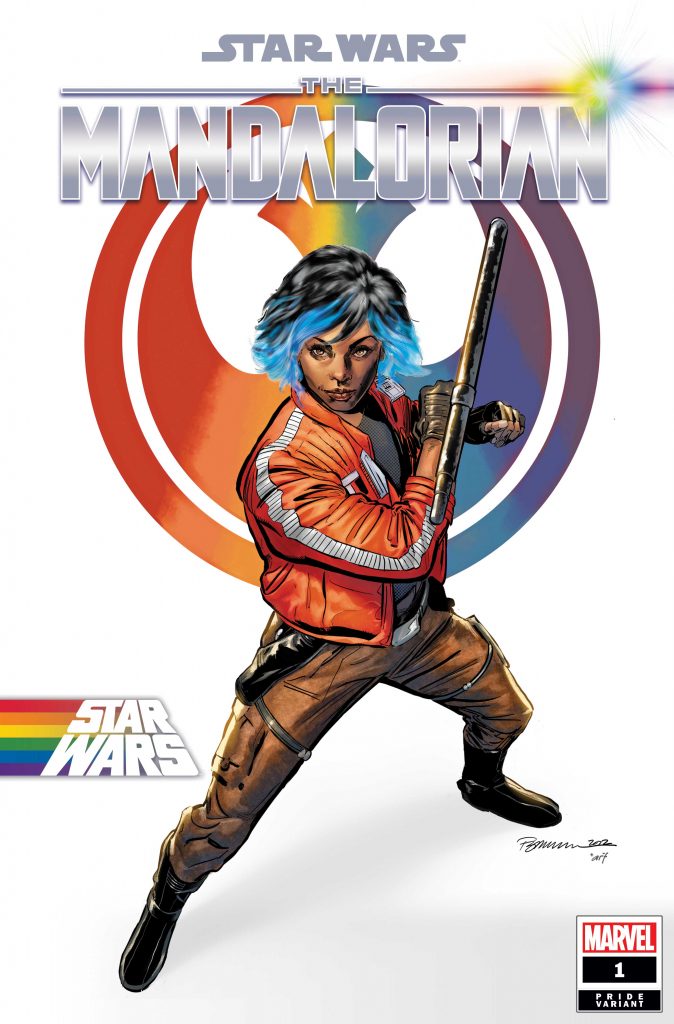 On Sale 7/20
STAR WARS #25 PRIDE VARIANT COVER by JJ KIRBY – 75960609600802541
STAR WARS: HAN SOLO & CHEWBACCA #4 PRIDE VARIANT COVER by JAVIER GARRÓN – 75960620225600431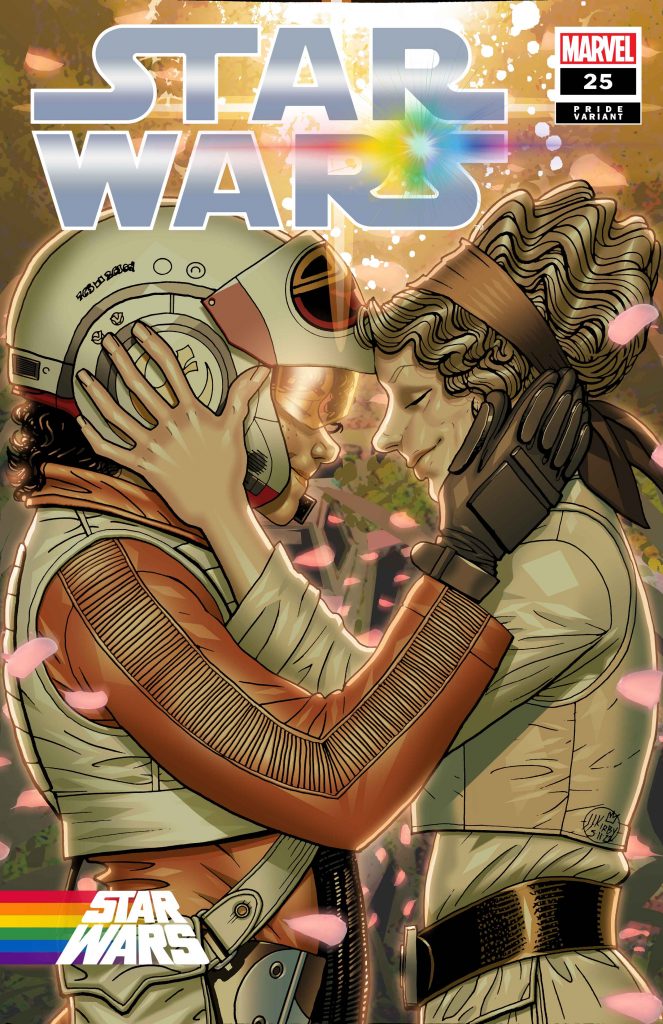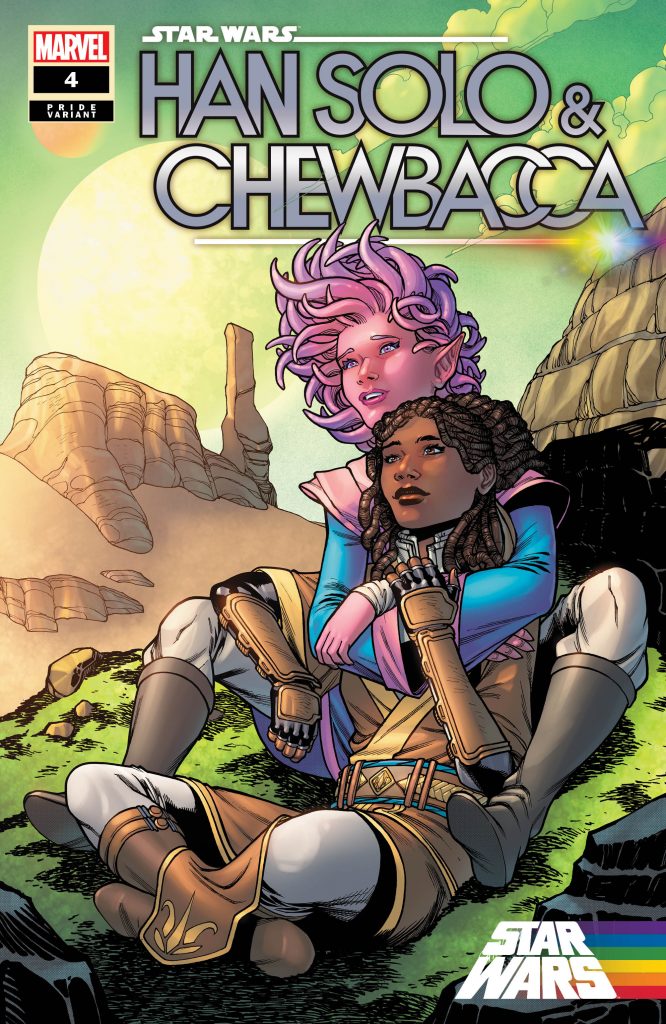 On Sale 7/27
STAR WARS: DOCTOR APHRA #22 PRIDE VARIANT COVER by PAULINA GANUCHEAU – 75960609724102231
WE WANT TO HEAR FROM YOU
Sound off and tell us what you think. What are your thoughts on the Pride variant covers? Will any of these also be on your list to pick up in June? You can tell us your thoughts by leaving a comment below or finding me on Twitter @TheIndianaSlone. Be sure to stay up to date on your Marvel Comic news by following us at ThatHashtagShow.com.
SEE ALSO