How can you tell that the anime adaptation of Spy x Family is getting popular? When the animation studio starts releasing cute official artwork of the anime.
The Forger Family's Cuteness: Over 9000!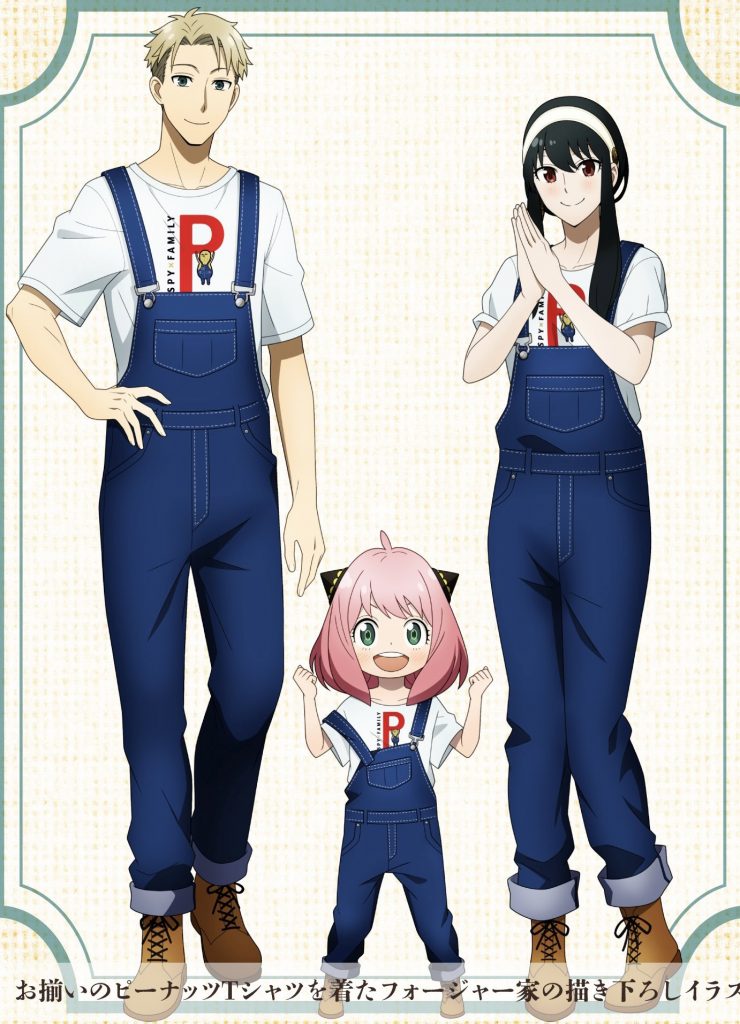 A Twitter user named @kaikaikitan has just posted some official artwork of the Forger family from Spy x Family. As you can see above, the artwork depicts the entire Forger family (from left to right: Loid, Anya, Yor) all in adorable matching outfits. Said outfits consists of what looks like official Spy x Family T-shirts with a peanut mascot on them, worn under navy blue denim overalls. Simple brown work boots complete the outfit, and makes the entire family look like peanut farmers. With Anya Forger being a very small peanut farmer indeed.
You might be asking: why peanuts? Well, in the Spy x Family manga, Anya's trademark favorite food is peanuts. Not peanut butter or peanut products in general. Just peanuts. As in: she will happily sit there and munch on an entire jar of peanuts if you let her. If you give her a dish with peanuts in it like Kung Pao chicken or beef, she will just pick out all the peanuts in it and forget about the rest of the dish. So it's adorable how this bit of artwork is referencing that, as well as having her whole fake family play along with it. The whole scene in that artwork is just heartwarmingly wholesome. It's like a representative image of Spy x Family as a whole, and I love it.
Spy x Family: Details
Spy x Family is the anime adaptation of the manga of the same name by Tatsuya Endo. It's an action-comedy spy story set in an alternate Cold War, where the main character, an agent for not-West Germany known only by the callsign Twilight, has to raise a fake family for a critical mission. Thus, he takes on the alias Loid Forger, and forms the Forger family by adopting Anya (secretly a psychic) and marrying Yor (secretly an assassin for not-East Germany). Hilarious family comedy hijinks ensue as Loid desperately tries to carry his mission out. While at the same time, trying to learn what it means to have a family.
The official synopsis for Spy x Family from Crunchyroll has a bit more to say about the anime. Check out this excerpt below:
"The Westalis Intelligence Services' Eastern-Focused Division (WISE) sends their most talented spy, "Twilight," on a top-secret mission to investigate the movements of Donovan Desmond, the chairman of Ostania's National Unity Party, who is threatening peace efforts between the two nations.

"Twilight" takes on the identity of psychiatrist Loid Forger and starts looking for family members. But Anya, the daughter he adopts, turns out to have the ability to read people's minds, while his wife, Yor, is an assassin! With it being in each of their own interests to keep these facts hidden, they start living together while concealing their true identities from one another.

World peace is now in the hands of this brand-new family as they embark on an adventure full of surprises."
You can watch Spy x Family on Crunchyroll only.
Source: Twitter, Crunchyroll