If you are a Star Trek and Spock fan you will want to check out this new figure from EXO-6. To celebrate the 55th anniversary of Star Trek, EXO-6 revealed their first sixth-scale museum-quality figure that was inspired by the original series "Mirror, Mirror" episode. This new Mirror Universe Spock (play by Leonard Nimoy) figure stands about 12-inches tall and looks as if it walked right out of the episode and into your collection. The Mirror Universe Spock will retail for $198 and is available now for pre-order at SideShow.com. You can check out the first look video and official details below.
Mirror Universe Spock Sixth Scale Figure By EXO-6
In celebration of the 55th Anniversary of Star Trek, EXO-6 is releasing their first 1:6 scale museum quality figure from The Original Series!
In the Star Trek: The Original Series "Mirror, Mirror" episode some members of the Enterprise crew are transported to a parallel dimension where the benevolent Federation never existed and instead the morally corrupt Terran Empire reigns. Star Trek has revisited this universe in various shows, with some of the most popular characters coming from this world.
Now EXO-6 brings you a very different Mr. Spock with the introduction of the Mirror Universe version of everyone's favorite Vulcan. The Spock of this world may be self-serving and corrupt, but he helps Kirk and his comrades return to their rightful universe for his own benefit.
SEE ALSO: STAR TREK: STRANGE NEW WORLDS – CAPTAIN PIKE RETURNS! [TRAILER]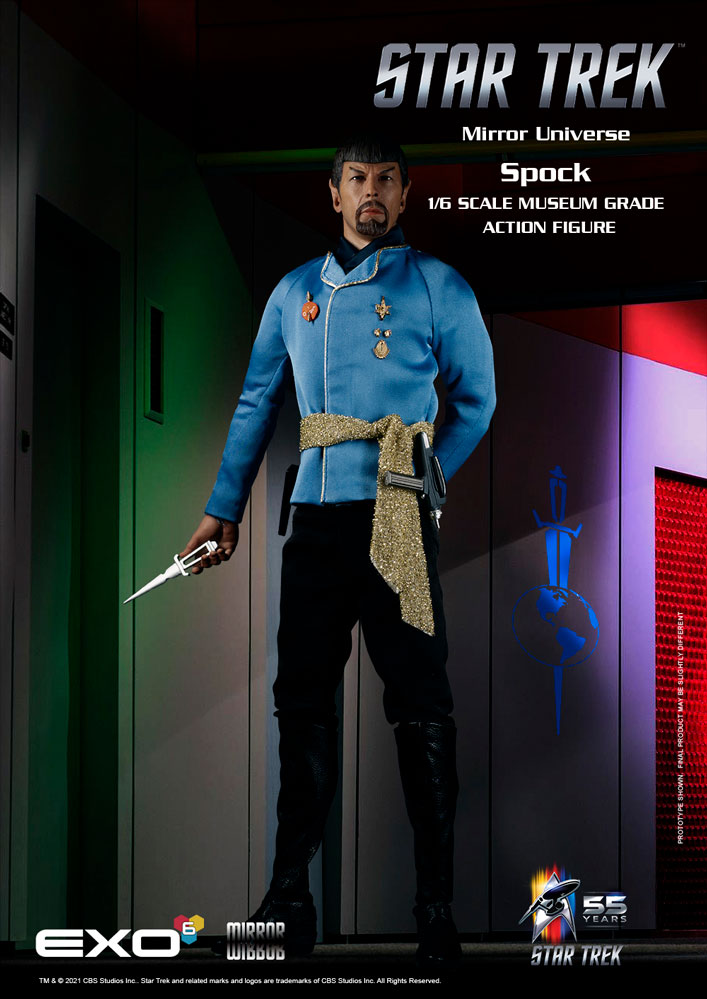 Leonard Nimoy sported a beard for this portrayal of Mirror Universe Spock and EXO-6 has recreated this look in detail for this 1:6 scale museum-quality action figure. Standing 12 inches tall, every element, from his 23rd-century uniform to his Terran awards are authentically reproduced. The original portrait sculpt of Nimoy as Mirror Spock has an authentic, hand-painted likeness.
This fine collectible figure is just the first of EXO-6's entry into the Mirror Universe and a great addition to your EXO-6 Star Trek™ 1:6-scale figure collection.
The Mirror Universe Spock Sixth Scale Figure Features
Fully Articulated Body: More than 30 points of articulation allow the figure to be displayed in multiple dynamic poses, approximately 30 cm tall.
Realistic Portrait: Spock's portrait is lovingly rendered by top artists, with an excellent likeness of Leonard Nimoy with a beard. Each head sculpt is specially hand-painted.
Terran Empire Uniform: Meticulously researched, this uniform matches the pattern and color of the original costume recreated in 1:6 scale. Magnets are sewn into the uniform so the phaser and dagger can be attached. The Terran insignia and medals are permanently attached to his tunic. (The uniform is not removeable.)
Boots: Using leather-like material cut in the original style of the footwear worn in Star Trek: The Original Series.
Hands: A total of nine interchangeable hands are included so he can be displayed holding the phaser or the dagger and do the Vulcan mind meld.
Display Base: A hexagonal display base featuring the transporter pad will provide additional support for the figure. Two different inserts for the floor of the base can represent the transporter pad or the center of the transporter array.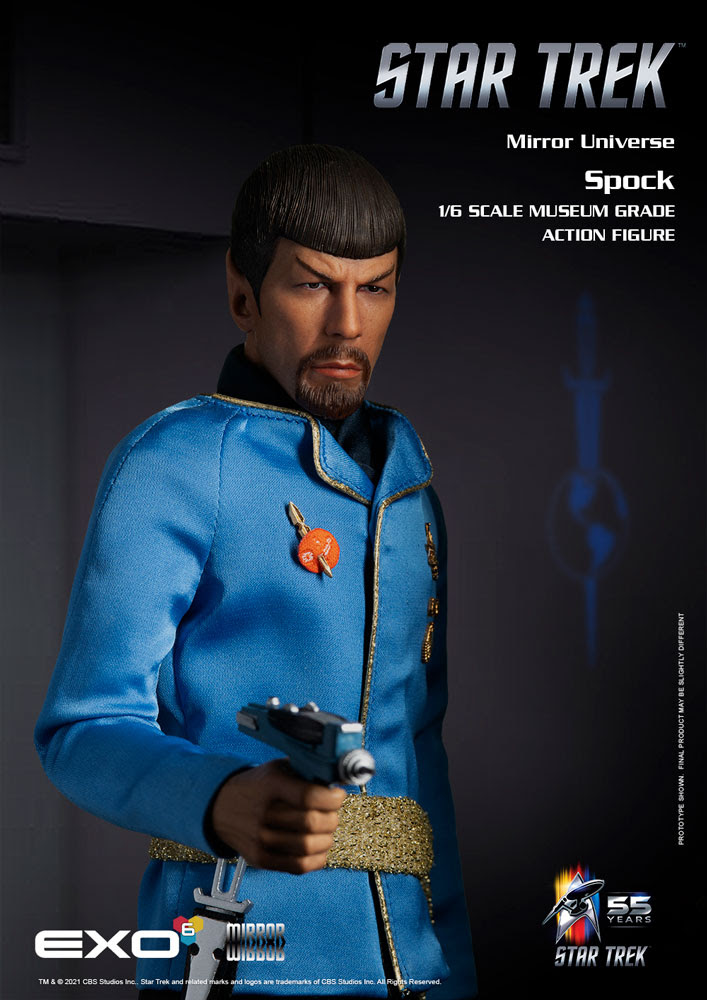 Equipment
Phaser Type 2/ Type 1: The pistol-grip type 2 phaser is the weapon of choice for any landing party expecting hostile aliens. The smaller Type 1 phaser can be removed and used separately. Both have magnets allowing either to be worn on the utility belt or directly on the pants as they were in the 3rd season.
Dagger and sheath: Standard issue for Terran Empire officers, the dagger is perfect for up close and personal assassinations.
Agonizer: A device unique to the Terran Empire, one touch of the agonizer to a shoulder causes unimaginable pain. An excellent tool for adjusting the attitudes of wayward crew members.
SEE ALSO: STAR TREK: CHRIS PINE AND CREW TO RETURN FOR NEW MOVIE
We Want To Hear From You
What are your thoughts on the Mirror Universe Spock Sixth-Scale Figure? Is this a must-have for your collection? Also what other Star Trek figures would you like to see EXO-6 add to this lineup? Well, That Hashtag Show wants to hear from you!
You can tell us your thoughts by leaving a comment below or hitting me up at starwarsnerd574. You can also join me at our Toys & Movie Fanatics Facebook group to chat about all things collectible. Also, make sure to stay up to date on all the Pop Culture news by following us at ThatHashtagShow.com. More importantly, be safe, I can't wait to see you all at some conventions this year.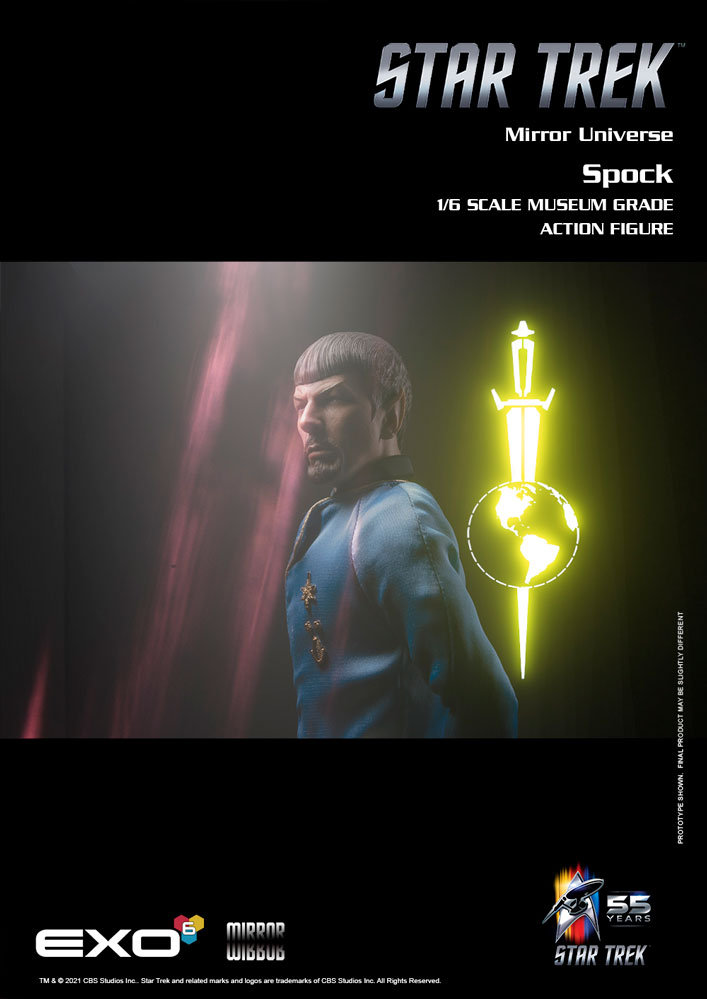 SEE ALSO: CLINT EASTWOOD LEGACY COLLECTION: THE MAN WITH NO NAME – SIXTH SCALE FIGURE COMING SOON FROM SIDESHOW