This June is Pride Month and to celebrate Marvel Comics is releasing a new one-shot comic. Marvel has announced that MARVEL'S VOICES: PRIDE is returning and will showcase Marvel's LGBTQI+ characters and creators. MARVEL'S VOICES: PRIDE #1 will not only tell stories of existing characters but will introduce new ones as well. MARVEL'S VOICES: PRIDE #1 will hit your local comic shops on June 15. You can check out the covers and official details below.
MARVEL'S VOICES: PRIDE #1
This June, Marvel Comics is celebrating the LGBTQI+ community with a new giant-sized one-shot! Honoring PRIDE MONTH, MARVEL'S VOICES: PRIDE returns for its second annual grand showcase of LGBTQI+ characters and creators. The one-shot will once again feature an impressive lineup of LGBTQI+ writers and artists from across the publishing industry including both creative superstars and emerging new talents. MARVEL'S VOICES: PRIDE will give creators and fans alike an opportunity to explore and celebrate the wide range of identities and experiences of the LGBTQI+ community with uplifting and exciting adventures all set in the main Marvel Universe!
SEE ALSO: MARVEL COMICS CELEBRATES ASIAN PACIFIC AMERICAN HERITAGE MONTH WITH 'MARVEL'S VOICES: IDENTITY' #1
Celebrate Pride Month With New And Existing Stars
Marvel Comics is proud to highlight its commitment to LGBTQI+ representation with stories that spotlight existing stars AND introduce brand-new characters to the Marvel mythology. Ranging from poignant to action-packed, here are some of the tales that fans can look forward to, each one capturing the joy and promise of PRIDE MONTH!
In last year's MARVEL'S VOICES: PRIDE, Steve Orlando and Luciano Vecchio introduced the dreamy mutant hero SOMNUS, who now stars in the ongoing X-Men series MARAUDERS! New York Times-bestselling, multi-award-winning author Charlie Jane Anders continues this tradition with the debut of another new hero to the Marvel Universe – and it won't be the last you see of them. Stay tuned for more info!
IRON MAN scribe and lauded TV showrunner Christopher Cantwell takes on Moondragon's complex legacy for a heart-bending story across space and time.
Shuster and Eisner-winning writer Andrew Wheeler makes his Marvel debut with the Marvel Universe's real god of love – Hercules! Drawn by PATSY WALKER artist Brittney Williams!
Nebula, World Fantasy, and Locus-award winner Alyssa Wong reunites the Young Avengers fan-favorite artist Stephen Byrne in a story guaranteed to please fans new and old! Byrne will also depict the team in a vibrant variant cover that you can check out now!
Comedy writer Grace Freud (Rick and Morty, the Eric Andre Show) brings her talents to Marvel with a story about the power of responsibility featuring the Marvel Universe's favorite gay ginger, D-Man! She's joined by Eisner-nominated artist Scott B. Henderson in his first work for Marvel!
Television writer and podcaster Ira Madison III explores the legacy of Pride in his Marvel debut!
Champions scribe Danny Lore revisits the legacy of two characters long left in the closet in a tale of love and redemption!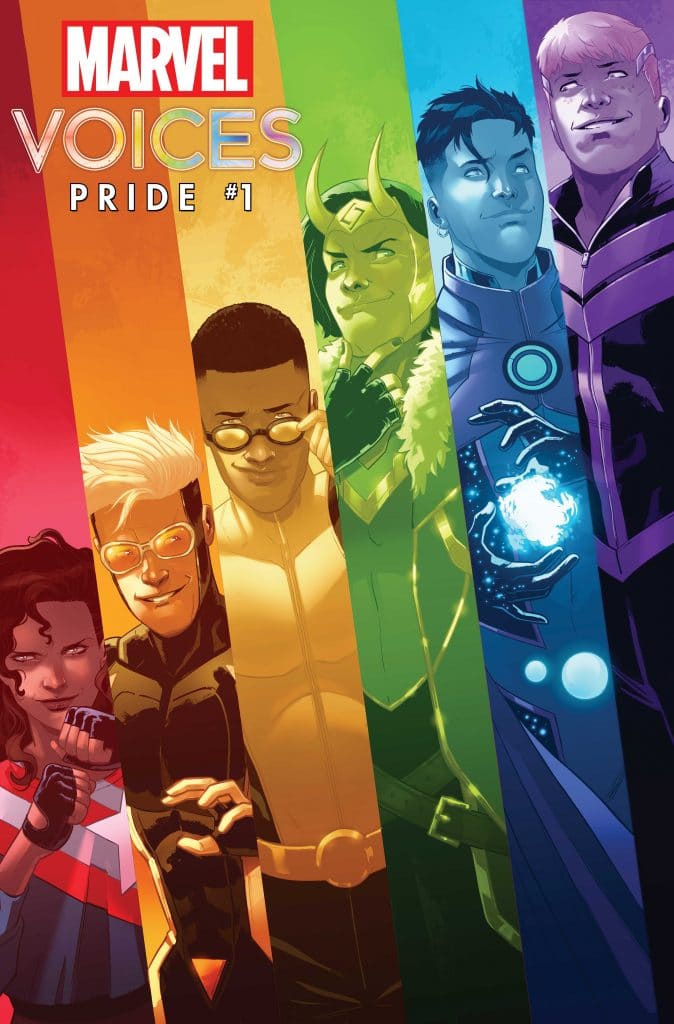 MARVEL'S VOICES: PRIDE #1 Releases This June
And that's only the beginning! Be there in June when this groundbreaking anthology series continues with another thrilling glimpse of the world outside your window in MARVEL'S VOICES: PRIDE #1. And stay tuned later today for the reveal of this year's Pride Month variant cover program.
Fans can also look forward to the MARVEL'S VOICES: PRIDE TPB. Hitting stands in May, the collection will include last year's MARVEL'S VOICES: PRIDE one-shot as well as powerful moments from throughout Marvel Comics history such as Northstar's wedding, the debut of Aaron Fischer in UNITED STATES OF CAPTAIN AMERICA, and more. For more information, visit Marvel.com.
SEE ALSO: MARVEL COMICS GIVES US OUR FIRST LOOK AT 'MARVEL'S VOICES: LEGACY' #1
We Want To Hear From You
Are you excited about the MARVEL'S VOICES: PRIDE #1 from Marvel Comics? Is this a must-have and read for your collection? Also, what other Marvel series are you looking forward to? That Hashtag Show wants to hear from you!
You can tell us your thoughts by leaving a comment below or hitting me up at starwarsnerd574. Or you can also join us on the Marvel Fanatics Facebook page to leave a comment and chat about all things Marvel as well. Also, make sure to stay up to date on all the pop culture news by following us at ThatHashtagShow.com.
Source: Marvel Comics