When it comes to Star Wars one thing we have learned is that some characters can easily become fan favorites even with very little screen time. One of the main reasons for this is the actors. They not only go out and make appearances but they also connect with their fans. Some of these characters may never see their face on an officially licensed product but to the fans, they are still a big part of the Star Wars world. But for the few actors that finally get that officially licensed appearance, it is pretty exciting not only for them but the fans as well. One of those actors, Dominic Pace, who played Gekko The Bounty Hunter in Season 1 of The Mandalorian knows this first hand. Today Pace with the help of Daniel Logan (Boba Fett) revealed the first appearance of Gekko The Bounty Hunter on a Tiki Mug.
Mandalorian Season 1 – 24 Ounce Mural Tiki Mug – "Gekko Tiki"
If you are a collector that likes to pick up first appearance items then you will want to grab The Mandalorian Mural Tiki Mug – "Gekko Tiki"
Limited to 500. Daniel Logan Presents A Bounty Boxes Exclusive, The Mandalorian Season 1 24 Ounce Mural Tiki Mug. This will be the first Appearance of Gekko The Bounty Hunter on a Licensed Lucasfilm Product. The Tiki box will be signed by Dominic Pace and will include an exclusive Bounty Boxes Sticker. Each box will also be individually numbered. These mugs will retail for $100. You can get your Gekko Tiki by clicking here.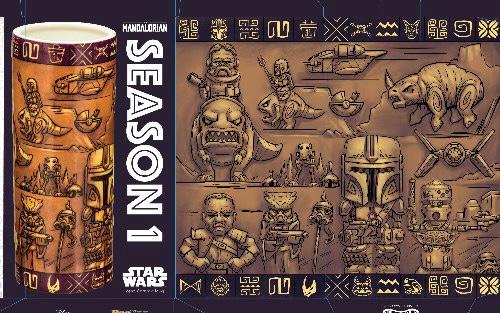 Dominic Pace – Gekko The Bounty Hunter
For those that may not be familiar with Dominic Pace's work, he played a Bounty Hunter named Gekko in the Disney Plus hit series "The Mandalorian". Pace also appeared in such TV series as "Deputy," "Superstore," "Prison Break," and Desperate House Wives".
Some also know that for the last two years Pace has been traveling around the country meeting fans and signing items. Pace took the time to know his fan and it showed at his events. "I am grateful to all of my fans. Star Wars is one of the only places where you can get less than a minute of screen time and still have a fan following."
While this help him get the Gekko name out there more it is what he did for the local communities that really stands out. During his small business tour Pace was not only able to help small local comic shops during the COVID pandemic he also helps raise thousands for charities like Peter Mayhew – The Wookiee Roars Foundation and Make A Wish.
We Want To Hear From You
Are you able to make one of Dominic Paces's appearances? If you did what was your experience like? Also, what are your thoughts on the Gekko Tiki? That Hashtag Show wants to hear from you.
You can tell us your thoughts by hitting us up on Twitter or myself at @starwarsnerd574. You can also join me at the Midwest Star Wars Fanatics fan page to chat about all things Star Wars. Also, make sure to stay up to date on all the Star Wars news by following us at ThatHashtagShow.com and the Star Wars Fanatics on Facebook. I can't wait to see you all at Celebration.