Some of you may have noticed that Boba and Jango Fett's Slave I has been talked about a lot today on social media. For those that may have missed it, it seems that Disney is ready to move away from the Slave I name and now calling the iconic ship "Boba Fett's Starship". With all this talk today about Slave I or Boba Fett's Starship (whatever you want to call it), it made me think about all the great Toys we have had over the years. So for your enjoyment here is my Top 5 Slave I toys list.
Top 5 Slave I Toys
5. Micro Machines Action Fleet Boba Fett's Slave 1 (1996)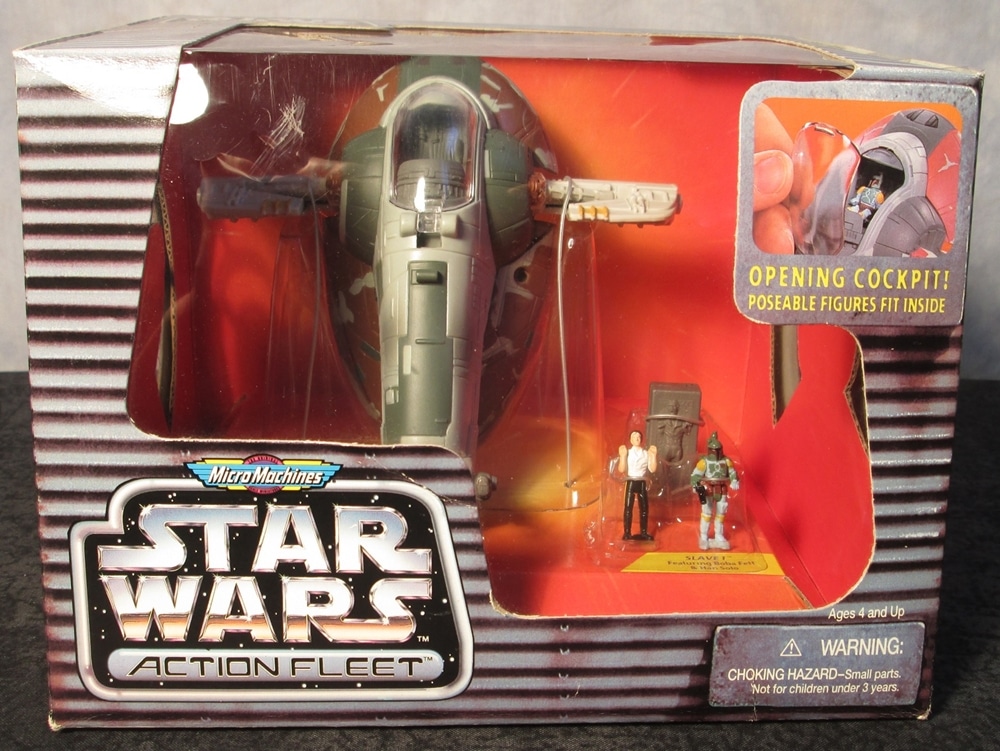 This version of Boba Fett's Slave I made my list not just because it is cool looking, but because of all of the details that went into this small version of this iconic ship. The paint on it looks amazing, and on top of that, you get three micro figures (Boba Fett, Han Solo, and Han Solo in carbonite. Oh yeah, you can also open the cockpit and have Fett fly away in it.
4. The Vintage Collection Slave I by Hasbro (2020)
The updated 2020 The Vintage Collection Slave I comes in at number 4. This Slave 1 just looks amazing. First off the box gives you that 1981 vintage feel. Also like most of the ships on this list, it comes with a Han Solo in carbonite figure. But what I really love about this Slave I is the display stand. Not only can you display it in what I call fly mode, but it also makes it easier to see all the amazing details from front to back.
3. Transformers Boba Fett & Slave I by Hasbro (2007)
OK, how cool with this toy? Hasbro took both of my childhood favorites, Star Wars and Transformers, and combined them into one. When I first added the Transformers Boba Fett to my collection I could not decide which way to display it, so I solved the problem by getting two.
2. Original Trilogy Collection Target Exclusive Slave I by Hasbro (2004)
This slave I was easily my number two pick. Yes, I know it is a repaint of the 2002 Jango Fett ship, but the details on this ship look great. On top of that, you also get a Boba Fett figure. But the main reason this comes in at number two is how great it looks displayed in the box.
Slave I (Boba Fett's Spaceship) by Kenner (1981)
I mean how can you not pick the 1981 Kenner Slave I as the number one pick? This was the ship that everyone had to have. Not only did it belong to one of the coolest figures of all time, but it also came with Han Solo frozen in carbonite. As someone who grew up a huge fan of Boba Fett, this ship gave me so many childhood memories.
We Want To Hear From You
I would like to thank The Boba Fett Fan Club for their detailed Slave I listings so I could include the years of release for each item. What are your thoughts on my top 5 list? What toys would make your top 5? Also, what are some of your favorite memories of a Slave I toy? That Hashtag Show wants to hear from you!
You can tell us your thoughts by leaving a comment below or hitting me up at starwarsnerd574. You can also join me at the Midwest Star Wars Fanatics Facebook page to chat about all things Star Wars. Also, make sure to stay up to date on all the Star Wars news by following us at ThatHashtagShow.com. More importantly, be safe, I can't wait to see you all at Celebration 2022.