*WARNING* THIS REVIEW CONTAINS SPOILERS FOR LOKI EPISODE THREE
You don't want the TVA after you. So, make sure you watch Loki episode three before you read this review!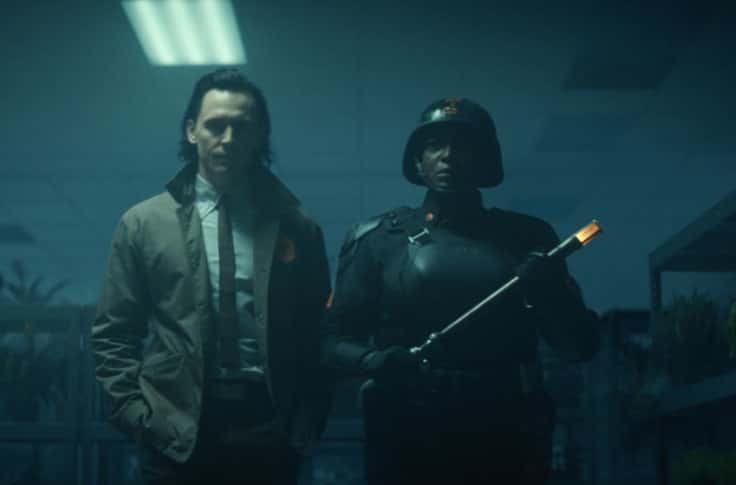 Well, we learned more about both versions of Loki in five minutes, than we did in a couple of movies. This was an episode all about building a relationship between two characters. It was an extended scene involving Loki and Sylvie, that lasted an entire episode. If you look at the listed cast for the episode, it's only twelve people long.
We got some action, we got some development, and we end with a cliffhanger. What's going to happen now that their salvation off the planet is gone? We'll have to see if there's some TVA shenanigans. If the TVA wants both these Variants gone, then it would make sense to just let them die. This very much felt like an episode of Rick and Morty though. I know that show has it's detractors, but the world's that it builds while giving the two main characters development, felt similar.
Loki's third episode might not have been as earthshattering or action-packed, but it gave us the best look at these two characters that we're likely to get. If that's one thing that these Disney+ Marvel shows do, it's build up the characters well. Let's dive a bit deeper into what made this episode special.
Hiddleston and Di Martino Steal And Own The Show
This relationship and how it builds, is what this episode was all about. Like It Happened One Night, this was two rogue characters put together and forced to work with one another. Loki and Sylvie can't be more different, or at least, at the start. As we go on, they're more alike than not. Loki is of course, about subterfuge and conning his way out of situations. Sylvie takes a more aggressive approach. When you put the two together, you realize those roles switch throughout the episode. When Loki is brute forcing his way, and getting "full" as he puts it, Sylvie is the more cerebral one.
It's a sign of fantastic writing on Bisha K. Ali's part. This was a showcase on how to bring two unlike characters together. We still don't know much about Sylvie or her backstory. Though we did get great looks at her character here. I suspect we'll get more looks at her motivations and why she wants to take the TVA down coming up.
It's also something to remember how she tells Loki that the TVA is taking Variants and making them work. It's an extra wrinkle to the TVA's ruthless policing. What exactly happens when they "blow up" a variant strain of the sacred timeline? Are all the people transported to the TVA to work for the rest of time? It is a bit suspect that people there don't know what a fish is. Where does this place Owen Wilson's Mobius? We didn't get to see how he reacted to Loki leaving through the portal.
If Anything, We Just Want More From Loki
Six episodes is not enough. It won't feel like enough. This show is fantastic, it's captivating audiences everywhere. Disney+ changed their entire release schedule because of how popular the premiere was. That's how special Loki is. If they keep delivering episodes like this, we're in for a wild ride.
The upcoming MCU ramifications also make it so this show is more impactful than any before it. We're not likely to see Spider-Man or anyone of that caliber show up, but the effects of Loki far outreach it's six episode run. I can't wait to see where it goes from here.
This was my favorite episode of the series so far. Through excellent character building and the performances by Tom Hiddleston and Sophia Di Martino, this was a true highlight for the Disney+ era of Marvel. I'm patiently waiting to see what the true reasoning behind Sylvie's quest is, but that's for another week.
For more on Marvel, make sure to check back to That Hashtag Show.