FOR THOSE OF YOU WHO HAVE NOT SEEN KEVIN CAN F*** HIMSELF, THIS IS A NON-SPOILER REVIEW.
The new AMC high-concept dark comedy Kevin Can F**k Himself is almost like the unhinged, twisted step-sister of Disney's Wandavision.  Both shows follow a woman stuck in a sitcom while there exists a world outside of the sound stage.  But, where Wanda was doing everything she could to stay in the comfort of Sitcom-Land. Our protagonist Allison is doing everything she can to escape it, in this new series.  There is so much material and weighty commentary that could be mined from this concept, but unfortunately, in these first four episodes none of that is taken advantage of.
WHAT IS THE SHOW ALL ABOUT?
We follow Allison, a housewife whose husband Kevin, is a hard-drinking, oblivious, and doofus-of-a-man. He is the typical Sitcom husband. Whose wife is supposed to drop everything and cater to his every need, who makes idiotic and selfish mistakes that everyone is supposed to sweep under the rug and most of all, who lives in a world where everything revolves around him, because of course, he is the star of the show. Allison quickly realizes that she is stuck in the never-ending cycle of a sitcom and when her husband is away, she has the freedom to go about her daily life as a normal person would. As tensions rise and Allison hits her boiling point, she decides to murder her husband Kevin. And thus regain her complete freedom and be rid of the sitcom life forever.
HOW IS ANNIE MURPHY IN HER FIRST STARRING VEHICLE?
This series has been on my radar for quite some time, after hearing that Murphy had quickly found her new starring-vehicle after wrapping up Schitt's Creek.  As one of the many people who fell in love with the Rose family, I couldn't help, but be hyped by the notion of seeing one of them back on screen again, so soon.  One can understand why Murphy snatched up this role. As it is a complete departure from the self-centered princess Alexis.  There is so much that can be done in a role like that of Allison, a woman scorned who is trying to reclaim her life.  And while Murphy is outstanding, even with a wavering accent, "Kevin's" issues really bog down her performance.
HOW IS THE SET-UP OF THE SHOW?
The format of the show is made very clear right off the bat. When the show is in sitcom-mode, it feels exactly like watching a rerun on TBS. With the glaring lights, audience laugh track and cast of characters performing on a studio stage; it really feels like an authentic sitcom. Then, when Kevin leaves, the show's lighting becomes gritty, the overacting disappears, as does the laugh track and the audience is transported into something that feels more at home on AMC.
The juxtaposition between the two formats is realized to near-perfection. It really could have been used to great effect to heighten comedy and add tension.  But, it feels like the whole concept is never taken advantage of.  Kevin Can F**k Himself feels like two completely different shows. That never weave together to create something cohesive.  Worst of all, as the series continues and Allison's story is running parallel to that of the sitcom's, rather than intertwined with it, we are left with way too much screen time with Kevin.  The showrunners have done absolutely nothing so far to differentiate this character from other one-note moronic sitcom-dads.  So, spending chunks of time with him in the sitcom feels like a chore that I wouldn't ask my own worst enemy to endure.  
IS ALLISON ACTUALLY A CHARACTER WE CAN ROOT FOR?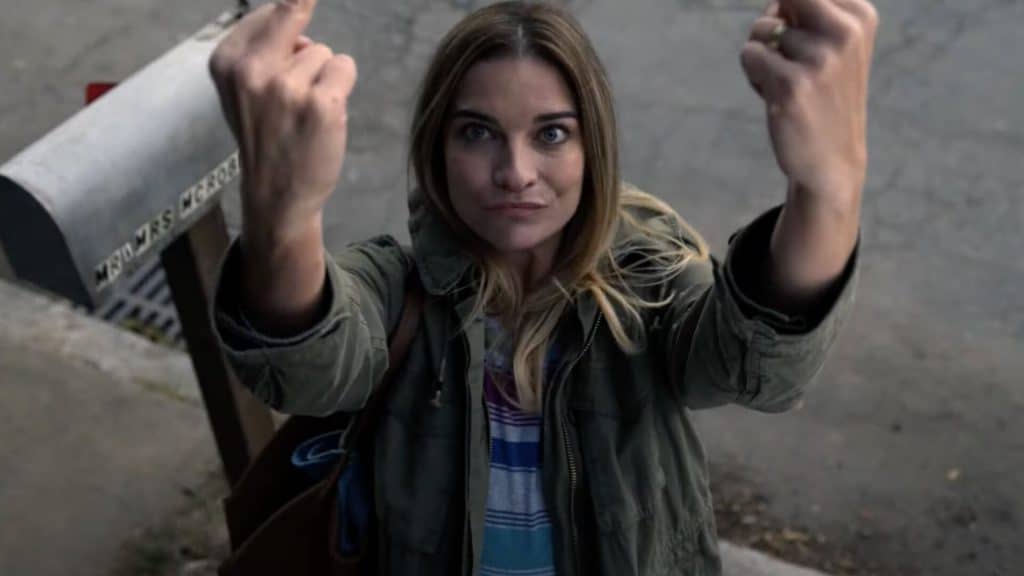 That could still be forgiven, if Allison's journey and what was happening in the real world was engaging. But, the writers have concocted a character whose predicament is relatable, yet whose traits are unsympathetic. Allison comes off at times, just as self-centered as her husband. And rather than being a headstrong and independent woman, she comes off as being a tad deranged. Once again, Murphy does what she can to ground this character when the writers have sent her off of the rails. But, they will really have to do some course-correcting if they are to make this character someone the audience will be able to connect with.
DOES THE SHOW STILL HAVE SOME HOPE?
I do think that the show still has a bit of hope to reach its potential. Especially if they continue to cultivate the relationship between Allison and her next-door-neighbor Patty.  Mary Hollis Inboden showed what a charismatic and hilarious actress she can be in the cancelled-way-too-soon The Real O'Neils.  And her character here, matched with Allison's is starting to blossom into an odd-couple type friendship. And they could become two bewitching partners in crime, if pulled off correctly.  But, after watching these first four episodes for review, the showrunners have failed to hook me in. Kevin Can F**k Himself is neither funny or engaging, it has not constituted the existence of its concept, and it feels like it has already lost itself in meandering sub-plots, rather than fostering meaningful commentary or bold storytelling.