Incredibly, we are just about 3 months away from the premiere of Avengers: Endgame, the finale of a 22-movie arc that began with Iron Man in 2008. While it seems like the wait for Endgame is taking forever, reflecting on the big picture I realize that the last 11 years have flown by as the Marvel Cinematic Universe has grown.
Marvel Studios has remained tight-lipped on what we can expect to see after Avengers: Endgame, refusing to officially reveal the titles of any of the films set to fill the dates they've reserved through 2022. Outside of Spider-Man: Far From Home, which Sony announced as a post-Endgame film way back in 2016, we know nothing about the Marvel Studios slate…officially. Fortunately for fans, trade reporters and bloggers have done quite a bit of ground work and there are some things that are nearly impossible to hide. Here's a compilation of what we know and what we think we know about Marvel Studios plans in 2019 and beyond.
What I Know
July 5, 2019- Spider-Man: Far From Home
Sony's MCU-based sequel to Spider-Man: Homecoming will be the first film to explore the aftermath of the events of Avengers: Infinity War and Avengers: Endgame. Despite the popular notion that it will somehow take place during Infinity War, it has been confirmed by Kevin Feige on several occasions to take place immediately following the events of Avengers: Endgame. In a 2017 interview with iO9, Feige explained its place in the timeline as follows:
"So much happens in [the 3rd and 4th Avengers movies], as you can imagine, and so much is affected by it that we felt what better person to hold your hand and lead you into the next incarnation of the MCU, in a grounded, realistic manner, than Peter Parker? So, coming out two months after Untitled Avengers, [that's what] much of what the next Spider-Man film will be about."
"It was purposefully done like this, like how the events of Captain America: Civil War impacted Peter as he was dropped off by Tony and expected to go back to continue his sophomore year, how the hell are the events of Infinity War and Untitled [Avengers] going to affect him as he, yes, goes back to his junior year?"
There's a lot there, but Feige has made it clear this takes place AFTER Avengers: Endgame and is about Peter dealing with what he's been through. From what we can see in the trailer, Peter attempts to deal with whatever those events are by going on a summer trip to Europe with his friends with the intention of leaving Spider-Man in New York. Clearly that doesn't work out for our hero as he's approached by Nick Fury to help him deal with some elemental monsters that are popping up around Europe. It's here where it's been reported he teams up with Jake Gyllenhaal's Mysterio to take down the creatures and, as seen in the trailer, save his friends.
Casting breakdowns revealed by us indicated that Peter would, at some point, be working with an international agency to take on the threats, but it seems that those agents, including the "femme fatale" that we believed to be Jessica Drew, have been scrubbed from the film in favor of Peter working with Nick Fury and Maria Hill. Typically when Marvel Studios scrubs an idea from a film, it's because they've found another place where it makes sense, so this "femme fatale" character may still pop up in another film.
Nobody is expecting Mysterio to actually be a good guy and it's already become a popular theory that the elemental creatures he and Spidey fight are just the MCU version of Mysterio's elaborate illusions. Numan Acar has been cast in the film, reportedly as "Dimitri", who many fans have assumed is the Chameleon. Michael Keaton and Michael Mando are also rumored to reprise their roles as Adrian Toomes and Mac Gargan, respectively, sending thoughts of an MCU-Sinister Six making a future appearance dancing through fanboys heads.
At this point, however, the future of Spider-Man in the MCU is up in the air. With Spider-Man: Far From Home, star Tom Holland has fulfilled the 5-picture deal he signed with Marvel Studios. While he still has one picture left on his deal with Sony, no indication has yet been given on whether or not it will take place in the MCU. All signs certainly point to Marvel Studios and Sony extending their very successful relationship, but for now, we have to wait and see. Should the two studios reup (and I certainly believe they will), there could be a very DARK future for the Marvel Cinematic Universe, one that we'll revisit later in this piece.
<!–nextpage–>
May 1, 2020-Black Widow
After Spider-Man: Far From Home, the ground we stand on gets a little less firm. Kevin Feige has indicated that he will not reveal anything about what to expect from Marvel Studios post-Infinity until after Avengers: Endgame. That makes it tough because with a May 1, 2020 date on the slate, production on that film has to begin before Feige is ready to talk about it. That leaves people like me to dig around and find things out and share them. That's not always the best option, however, because if we share the wrong type of info, it could influence the outcome and that's not what this job is about. So it becomes a balancing act to get fans the info they want without overstepping your bounds. I hope that's been the case, because I've been leading the way in dropping news for the May 2020 film, Black Widow.
Back in December of 2017, I was the first to report that a Black Widow film was ACTUALLY in development and even had the date of August 7, 2020. With the postponement of Guardians of the Galaxy Vol. 3, the Black Widow solo was moved up to the May 1, 2020 date and the August 7, 2020 date was removed from the slate entirely. Roughly one month later, it was reported that Jac Schaeffer had been hired by the studio to write a script for a Black Widow solo film. I was told that Marvel Studios looked at several writers (no surprise), was very impressed with Schaeffer and that she was willing to work within the confines of a general plot outline that placed this movie in the pre-Iron Man MCU.
Six months later, Cate Shortland was hired to helm the Black Widow solo film. Chosen from a pool of over 70 directors, Shortland beat out Amma Assante, Maggie Betts, Melanie Laurent and Kimberly Pierce to become the first female director to lead a Marvel Studios project on her own. It would be less than a week later that James Gunn was fired from Guardians of the Galaxy Vol. 3, forcing the studio to take stock of where things stood with Black Widow. With a script they loved and a director on board, the decision was made to move the film to May 1, 2020 and get things in gear. By September, I had been told that Marvel Studios was going ahead with the film in May and in October, I was the first to reveal the studio's 2020 slate: Black Widow and The Eternals. Additionally, I was fortunate enough to learn that Black Widow would film, at least in part, in Croatia, and was told to expect filming to begin sometime in late March (a date which was later told to me to be March 25th).
Just a few weeks later, I was able to provide the first look at the character breakdowns for the supporting cast of the film. These were not only hard to come by, they were even more vague than usual, even for Marvel Studios. They included an "exciting" villain, a female "Bond", a Middle-Eastern agent and, a couple of older agents, a secondary female villain and a book worm. Before the Hollywood holiday break, I received word that Marvel Studios had begun auditioning actresses for the "female Bond" role, but that agents were told to stay mum on the involvement of their talent. That said, I did provide a hint to the type of talent the studio was looking at for the part. At this point, no casting has been revealed.
In December, a report surfaced that a Marvel Studios film would be filming a scene in Racconigi, Italy in April. Racconigi was reported be standing in for WWI-era Sarajevo. It was later confirmed that "the director", assumed to be Shortland, had been seen scouting the city. Recently is was reported that Black Widow would begin shooting in Miami in February, a report which I was unable to confirm and one source flatly denied. As of now, it is my belief that Black Widow will film almost exclusively overseas with the potential for some pick up shots in the United States. However, with Feige and his team of executive producers have absolutely buried any available information on this project in order to maintain secrecy, so any changes to the film's schedule or plot that have been made since December are currently unknown.
<!–nextpage–>
November 6, 2020-The Eternals
To start this one off on a personal note might be a bit unprofessional, but I'm not a professional journalist so I'm going to go ahead. I was in Los Angeles for the premiere of Avengers: Infinity War when Kevin Feige confirmed the report that Marvel Studios was developing a film around The Eternals. As if I weren't already excited enough about where I was and what I was doing, this news came along and took me to an entirely different level. I've read every issue of everything involving the Eternals and many of them multiple times. The potential of this franchise and these characters to change the past, present and future of the MCU is massive and while many people are unfamiliar with them, I think Marvel Studios will strike gold again. If you're looking to read up on how they could impact the MCU, here is Part One, Part Two and Part Three of a series I wrote giving some insight into the possible ways The Eternals could expand the MCU.
A story so big it launched a website, news of Marvel Studios developing The Eternals into a film came to us last spring. Not long after, during the press meetings before the premiere of Avengers: Infinity War, Feige confirmed that the property was being developed. Last May, Matthew and Ryan Firpo, whose screenplay for Ruin, a film just now going into production, topped the 2017 Black List, were tapped to write the film. Finally, in September, Chloe Zhao, whose film, The Rider, was well-received by critics and who also was among the 70 directors interviewed for Black Widow, was chosen to direct the project.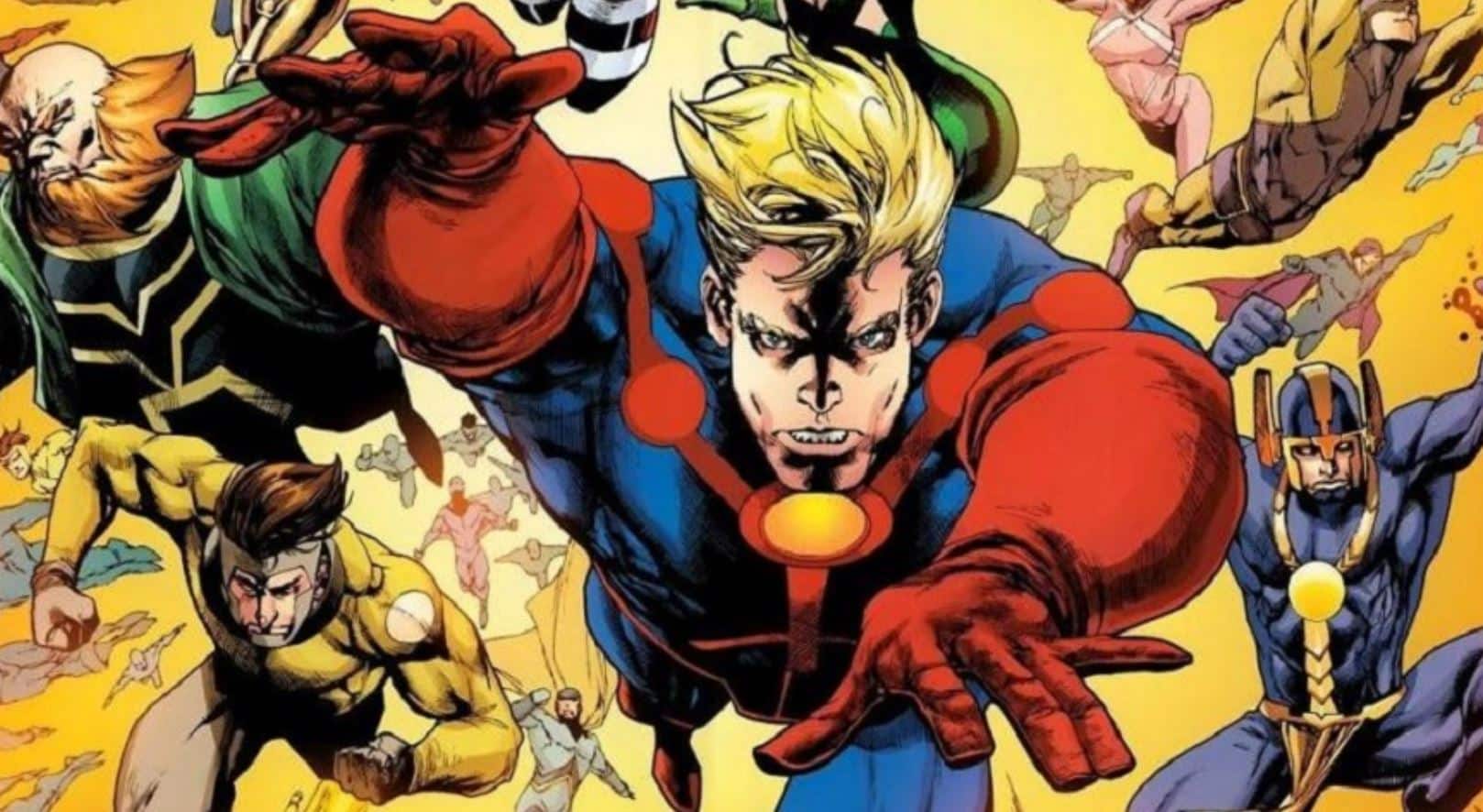 In October, I was able to reveal that The Eternals would be the second film on Marvel Studios 2020 slate, taking the November 6, 2020 date, and that it would film in the UK. A few weeks later, I shared that it was slated for a September 2019 start of production (tentatively September 9th) and just 10 days after that, I shared the character breakdowns for the film!
The lineup for the film is a mix of classic Eternals characters (Sersi, Ikaris, Zuras, Druig, Thena, The Ancient One/Gilgamesh and Makkari), some Titanian Eternals (Starfox and Elysius) and a handful of characters whose identity is being concealed for the time being (a male lead, female lead/Karen and a character named "Piper" who may or may not be Sprite). Casting has already been underway for "Karen" and "Piper" indicating that the two may appear in another film ahead before The Eternals. The rest of the cast is expected to be filled with actors and actresses from diverse backgrounds. With production set to begin in early September, we may (or may not, depending on how secretive Feige is about this one) hear about some casting at either SDCC '19 or D23, when Feige will FINALLY officially reveal at least some of Marvel Studios upcoming slate.
<!–nextpage–>
February 12, 2021-Black Panther 2
In Early October of 2018, Ryan Coogler struck a deal with Marvel Studios to write and direct the sequel to 2018's monster hit, Black Panther. The film as a box office monster and recently scored multiple Academy Award nominations, including Best Picture, so Coogler's return was always a pretty sure thing, but it was good to learn the two sides officially came to terms.
It was also reported that the plan is for the film to begin production either later this year or early in 2020 and I was able to learn that the plan is for the sequel to debut on February 12, 2021. If we learned anything about CBMs in 2018, it should be that release dates (especially ones that far away) are hardly etched in stone. Guardians of the Galaxy Vol. 3, Dark Phoenix, New Mutants and even Wonder Woman '84 were all moved off their originally intended release dates, so while I'm confident in the information I was given, I also understand the dynamics of Hollywood and know that date could change in an instant. At this point, nothing is known about the plot of the film, however, stars Chadwick Boseman (whose 5-picture deal will be fulfilled by this movie), Letitia Wright, Danai Gurira and Lupita Nyong'o are expected to return. For some fully made up speculation on what the film MIGHT be about, feel free to read my feature here.
<!–nextpage–>
May 7, 2021-Doctor Strange 2
At some point in 2018, Benedict Wong gave fans of Doctor Strange some bad info and some false hope when he told them the film would begin production late in 2018. If you've been following me on Twitter for a while, you'll recall that I vehemently denied Wong's claim and stuck to my report that there would only be two movies in 2020 and that they were going to be Black Widow and The Eternals. It would be hard, I maintained, to shoot a film without a script or director, neither of which a Doctor Strange sequel had.
The original film played well to general audiences and did good numbers at the box office. Additionally, the character's cameo in Thor: Ragnarok and major role in Avengers: Infinity War grew fan interest in the Sorcerer Supreme. During press meetings for Ant-Man and The Wasp, Feige confirmed that there would definitely be a Doctor Strange sequel, but cautioned that it would happen "a number years" after the original.
On December 11, 2018, the trades reported that Scott Derrickson and Marvel Studios had come to an agreement to bring him back to direct the sequel to 2016's Doctor Strange. The original report indicated that the plan was for the film to begin shooting in the spring of 2020 and to target a May 7, 2021 release date, information I had been told only a day before but was unable to corroborate with a second source, marking my biggest regret of 2018.
While Derrickson was brought back on board, C. Robert Cargill, the screenwriter of Doctor Strange, was not and, at this point, it's still believed that the studio is searching for a screenwriter for the sequel. Despite that, we have a fairly good idea of where Derrickson might take the sequel based on the pitch he delivered to Marvel Studios that landed him the job on the first film. That original pitch included the villain Nightmare and you can read about that here, along with some speculation on my part about how that film may turn out. The film will certainly see the return of Benedicts Cumberbatch and Wong and, most likely, Chiwetel Ejiofor as Mordo.
<!–nextpage–>
November 5, 2021-Unknown
At this point, no film has been pushed into this slot. It is possible, however, that we might know the identity of at least one of the films that might by vying for it: Shang-Chi.
On November 1st of 2018, I broke the news that David Callaham was working on the script of an untitled project for Marvel Studios. While I was unable to confirm the identity of the project, just over a month later the trades revealed that Callaham was writing Shang-Chi for Marvel Studios. The report also indicated that the search for a director was on and that the studio was fast-tracking the project. The film is expected to modernize the character and the studio is making efforts to assemble an almost entirely Asian and or Asian-American crew as they continue their efforts to make the MCU more representative of the world in which we live.
February 18, 2022-Unknown
<!–nextpage–>
May 6, 2022-Guardians of the Galaxy, Vol. 3
The saga of this film is a sad one and a sore subject to many fans of the MCU. The third film was confirmed to be happening and director James Gunn indicated on social media that we would see it on May 1, 2020. I don't wish to wade into the waters of why all that changed, but it did, putting Marvel Studio's slate into flux.
Immediately following Gunn's firing, the studio met with several directors, including Adam McKay, in an effort to keep the film on track for 2020, but scheduling conflicts and an inability to agree on how to use Gunn's script (some directors felt handcuffed by it) kept the studio from landing anyone in time to keep the project on time. I have my suspicions, however, that they have identified a director and while they may not have struck a deal just yet, they may just have their man or is it a woman…?
I don't think I've shared much of this before, but an early version of Gunn's script featured some heavy exposition of Rocket's backstory. the introduction of Quasar and ended with the death of Peter Quill but Quill, as you can imagine, had a plan. Those of you familiar with Dan Abnett and Andy Lanning's work (the work that inspired Gunn's version of these characters) will find that sounds awfully familiar to the events in the comics that led to the formation of the Annihilators. The early draft did feature some of the members of that team coming together to form a new team of Cosmic heroes. This was just an early version of the film, a version that I cannot confirmed survived nor should we assume that any or all of those things will happen now that a new director is coming on board with chance to take a pass at the the script. Whatever the case, we can expect Vol. 3 to be last go around for the current iteration of the Guardians.
<!–nextpage–>
July 29, 2022-Unknown
We just don't know, but it would seem that if Captain Marvel does well at the box office and with critics (and early reports indicate it should) it will get a sequel in 2022 which could go here, especially following the events of Vol. 3 which could include or lead to some pretty major Cosmic goings-on.
<!–nextpage–>
What I Think I Know
There are 2 open dates and about 2 dozen potential films that could fill them. I do believe we'll get a Captain Marvel 2 in 2022, but I'm not sure at this point if a third Ant-Man film, a fourth Thor film or something very different might fill in the other date.
I know that Marvel Studios commissioned a Dark Avengers script, but it seems that film might be a while away just yet. We know that the studio has been allowing its villains to collect, and Zemo, Ghost and Abomination would make for a great start to a team of Thunderbolts led by a very pissed off General Ross. A lot of folks assume one of the films has to be the third Spider-Man film, but that date will be set by Sony and has yet to be done, but you'll notice that Marvel Studios left a nice July-sized hole in their 2021 schedule just in case. With the Fox-Disney deal set to close in March, fanboys are drooling at the prospects of an X-Men or Fantastic Four film in 2022, but based on what I know, Feige has planned for the films through 2022 without those properties, deciding instead to start layering them into the MCU in 2023. That's not to say characters from the deal may not appear in other films, but a film based on a Fox property happening before 2023 would indicate a change of course from the current plan.
Rumors have swirled about a number of projects in development at Marvel Studios. I first told you that the studio went back to work developing a Power Pack film, Feige has himself teased the Young Avengers coming to the MCU, other sites have teased Hulk projects, Hawkeye projects and just about anything you can imagine. I've heard more rumblings myself, including the potential for a solo Sub-Mariner film (which would mean Marvel Studios and Universal/Comcast would have to come to an arrangement) but nothing I can confirm. For now, we're left with 3 holes in a pretty interesting schedule, with two ideas of what might go in two of them.
Some of these projects make more sense than others as Marvel Studios looks to continue to increase the diversity of its heroes. A Young Avengers film, for instance, would allow the studio to introduce LGBT and Latinx heroes to the screen, a move by the studio that would be MOST welcome. Ic can't make any promises, but as I wind down my time here at That Hashtag Show, it is my wish to bring the identities of these other films to our readers. Stay tuned to That Hashtag Show and please keep on reading!