What happens when you combine Scream, Back to the Future, throw in a bit of Hot Tub Time Machine, and then proceed to tell your audience that we know we're riffing on those movies? You get Totally Killer. It does what the best horror movies do. They take something familiar to audiences and add kills to it. They even make jokes about those movies in Totally Killer. The movie comes from director Nahnatchka Khan and features an incredibly sharp script from David Matalon, Sasha Perl-Raver, and Jen D'Angelo.
That script is about as tight as a time-travel movie can get. Obviously, the gold standard is Back to the Future, but Totally Killer brings all the hallmarks without many of the plot holes and questions that come with the genre. Sure, things get changed, but if you're looking to poke plot holes in a movie, you're an asshole. If you're going into Totally Killer with the mindset to enjoy yourself, you will.
Like I was saying about the script, it's sharp. Plenty of jokes about movies, video games, pop culture, podcasts, internet fame, and even the age we live in today are juxtaposed with the culture of the '80s. Some might think it's a bit on the nose, but all the jokes are in good fun. The characters here, especially the younger versions of characters we meet in the first act, are hilarious. It stars Kiernan Shipka as Jamie Hughes. On Halloween in 1987, three of her mom's friends were murdered brutally by the "Sweet Sixteen Killer." Her mom (Julie Bowen) is paranoid about the killer returning to finish the job, so she's overprotective of Jamie.
Well, it turns out that Jamie's friend Amelia (Kelcey Mawema) created a time machine, and it sends Jamie back in time, where she has to stop the killer with her mom in 1987. There, she gets to see what her mom and her friends were like as teenagers in the '80s. It also stars Olivia Holt, Charlie Gillespie, Lochlyn Munro, Troy Leigh-Anne Johnson, Liana Liberato, Stephi Chin-Salvo, Anna Diaz, Ella Choi, Randall Park, and Jonathan Potts.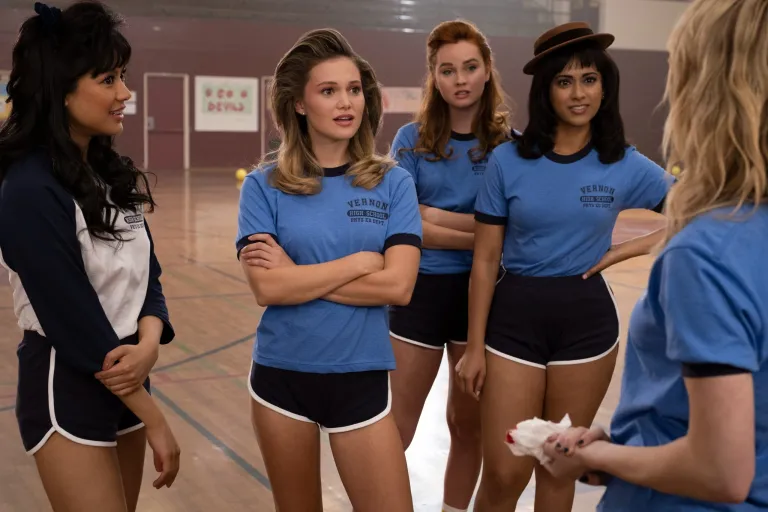 Totally Killer doesn't reinvent any wheels when it comes to the genre. The mystery is pretty enthralling and leaves you guessing with multiple false finishes and red herrings. It's the overall package of the movie that really shines, though. The jokes land. The kills are good. The only thing I can think of that really takes anything away from the film is the use of CG. No, there's no horrific ChatGPT de-aging of characters, but the stab wounds, some blood, and what looks like the knives are CGI.
You couldn't just pay a PA to throw some blood on people? I get that it's more practical not to destroy costumes, but it just doesn't look right when people get stabbed. It takes away from the experience, especially from a movie that's trying to be a bit of a throwback.
Heavy On The Comedy, Still Gruesome At Points
Totally Killer rides the line between comedy and horror like previous films Freaky and Ready Or Not. It has both the traditional comedy and a little bit of darker humor as well. Some of the comedy is on the lower-hanging fruit side of things by just being nostalgic for the sake of it, but those are few and far between. Comparing the brain of a 2023 teenager like Jamie and the brain of a 1987 group of teenagers leads to some hilarious lines about personal boundaries, problematic t-shirts, and other social commentary. The other issue with Totally Killer arises from the fact that it leans a lot into the comic aspect. It's funny, don't get me wrong, but we're also here for a slasher movie.
When you think the movie is going to be more on the slasher side, it teases it, but then doesn't come through with those teases. If you're looking for more comedy than horror, that won't matter to you. But for the horror heads out there, it could be an issue. When they do end up killing people, the actual gore might not be there, but the physicality is. You can feel when someone gets smacked with a lamp, or a hammer hits someone's head. There's a bloodthirsty version of this movie in some other universe, but we didn't get it here.
Kiernan Shipka Is Perfect For Totally Killer
Kiernan Shipka has quickly ingratiated herself to horror fans thanks to her turn in The Chilling Adventures Of Sabrina. Here, she provides an attitude and look that gives Totally Killer a leg up on other similar horror flicks. Instead of hanging on the effects of time travel, what it means to time travel, and even how changing things in the past could change the future, she just kind of goes with it. Jamie is a really well-written character that feels a lot like anyone in the audience going through this situation would do. She gets lost in the whole thing, and the movie works much better because of it.
Totally Killer might not be the best movie around when it comes to the rules of time travel. It's not trying to be. It's not trying to reinvent the slasher wheel like Scream did. Really, it's just trying to have a fun romp through the '80s, crack some jokes, have some pretty decent kills, and entertain audiences. It does exactly that with an excellent performance from Kiernan Shipka and a bit of a mean streak shown by director Nahnatchka Khan.
Totally Killer streams on Prime Video on October 6th, 2023.
For more on Halloween or Horror, make sure to check out THS Fright-A-Thon.
Keep Reading: