If you love 80s-style creature features and horror comedy, this one's for you. Shaky Shivers will hit theaters for a special one-night event this September.
The horror comedy serves as the directorial debut of Sung Kang (who you probably know as Han from the Fast & Furious franchise). The special presentation from Cineverse and Fathom Events will feature an introduction from Kang ahead of the film.
Check out the trailer for Shaky Shivers below… and get ready to put the "camp" back in summer camp!
Here's the official synopsis of the film:
After finding herself bitten by a mysterious animal, Lucy becomes convinced that she will transform into a fearsome werewolf. Joined by her best friend Karen, the two embark on a wild adventure filled with magic and mayhem, as they look to do battle with a throat-slashing creature ripped right out of an 80s horror movie.
"Cineverse, Bloody Disgusting, and Fathom Events have a profound understanding of the horror genre, so as a first-time filmmaker, I'm grateful to be releasing Shaky Shivers in theaters nationwide with this powerful genre team," said Kang. "The whole idea was to make this for the old-school horror hounds and for them to experience it together on the big screen. I hope this event is one that people remember."
Shaky Shivers comes from writers Andrew McAllister and Aaron Strongoni, and stars Brooke Markham and VyVy Nguyen.
Prior to its special theatrical event, the film made the rounds on the festival circuit. It received the Grand Jury Award for Best Narrative Feature at the Gasparilla International Film Festival. It also received positive reviews out of HorrorHound Film Festival, Screamfest LA, London Soho Horror Festival, and more.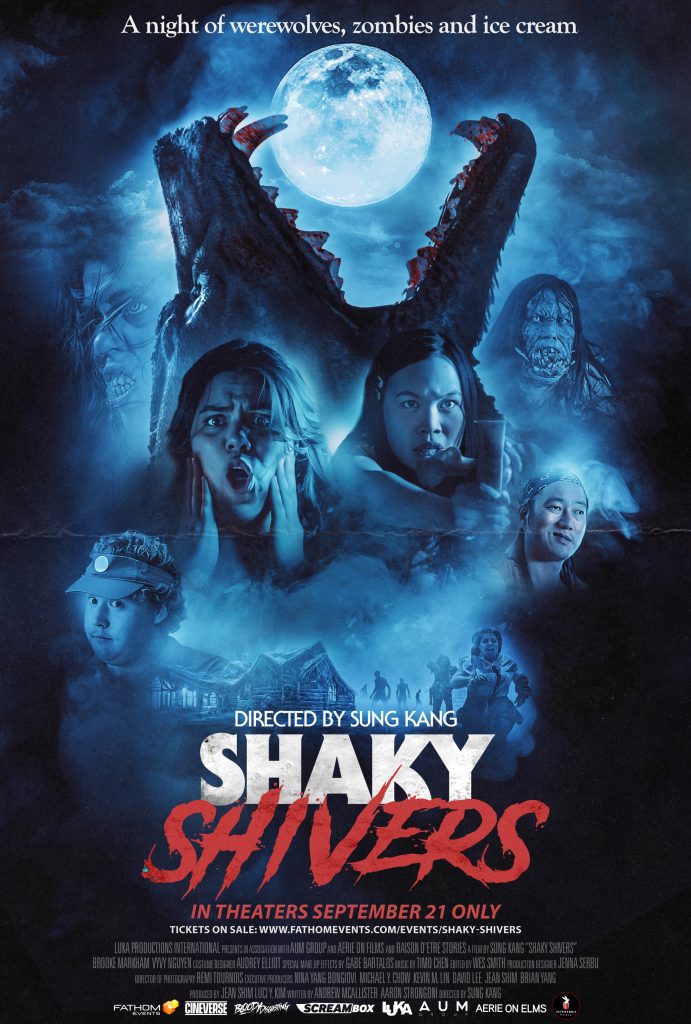 Fathom Events and Cineverse will release Shaky Shivers in theaters nationwide for one night only on Thursday, September 21 at 7pm local time. For a complete list of theaters and to reserve your tickets, visit the Fathom Events website.
So, what did you think of the trailer? Let us know in the comments below.
Keep Reading: