*This is a spoiler-free review of Mission: Impossible- Dead Reckoning Part One*
Tom Cruise doesn't miss. The Mission: Impossible series has been absolutely smashing since the release of Mission: Impossible – Ghost Protocol. Now, we're at Mission: Impossible – Dead Reckoning Part One. This series has consistently set and reset the bar for action/thrillers, and this new movie is no different.
Our story picks up with Ethan Hunt going after a terrifying new weapon that threatens humanity. It's a race against the clock and against multiple parties wanting to get the weapon for their nefarious uses. The fate and control of the world are at stake, but so are Ethan's friends and family.
It stars Tom Cruise, Hayley Atwell, Esai Morales, Ving Rhames, Simon Pegg, Rebecca Ferguson, Vanessa Kirby, Henry Czerny, Pom Klementieff, and Cary Elwes.
About The Stunts, But A Whole Lot More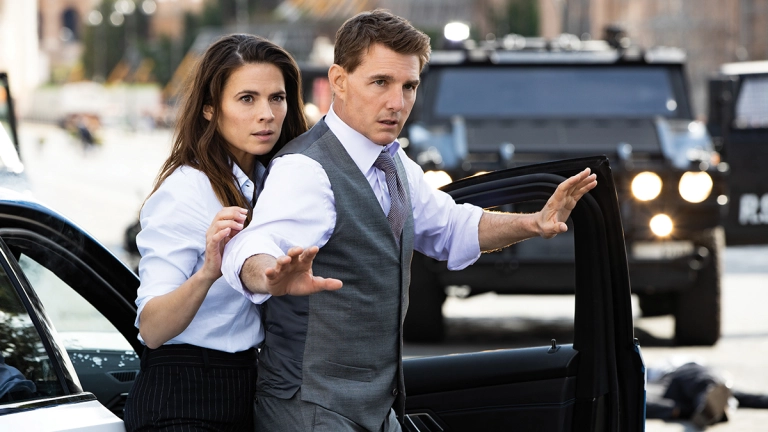 In a year of excellent action films that bump up the stunts and effects, Mission: Impossible – Dead Reckoning Part One comes in with more of a throwback feel. This doesn't feel like a "gun-fu" action movie. There's a lot of press about the stunts that Tom Cruise put himself through for this film. While those stunts are amazing, especially the one with Cruise riding a motorcycle off a cliff, they never overtake the story and the performances. It's a perfect balance of spectacle. Tom Cruise really is a one-of-a-kind performer that blends his performances better than anyone else in the world.
As for the other performances in the film, Hayley Atwell is a real standout. Her character, Grace, is mysterious, and her motivations are unclear, but she steals the show. In a movie with this much star power, that's a feat unto itself. She has magnificent chemistry with Tom Cruise; she shines every time she's on screen. Her character also gets a nice arc, going from a small-time thief to something much bigger and important.
Pom Klementieff might not get a whole lot of dialogue to work with in the film, but her actions shine brighter than her words. She's badass, and every time she's on screen, something insane is happening. She's part of the best fight scene in the film, a close-quarters two-on-one fight between Ethan and her and a henchman. Christopher McQuarrie and the crew somehow get the most out of a fight where all the combatants are stuck in an alleyway that is maybe shoulder-width apart.
The old stalwarts like Simon Pegg and Ving Rhames are great, particularly Rhames. Pegg provides the humor of the film and gets all the best funny bits. Rhames is the elder statesman of this series at this point, and he's full of wisdom in Dead Reckoning Part One. It's refreshing to see a grizzled veteran of the screen hand out some sage advice in this film.
A Good Villain, Not Great
The overall "villain" of the film is a rogue AI program that is nameless, faceless, emotionless, and just kind of exists as flashing lights on screens. So, to counteract that, the AI has a "heavy" to go around and do its bidding. Esai Morales plays Gabriel, someone from Ethan's past and an equally powerful adversary for him. Morales's performance is good, and he plays a sort of smiling, twirling mustache villain opposite the heroics from Cruise. There's just a bit missing from the performance. It feels a bit hollow, but that's really in the writing and his character's motivations.
You're Here To See Tom Cruise Jump Off A Mountain On A Motorcycle
Mission: Impossible – Dead Reckoning Part One is a spectacle. It is a spectacle of filmmaking. It'll make you question just what goes into a stunt performance. The film ratches up the tension in a similar way to a horror movie, particularly in the third act. The extended train sequence divides up into parts that all coalesce into a conclusion that feels a bit satisfying.
However, the fact that they named this one Dead Reckoning Part One rears its ugly head while you're watching. It takes away from the proceedings that this is still just part one of a story. Anything that happens feels like it's just set up for the second part. It doesn't take too much away from the film, but it's something that you have in the back of your mind while watching the entire thing.
Mission: Impossible – Dead Reckoning Part One sets the bar for the franchise that was already ludicrously high. It tells a prescient story about the dangers of technology falling into the wrong hands. It also gives us some moral choices for Ethan Hunt that go far beyond his current mission. Between all of that, we get an action spectacle that lives up to any expectations.
For more Reviews, make sure to check back to That Hashtag Show.
Keep Reading: