We're speedin' closer to the official premiere of Fast X. And today we have a big reveal about the upcoming film, courtesy of Total Film Magazine.
The latest issue spotlights the upcoming Fast & Furious film. In addition to some new pictures from the movie, the Total Film feature revealed a key detail about a new character joining the Fast Family in this installment. (Spoilers ahead!)
Franchise star Vin Diesel originally announced Fast X would feature Brie Larson as a new character. But since then, details about Larson's character have remained under wraps. Back in February, director Louis Leterrier teased Larson's character "has an origin that is clearly part of the franchise." He also stated, "I won't reveal it, but it's all about the legacy, the generational legacy of all these characters."
And now the specifics of that legacy connection have been revealed. Apparently, Larson's character Tess is actually the daughter of Mr. Nobody. The mysterious government agent, played by Kurt Russell, first appeared in Furious 7. In the latest film, F9, Mr. Nobody's plane crashes and he is presumed dead. (Given the Fast Saga's history with resurrecting characters though, it's hard to say for sure if that apparent death will be permanent.)
Still, with Tess' parentage, it's never been more clear that Fast & Furious is all about family.
About Fast X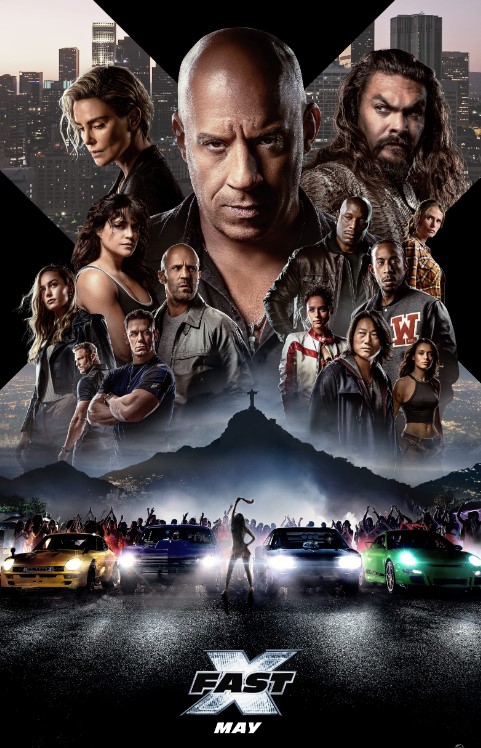 The end of the road begins.
Fast X launches the final chapters of one of cinema's most storied and popular global franchises.
Over many missions and against impossible odds, Dom Toretto (Vin Diesel) and his family have outsmarted, out-nerved and outdriven every foe in their path. Now, they confront the most lethal opponent they've ever faced. A terrifying threat emerges from the shadows of the past, fueled by blood revenge, and determined to shatter this family and destroy everything—and everyone—that Dom loves, forever.
In 2011's Fast Five, Dom and his crew took out nefarious Brazilian drug kingpin Hernan Reyes and decapitated his empire on a bridge in Rio De Janeiro. What they didn't know was that Reyes' son, Dante (Aquaman's Jason Momoa), witnessed it all and has spent the last 12 years masterminding a plan to make Dom pay the ultimate price.
Dante's plot will scatter Dom's family from Los Angeles to the catacombs of Rome, from Brazil to London and from Portugal to Antarctica. New allies will be forged and old enemies will resurface. But everything changes when Dom discovers that his own 8-year-old son is the ultimate target of Dante's vengeance.
Fast X premieres in theaters this May. Meanwhile, for more updates on Fast & Furious, check back to THS.
Keep Reading: