She's creepy, kooky, but mostly spooky… and she's got her own Netflix series. Pack your steamer trunk and head to Nevermore Academy with Wednesday Addams!
The new supernatural mystery series Wednesday follows the daughter of the Addams Family as she attempts to master her emerging psychic ability, thwart a monstrous killing spree terrorizing the local town, and solve the murder mystery that embroiled her parents 25 years ago.
The series stars Jenna Ortega as Wednesday. The other members of the Addams Family weaving their way through the show include Catherine Zeta-Jones as Morticia, Luis Guzmán as Gomez, and Isaac Ordonez as Pugsley. The show also stars Gwendoline Christie, Christina Ricci, Emma Myers, Hunter Doohan, Percy Hynes White, Riki Lindhome, and more.
Jenna Ortega nails Wednesday Addams
The Addams Family has been around for a while – from comics to TV to film – so there have been several iterations of Wednesday Addams before. I know many people (myself included) are pretty attached to Christina Ricci's version of the character from the '90s films. But I'm happy to report Netflix series star Jenna Ortega makes a woefully wonderful Wednesday!
I've always loved Wednesday Addams, but I was afraid that a show focusing solely on her character would make her feel a bit one-note. However, the combination of the show's scripts and Ortega's acting completely proved otherwise. Ortega gives us the Wednesday we know and love – an independent, witty, sharp-tongued lover of darkness – but with added depth and flaws that sustain a series-length focus.
And of course, she also gets to demonstrate a bunch of fun, very "Wednesday" skills: archery, fencing, cello, languages, puzzle-solving, and more. This version of Wednesday also has psychic visions, which add to the supernatural ties and gothic feel of the series.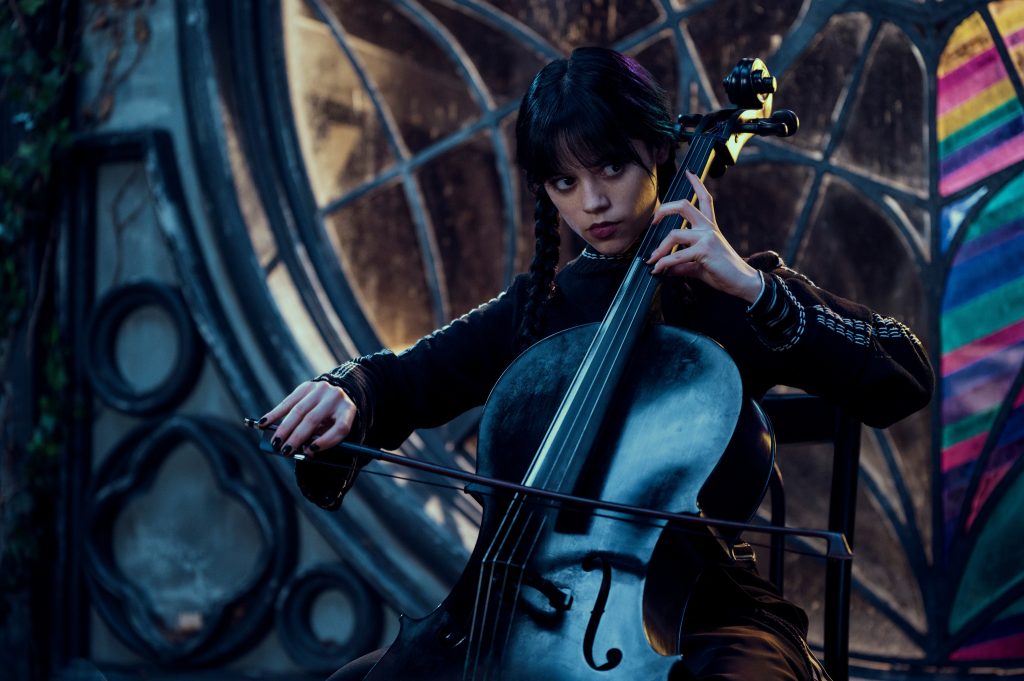 Plus, Christina Ricci!
I love that Netflix understood the love we all have for Ricci, and that they were able to get her to be a part of this series. And not just for a quick cameo, either – Wednesday's "dorm mom" / Nevermore Academy teacher Marilyn Thornhill appears throughout the season. Ricci does a great job straddling the line between "outcast and normie" for her character, and it's a lot of fun for fans to see her in the show.
This series has it all
Overall, I loved the first season of Wednesday. It pretty much delivered everything I wanted, from its Addams-aesthetic and supernatural influences to its characters and intriguing mystery.
Fun characters
Besides Wednesday herself, the series stacks Nevermore and the surrounding town with plenty of fun, interesting characters. Wednesday's charming and excitable roommate Enid (Emma Myers) is the perfect odd-couple foil to her dark and deadpan sensibility. Town normie and coffee shop guy Tyler (Hunter Doohan) and Nevermore's tortured artist Xavier (Percy Hynes White) vie for Wednesday's affections. Dr. Valerie Kinbott (Riki Lindhome) cheerfully steps in as Wednesday's court-ordered psychologist, while the secretive Principal Weems (Gwendoline Christie) seems determined to get Wednesday expelled.
And rounding out the cast… Thing! Thing basically serves as Wednesday's sidekick in the series, and their dynamic is really fun. Big props to Victor Dorobantu, who manages to convey every emotion with the right tapping fingers and gesticulation.
Bringing that Addams aesthetic
Wednesday gives Addams Family fans everything they want and more. The series heavily leans into its gothic roots, from Wednesday's wardrobe to Nevermore Academy itself. It immerses you in a dark but fun supernatural world of werewolves, gorgons, and sirens (all students at Nevermore, naturally). We've got poisonous plants, secret societies, weird taxidermy, shapeshifting, crystal balls, living art, Edgar Allan Poe references, and more.
Oh, and there's a killer monster on the loose, so there's a mystery to solve too.
Murder most foul
Tying together its fun characters and ideal aesthetic is the main plot of the series, which sees Wednesday embroiled in a high-stakes mystery. There's a monster on a killing spree – which would already be bad enough. But somehow this case ties to Wednesday's parents' time at Nevermore, a 25 year old crime, and a small town full of secrets and cover-ups. It's all a little bit Nancy Drew (and I mean that in the best way).
The mystery adds great stakes and intrigue to the series, while adding conflict to Wednesday's relationships. Plus, as a viewer, it gives you something fun to speculate about as you progress through the season.
The right dose of the Addams Family
Another thing Wednesday does really well is strike the balance between showing the extended Addams Family and making this clearly Wednesday's own series. Connecting the season's mystery to Morticia and Gomez's time at Nevermore gives the right opportunity to tie the characters to the show, without making it "about" them. We get brief appearances from Lurch dropping off and picking up Wednesday from school, and an episode where Uncle Fester pops in for a visit. Wednesday shares a couple great scenes with Pugsley that really embody their sibling relationship.
Basically, we get enough Addamses to appeal to long-time fans and make sense with the story. But it's still undeniably Wednesday's story.
Wednesday is woefully wonderful
If you love the Addams Family, you won't want to miss this series. Ortega does a great job as Wednesday, and the gothic-supernatural elements create an aesthetic worthy of director Tim Burton. The mystery is interesting and compelling, with new twists and turns to keep you guessing. I really hope Netflix opts to continue this show, because I would definitely watch more.
Wednesday premieres on Netflix November 23.