If you're like me, and you have a massive collection of movies and TV shows that is always growing and never stops, you love Blu-ray and 4K discs. These days we've got special editions, collector's editions, new releases, 4K UHD re-releases of popular movies, and more. Cutting through all of it is almost impossible, but finding the right edition and movie for that loved one or friend is even more difficult than that. That's why we've got you covered here with the first of many Holiday Gift Guides. Some of these are studio releases, others are boutique labels that put a bit more love, care, and affection into all of their releases.
We'll start off with the best studio releases of the year, and with one of the most stunning 4K transfers ever.
Top Gun: Maverick – 4K Ultra HD
Seeing as how Top Gun: Maverick was the biggest box office smash this year, it only makes sense to take the film home. This one includes the digital copy, so you can take it wherever you want!
After more than thirty years of service as one of the Navy's top aviators, Pete Mitchell is where he belongs, pushing the envelope as a courageous test pilot and dodging the advancement in rank that would ground him.
Grab it right here on Amazon!
Read our 98% review of Top Gun: Maverick here:
Spider-Man: No Way Home – 4K Ultra HD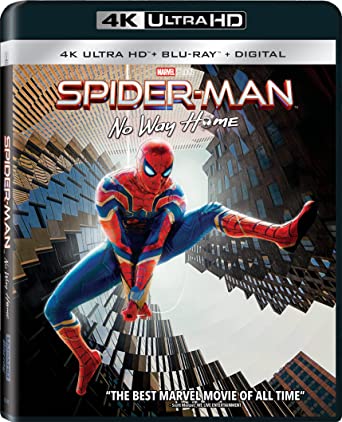 Spider-Man: No Way Home was the movie that kicked the theatrical box office back into high gear. So naturally, that movie would deserve a damn good 4K UHD release. This one is from Disney and it has an incredibly crisp picture quality with tons of special features including 80 minutes of extra footage.
For the first time in the cinematic history of Spider-Man, our friendly neighborhood hero's identity is revealed, bringing his Super Hero responsibilities into conflict with his normal life and putting those he cares about most at risk. When he enlists Doctor Strange's help to restore his secret, the spell tears a hole in their world, releasing the most powerful villains who've ever fought a Spider-Man in any universe. Now, Peter will have to overcome his greatest challenge yet, which will not only forever alter his own future but the future of the Multiverse.
You can grab this one from Amazon.
Check out our review of Spider-Man: No Way Home:
Nope – 4K Ultra HD
Jordan Peele's Nope captivated audiences earlier this year with some incredibly eerie and unsettling trailers. After seeing the movie, it was one of the best of the year, and now the 4K Ultra HD disc gives some of that stunning cinematography a place in your home. This release has both the 4K and Blu-ray discs alongside the Digital Code.
Oscar® winner Jordan Peele disrupted and redefined modern horror with Get Out and then Us. Now, he reimagines the summer movie with a new pop nightmare: the expansive horror epic, Nope. The film reunites Peele with Oscar® winner Daniel Kaluuya (Get Out, Judas and the Black Messiah), who is joined by Keke Palmer (Hustlers, Alice) and Oscar® nominee Steven Yeun (Minari, Okja) as residents in a lonely gulch of inland California who bear witness to an uncanny and chilling discovery. Nope, which co-stars Michael Wincott (Hitchcock, Westworld) and Brandon Perea (The OA, American Insurrection), is written and directed by Jordan Peele.
You can grab it from Amazon right here!
Check out our review of Nope here:
Fright Night – 4K Ultra HD
Now for an '80s vampire classic from Sony Pictures! The 4K UHD of Fright Night might be the best studio release of the entire year. It comes with over 13 hours of existing and new special features. The 4K transfer here is absolutely stunning and breathes new life into this magnificent horror flick.
Meet Jerry Dandridge. He's sweet, sexy, and he likes to sleep in late. You might think he's the perfect neighbor. But before inviting Jerry in for a nightcap, there's just one thing you should know. Jerry prefers his drinks warm, red and straight from the jugular! It's FRIGHT NIGHT, a horrific howl starring Chris Sarandon as the seductive vampire and William Ragsdale as the frantic teenager struggling to keep Jerry's deadly fangs out of his neck. Only 17-year-old Charley Brewster (Ragsdale) knows Jerry's bloodcurdling secret. When Charley can't get anybody to believe him, he turns to TV horror host Peter Vincent (Roddy McDowall), who used to be the "Great Vampire Killer" of the movies. Can these mortals save Charley and his sweetheart Amy (Amanda Bearse) from the wrathful bloodsucker's toothy embrace? If you love being scared, FRIGHT NIGHT…will give you the nightmare of your life.
You can purchase it from Amazon right here.
Trading Places – Paramount Presents – Blu-Ray
This recommendation might be for the Blu-ray of Trading Places, but as a whole, the Paramount Presents line is the absolute gold standard for studio releases. Paramount has gone back into their deep catalog of films and pulled the very best for Blu-ray. In addition to some awesome packaging that folds out to show off the original theatrical poster, this release comes packed with special features like:
NEW Filmmaker Focus: Director John Landis on Trading Places HD
Deleted Scene with optional commentary by Executive Producer George Folsey, Jr.
Insider Trading: The Making of Trading Place
Dressing the Part
The Trade in Trading Places
Trading Stories
Industry Promotional Piece
Theatrical Trailer
The very rich and extremely greedy Duke Brothers (Don Ameche and Ralph Bellamy) wager a bet over whether "born-loser" Billy Ray Valentine (Eddie Murphy) could become as successful as the priggish Louis Winthorpe III (Dan Akroyd) if circumstances were reversed. So begins one of the funniest, most outrageous comedies of the 80s, cementing Eddie Murphy's superstar status. Alongside the street-smarts of Ophelia (Jamie Lee Curtis), Winthorpe and Valentine are a trio ready for a riotous revenge that culminates on the commodities trading floor in New York City. Trading Places is presented here newly remastered from a 4K film transfer, under the supervision of director John Landis.
Grab it straight from Paramount here!
Universal Classic Monsters: Icons Of Horror Collection 2 – 4K Ultra HD
Last year we got the exceptional Universal Classic Monsters: Icons Of Horror Collection from Universal on 4K UHD and those films have never looked better. This time around we're getting four more classic monster movies in The Mummy, The Bride of Frankenstein, Phantom of the Opera, and Creature From The Black Lagoon. These four films have never looked better and in this package, you get it all, the 4K UHD disc, Blu-ray disc, and digital code.
The special features are too numerous to all list here, but there's some really great extras included here that'll satisfy the biggest Universal Monsters fans out there.
You can grab this one direct from Amazon right here!
The Batman – 4K Ultra HD
The Batman is one of the best comic-book movies of the year and you can get it on 4K Ultra HD from Warner Bros. The movie gave us one of the best on-screen depictions of Batman ever, with Robert Pattinson putting on the cowl. Director Matt Reeves gave us an excellent interpretation of Batman here. This release contains both the Blu-ray, 4K, and digital code.
A killer targets Gotham's elite, sending The Batman on an investigation. As evidence mounts, he must forge new relationships, unmask the culprit and bring justice amidst corruption.
You can grab this one from Amazon!
Boutique Label Releases: Scream Factory, Vinegar Syndrome, Criterion Collection
Halloween 4K Collection (1995-2002) – 4K UHD – Scream Factory
Last year Scream Factory gave us the stunning 4K transfers of Halloween 1-5 and this year they brought out the Halloween 4K Collection (1995-2002). For fans of Michael Myers and Halloween, this is an absolute must-buy. It has new 4K transfers of all three movies, more extras than you can think of, and both versions of Halloween: The Curse of Michael Myers, the theatrical cut and the Producer's Cut.
This box set comprises three terrifying films from one of the longest running horror series in cinema history. Michael Myers takes on Tommy Doyle and Dr. Loomis with help from a mysterious cult, comes face to face with Laurie Strode again and slashes his way through the cast of a reality TV show! This set includes all of the previously released extras plus some brand-new surprises …
You can grab this one directly from Scream Factory here!
Check out our unboxing of this set below:
The Texas Chainsaw Massacre 2 – 4K UHD – Vinegar Syndrome
Now it's time to get wild. Tobe Hooper's sequel to the original Texas Chain Saw Massacre goes even bolder and bigger. This release from Vinegar Syndrome is the gold standard for this film which has featured great releases from Arrow Video and Scream Factory in the past. This new 4K disc includes plenty of new extras and the older special features ported over.
In the dozen years since the original massacre, countless more people have vanished without a trace and, despite fears from the locals that Leatherface and his family of cannibals have resumed their murderous ways, the police seem disinterested in looking into the disappearances. But everything changes when a couple of yuppies are attacked by Leatherface while calling into a local radio show hosted by DJ Vanita "Stretch" Brock, thus blasting their ghastly murders over the airways. Fed up with the inaction from local law enforcement, ex-lawman Lt. "Lefty" Enright decides to go rogue and sets out into Texas Hill Country in a bid to finally put an end to the terror which has been gripping his community. Meanwhile, Leatherface sets his sights, and chainsaw, on Stretch…
You can only get this one from Vinegar Syndrome, so grab it while you can!
Night Of The Living Dead – 4K Ultra HD – Criterion Collection
For film lovers, Night of the Living Dead is a must-watch. This version from Criterion Collection is the absolute best transfer of the film possible. It's never looked this good. Coming from Criterion Collection, you can also count on a wonderful package of extras and special features that give a new appreciation for the film.
Shot outside Pittsburgh on a shoestring budget, by a band of filmmakers determined to make their mark, Night of the Living Dead, directed by horror master George A. Romero, is a great story of independent cinema: a midnight hit turned box-office smash that became one of the most influential films of all time. A deceptively simple tale of a group of strangers trapped in a farmhouse who find themselves fending off a horde of recently dead, flesh-eating ghouls, Romero's claustrophobic vision of a late-1960s America literally tearing itself apart rewrote the rules of the horror genre, combining gruesome gore with acute social commentary and quietly breaking ground by casting a Black actor (Duane Jones) in its lead role.
You can grab this one directly from Criterion Collection here.
Army Of Darkness – 4K Ultra HD – Scream Factory
Finishing up the Gift Guide, we have the newest release of Sam Raimi's Army of Darkness. This version comes from Scream Factory and has either the standard edition or the Steelbook with brilliant new art. While this one doesn't feature any new extras from the previous Blu-ray release, the 4K transfer of the theatrical cut is well worth the upgrade, and if you don't own the Blu-ray, this is a must-buy for fans of The Evil Dead.
Unspeakable evil is unleashed upon mankind in director Sam Raimi's (Darkman, Drag Me To Hell ) outrageously hilarious third chapter in his Evil Dead Trilogy. Bruce Campbell returns as Ash, the handsome, shotgun-toting, chainsaw-armed department store clerk who is time warped backwards into England's Dark Ages, where he romances a beauty and faces legions of the undead. Can Ash save the living, rescue his girlfriend, and get back to his own time?
Grab it directly from Scream Factory here!
That's not even scratching the surface of how many amazing 4K UHD and Blu-ray releases we had this year, but these are the absolute must-haves for any film lover in your life.
So, what do you think about this 2022 Gift Guide for Movie Lovers?
For more on Movie News, make sure to check back to That Hashtag Show.
Keep Reading: