FOR THOSE OF YOU WHO HAVE YET TO SEE THE INFERNAL MACHINE, THIS IS A NON-SPOILER REVIEW.
When I first heard about the plot of the new film The Infernal Machine, I was immediately intrigued.  I love movies about conflicted authors.  And to tie in a notorious killer who claims they committed their crimes because of a writer's novel… felt like the great jumping-off point for a spell-binding mystery.  And this movie starts off interesting enough… I was getting major Seven vibes, as well as another Guy Pearce film, Memento.  And you can tell writer/director Andrew Hunt wants so badly for his feature to be just like those classics… a puzzle box of a film that audiences will keep coming back to and mulling over for years to come.  But, something went very, very wrong with The Infernal Machine… or maybe it's more like many somethings went wrong.
WHAT ARE SOME OF THE MYSTERIES IN THE INFERNAL MACHINE?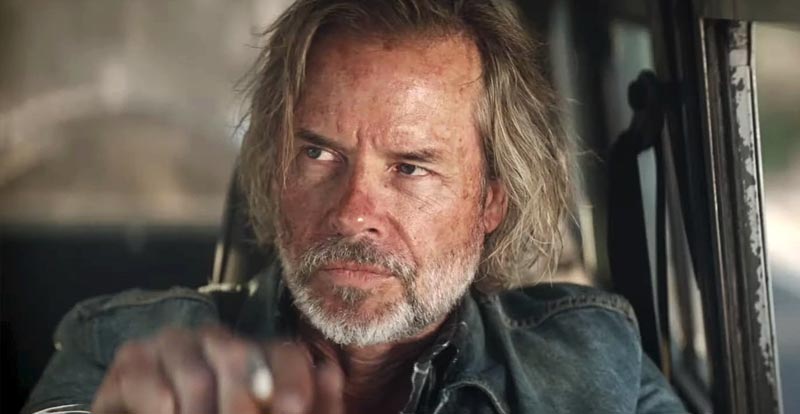 First and foremost, the mystery that is built up in its first half never leads to much of anything.  There is the killer who claims that the author's one-and-only book, also titled The Infernal Machine, led him to shoot and kill a crowd of random people.  An obsessive fan of the book just might be stalking our protagonist Bruce Cogburn, and forcing him to lose his mind.  There are these ominous radio signals that supposedly have top-secret codes hidden within them.  Cogburn's own words and the sequence they are in in the novel, also apparently have some kind of deeper power that can lead to violence.  Basically, there is a whole lot going on here and I have to admit, I was enamored by it all.  
But, in the latter half, it's as if our writer/director forgets about all of that… (possibly because he had written himself into a brick wall) and then makes a far left turn, into making his film more of a redemptive character study. Which is fine… I do love myself a good character study, but that's not what we came here to see. The trailers sold a cryptic and labyrinthine mystery thriller… and oh, did this movie not deliver.
IS THE FILM, AT LEAST… ENTERTAINING?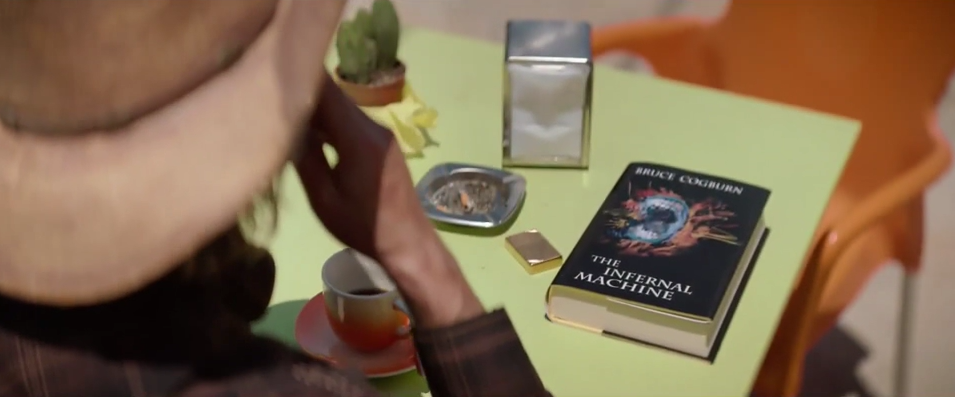 I wouldn't be frustrated by the lack of answers to all of the questions if this movie was at all entertaining.  There are many films that I have been confused by in the past on first viewing, Donnie Darko being a prime example… that I felt an urge to come back to because they were also compelling.  The Infernal Machine only started out in a good place because I was eager to unlock its secrets, but now that I know where it ended up going… no Ending Explained video or in-depth analysis, will make up for its absence of substance.  
HOW IS THE CAST?
And this poor cast seems so lost in all of the rigamarole. The ever-talented Guy Pearce, who has sadly been doing a lot of mediocre VOD films as of late… Nails the look of a recluse, but is relegated to mumbling to himself and falling over drunk for most of the movie. And the rest of the performers seem as if they were given three descriptive words for their characters and were left to their own devices from there. One thing is for sure though, the over and/or under-acting on display in The Infernal Machine is pretty appalling.
WHAT ARE SOME THINGS THAT COULD HAVE IMPROVED THE INFERNAL MACHINE?
I hate to dig into a movie like this so much, because I love seeing up-and-coming directors get a chance to put their original visions up on the screen. And I commend Andrew Hunt in getting his film made. I just can't help, but feel like this final product can't be what he had initially envisioned in his head. I have been racking my brain trying to figure out how this project could have been saved… Maybe if he had gone back to the writers room to do a couple more revisions of the script. Or if he had settled on condensing his ideas and making this an episode of Black Mirror. Or expanding it to a limited series format, so he could actually have time to connect all of the puzzle pieces together. These solutions are futile though, because we have to settle with what we got… and this version of The Infernal Machine, is more like The Infuriating Machine.
The Infernal Machine will be In Select Theaters and Streaming on VOD September 23rd, 2022.
For More Reviews, make sure to Stay Tuned to That Hashtag Show!