Are you looking for new releases in Film or Television to watch this weekend of August 26th!? Well, THS has you covered in our weekly series! So, make sure to come back each week as we compile all of our recommendations for you to check out on your days off.
However, I wanted to break down this list and make it a little more personal. Kind of like when you walk into a book store and see the wall of employee recommendations. So, I'll be breaking down this list as to what we at THS are watching, not necessarily every single thing releasing.
JESSICA'S WATCHING
I've got new episodes of She-Hulk and Harley Quinn to stream (on Disney+ and HBO Max, respectively). I also want to check out the premiere of Little Demon on FX/Hulu. And hopefully getting out to the theater for Three Thousand Years of Longing.
SHAWN'S WATCHING
This weekend I will be enjoying the new Sylvester Stallone superhero flick "Samaritan" with friends! And re-watching "Lost Ollie" on Netflix for the third time! I just can't get enough of that stuffed bunny!
RHETT'S WATCHING
I'm going to watch the new episodes of She-Hulk and I Am Groot on Disney+. I'm also heading to theaters to watch Rogue One in IMAX!
SARAH'S WATCHING
You know I'm a sucker for anything YA and/or Angsty, so I'm going to be checking The Partner Track on Netflix. Then, heading to Peacock to watch Everything I Know About Love. And of course, since I LOVE a shark movie, I'm going to check out MANEATER. Hopefully, I'll have time to make it to the theaters this weekend to see The Invitation.
LAURA'S WATCHING
I'm going to be watching The Bear and This Fool on Hulu. Then Sunday, I'll absolutely be watching the latest episode of House of the Dragon on HBOMax.
TOM'S WATCHING
This weekend I'll be watching all the conventioneers at Power Morphicon!
BENJY'S WATCHING
I'll be busy binge-watching Dota: Dragon's Blood on Netflix now that the 3rd and final book has recently been released!
JJ'S WATCHING
I'm headed to go watch Rogue One in IMAX!
NEW RELEASES – WHAT ELSE YOU CAN WATCH THIS WEEKEND!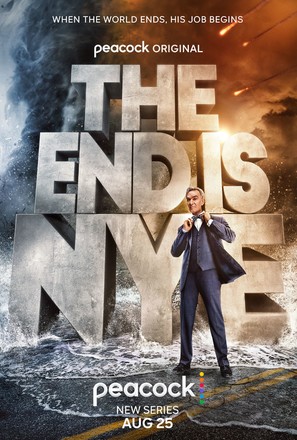 NEW IN THEATERS AUGUST 26TH!!
The Invitation
A young woman attends a lavish destination wedding, unaware of the horrors that await.
Samaritan
Described as a dark, fresh take on the superhero genre. 25 years ago, the world's greatest hero vanished.
Three Thousand Years Of Longing
Said to be an "epic love story". What would you wish for?
Maneater
What better place to drown your sorrows than an idyllic island paradise? That was the idea when Jesse's friends convinced her to not let a broken engagement stand in the way of enjoying her prepaid honeymoon. Their sorrows weren't the only thing going to drown on their trip, especially with a man-eating shark swimming just below the surface.
Jane
When Olivia is deferred from her dream college she begins to spiral. To regain control, she embarks on a social media war against those in her way, but as things escalate, she is forced to embrace her darkest impulses to get ahead.
Out of the Blue
A contemporary tale of passion, deceit, and violence. When Connor (Nicholson) meets enigmatic beauty Marilyn (Kruger), her seductive charm transforms his dull life into a thrilling fantasy world. He plunges headlong into the adulterous affair, the ex-con with a heart of gold seemingly destined for the raven-haired trophy wife. The only hitch in their idyllic new life together? Marilyn's trapped in a nightmare with an abusive husband and vulnerable stepdaughter.
NEW ON PARAMOUNT+ AUGUST 26TH!!
'Star Trek: Lower Decks' (Season 3)
Lower deckers Tawny Newsome (Ensign Mariner), Jack Quaid (Ensign Boimler), Eugene Cordero (Ensign Rutherford), Noël Wells (Ensign Tendi), and Creator Mike McMahan—along with upper deckers Dawnn Lewis (Captain Freeman), Jerry O'Connell (Commander Ransom), Gillian Vigman (Dr. T'Ana), Fred Tatasciore (Lieutenant Shaxs), and Paul F. Tompkins (Dr. Migleemo)—catch us up on where we left off in Star Trek: Lower Decks Season 2 with that alarming cliffhanger.
NEW ON HBOMAX AUGUST 26TH!!
House of Dragons
The highly anticipated prequel to the hit Game of Thrones, House of Dragons, covers the war between Princess Rhaenyra Targaryen and her brother Aegon II over who takes the iron throne after the death of their father, Viserys l.
KATRINA BABIES
Katrina Babies details the close-knit families and vibrant communities of New Orleans whose lives were uprooted by the 2005 disaster. These American children were airlifted out of the rising waters, evacuated from their homes to refugee-like centers, or placed in makeshift, temporary living situations. As families were tasked with reintegrating into new communities, having experienced loss, displacement and lack of support from government officials, the children were left to process their trauma in a wounded, fractured city.
NEW ON DISNEY+ AUGUST 26TH!!
Check back next week
NEW ON NETFLIX AUGUST 26TH!!
Running With the Devil: The Wild World of John Mcafee
Through raw, revealing footage and interviews with fugitive tech pioneer John McAfee, this documentary uncovers new layers of his wild years on the run.
Me Time
When a stay-at-home dad finds himself with some "me time" for the first time in years while his wife and kids are away, he reconnects with his former best friend for a wild weekend that nearly upends his life.
PARTNER TRACK
Being on the partner track is how you find out who you really are. Meet your biggest competition, Ingrid Yun. Based on the acclaimed novel by Helen Wan
Chad and JT Go Deep
Best bros Chad and JT set out to spread positivity through community activism and chill vibes in this raucous prank comedy series.
Lost Ollie
When Ollie, a stuffed toy, awakens to discover himself in an unfamiliar place, he embarks on an epic journey to find his best friend Billy.
Mo
Mo Najjar straddles the line between two cultures, three languages and a ton of bullshit as a Palestinian refugee constantly living one step away from asylum on the path to U.S. citizenship. His family — including his resilient and spiritual mother, sister and older brother — flee to Houston, Texas. Laughing the pain away, Mo learns to adapt to his new world though getting ahead in life comes with several setbacks.
SELLING THE OC
The Oppenheim Group expands to Orange County, where an all-new real estate team shows off lavish oceanfront listings and big personalities make waves.
THAT'S AMOR
That's Amor is a new romantic comedy exclusively on Netflix August 25th 2022. Is This the Most Romantic Netflix Original Movie Ever? Guess you'll have to tune in to find out! Love, romance, food, cooking class, what could possibly go wrong?
NEW ON HULU AUGUST 26TH!!
MIKE
Who is Mike Tyson?
Welcome to Wrexham
Rob McElhenney. Ryan Reynolds. Wrexham, Wales. To this town, football is not life and death. It's more important than that
NEW ON PEACOCK AUGUST 26TH!!
The End is Nye: Season 1, Episodes 1-6
The End is Nye sends Bill Nye into the most epic global disasters imaginable – both natural and unnatural – and then demystifies them using science to show how we can survive, mitigate, and even prevent them. Each stand-alone episode takes a hell-bent dive into the mystery and terror of one specific threat. Every catastrophe is abundant with thrills, but also offers hope and a way forward —a scientific blueprint for surviving anything that comes our way. The series is hosted and executive produced by Emmy Award winner and renowned science educator, engineer, author, and inventor Bill Nye. Each episode also features a brief cameo by longtime science advocate and series EP Seth MacFarlane.
Everything I Know About Love
The central love story of Everything I Know About Love is between childhood best friends Maggie and Birdy. But it is also a raucous girl gang show, set in a 2012 London house-share inhabited by four girls – Maggie, Birdy and their mates from university, Amara and Nell. The series is an unflinching deep dive into bad dates, heartaches and humiliations and begs the question: can platonic love survive romantic love as we grow up?
NEW ON APPLETV+ AUGUST 26TH!!
See – Season 3
The stakes have never been higher for Baba Voss (Jason Momoa) and his tribe, as a new form of warfare threatens to destroy the world as they know it. The final chapter of SEE begins August 26, only on Apple TV+
NEW ON PRIME VIDEO AUGUST 26TH!!
Untrapped: The Story Of Lil Baby
Untrapped tells rapper Lil Baby's story, and details his meteoric rise to become the most dominant name in the rap game. While still a teenager, Baby— known to friends and family as Dominique Armani Jones— was one of the most notorious figures in the streets of West Atlanta, before he was arrested and sent to prison.
After his release in 2016, he faced a hard choice: Return to the fast money of the streets, or take a chance that his charisma and untested talent could bring him success as a rapper. In 2020, his second album, My Turn, was the year's top seller across all genres of music. Today, Lil Baby is a devoted father to his two young boys and a powerful voice in the fight for racial justice and police reform. Untrapped: The Story of Lil Baby chronicles the astonishing rise of a singular artist and activist, and explores the systemic oppression that keeps far too many people of color from participating in the American Dream.
Samaritan
Described as a dark, fresh take on the superhero genre. 25 years ago, the world's greatest hero vanished.
KEEP READING