If you are familiar with the Gentle Giant Ltd. Guild Memberships then you know a lot of the great perks that come with it. Not only do members get amazing discounts and exclusives, but they also get to pick a year-end guild gift as well. For members of Platinum Guild Membership, one of the 2021 gift options was the Star Wars: Incinerator Trooper from the hit series The Mandalorian. Well, this past week this amazing statue started to ship so I thought I would share mine with all of you in a review.
Star Wars: Incinerator Trooper Gentle Giant Ltd. Premier Guild Gift 2021
When guild members renewed their Platinum memberships for 2020 – 2021 we had a few amazing items to choose one. Me being a fan of statues I passed on the bust and jumbo figure and went for Gentle Giants Ltd.'s Star Wars: Incinerator Trooper Gentle Giant Ltd. Premier Guild Gift. This one-seventh scale statue takes you to The Mandalorian season one as the Incinerator Trooper tries to capture Grogu by smoking him out; but of course, Grogu had other plans. This statue was limited to 500 pieces and unfortunately is no longer available to guild members.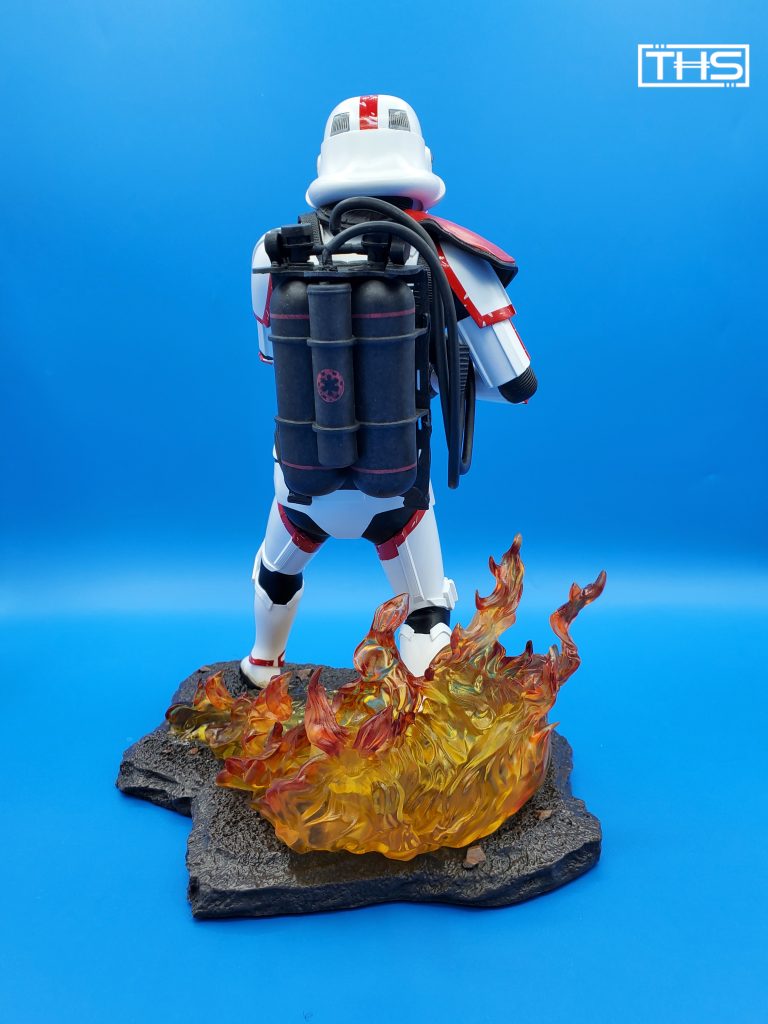 Cons Of The Star Wars: Incinerator Trooper Gentle Giant Ltd. Premier Guild Gift 2021
So, for this review, I'm getting the cons out of the way first. Why do you ask? Well, to be honest, there are really only a couple of small things (if you get really picky). SO here is a look at a couple of cons from this statue.
On my statue, there is a little mark of either paint or damage in the fire near the right foot. But it does not take away from the statue at all.
Depending on where you want to display your statue you might have to leave the flame attachment off of your Incinerator Trooper. The flame adds about four and a half inches in with or depth depending on the way you display it. Also, this can cause the flames to be bumped into depending on how you have it displayed.
Ok, ill do one more if you really want to be picky, it would be neat if the flames light up.
Pros Of The Star Wars: Incinerator Trooper Gentle Giant Ltd. Premier Guild Gift 2021
This is so much going for the Incinerator Trooper statue. From the size to the details it looks amazing. If you were lucky enough to get one of the 500 you know what I am talking about. Here is why I think this statue is so amazing.
If you are one of the collectors that like to leave your items in the box you are in luck. The Incinerator Trooper's box displays well with a picture of the statue on the front and the details of it on the back.
For those that don't keep their statues in the box, it is packed really well like most of Gentle Giant Ltd.'s statues.
Unlike some of the statues I have reviewed, the Incinerator Trooper comes in four pieces. the trooper, the base, and two attachments for his flamethrower. These attachments give you two ways to display your trooper.
The detailed sculpting and paint applications bring this statue straight out of The Mandalorian and into your collection. From the flames on the base and the flamethrower to the armor, not one detail was missed.
Weighing in at over three pounds the Incinerator Trooper comes with a wide base that makes the statue very sturdy. Also, the trooper itself is secured in the base with a magnet and peg system.
The flamethrower attachments are easy to switch out as they also use a magnet and peg system.
Each statue comes with a numbered certificate of authenticity.
With the discounts and extra coupons you get as a Platinum Guild Member this statue is a steal (all I had to pay was shipping). Definitely worth it and I will keep renewing my membership.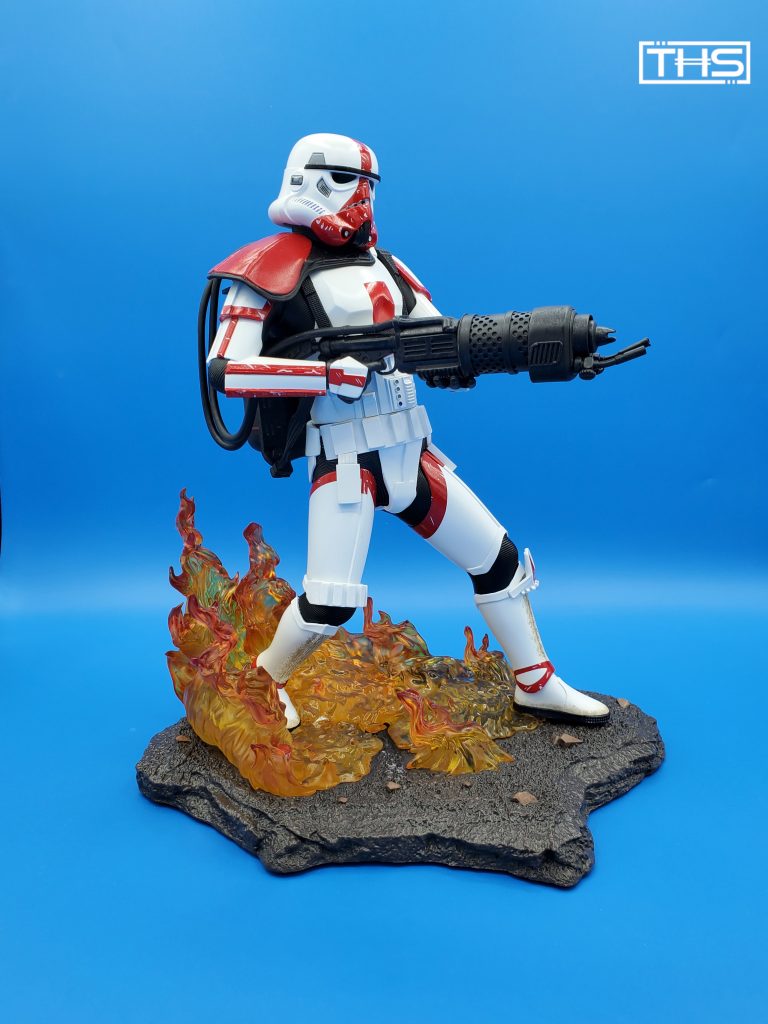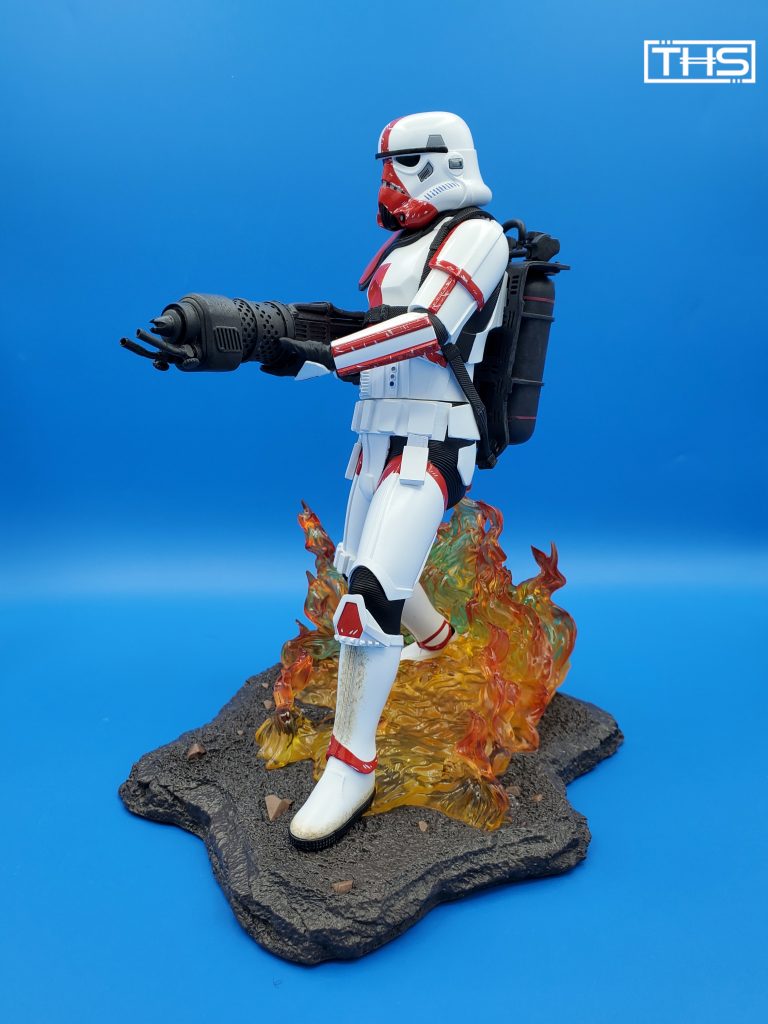 My Final Thoughts
First I will say I am so glad that I'm a Platinum Guild Member. This statue was a no-brainer from all the gift options. The couple cons I had for the Incinerator Trooper do not, and I mean do not take away from this amazing piece at all. I feel lucky that I was able to get one of the 500 made. This statue will be displayed in my collection for a long time.
As I said earlier, this statue is no longer available at Gentle Giant Ltd. If you are interested in getting great items like the Incinerator Trooper and receiving discounts on your purchases, you should check out the Guild options that are available. With up to a 15 percent discount on non-exclusive items and up to $25 off with a membership coupon you can't go wrong. Also, depending on what membership you choose, you get the option of picking a free statue, bust, or Jumbo Figure. You can check out all the details by clicking here. Also, you can take a look at the end of this article.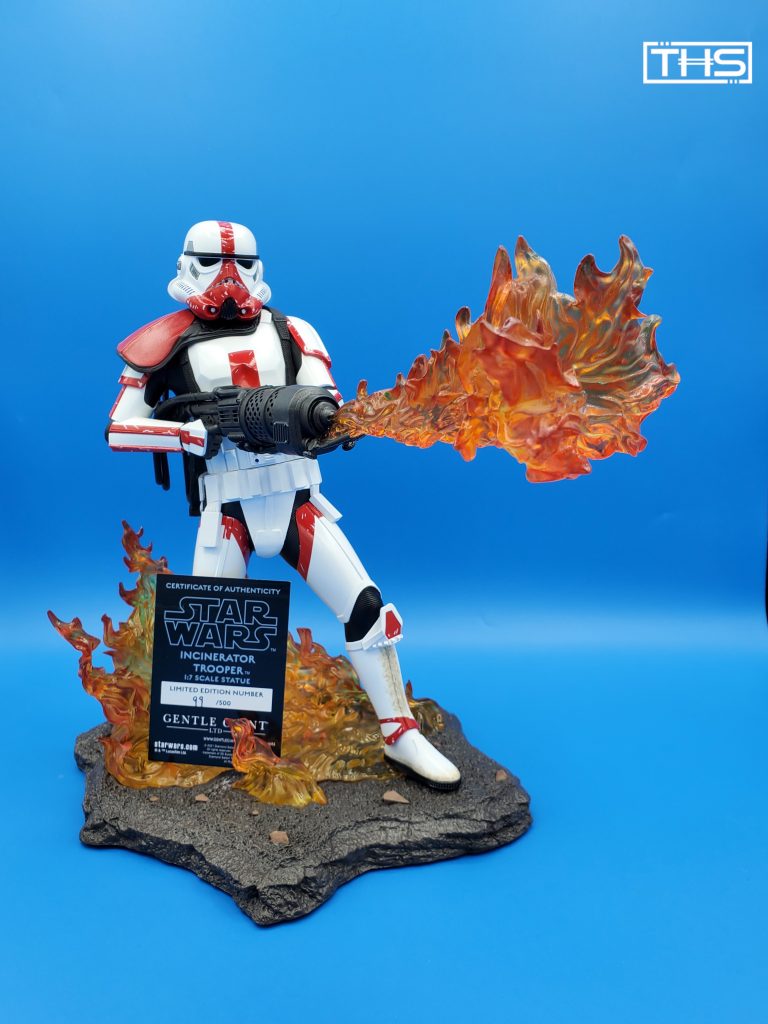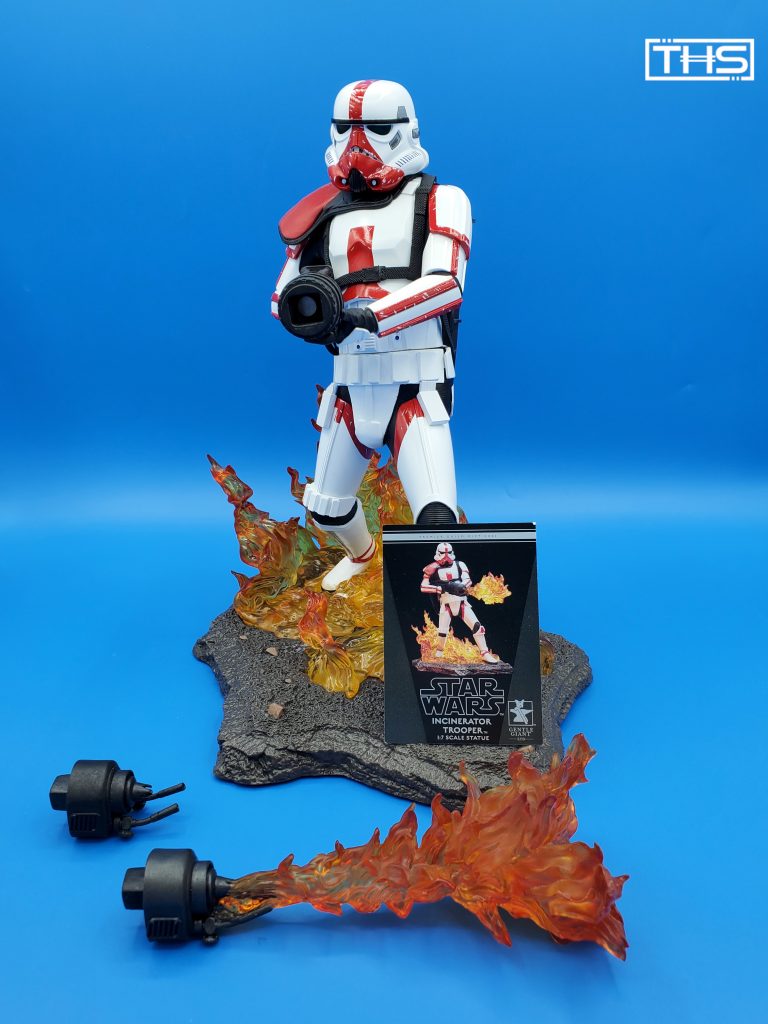 We Want To Hear From You
What are your thoughts on the Star Wars: Incinerator Trooper Guild Gift from Gentle Giant Ltd.? Were you one of the lucky 500 to add this to your collection? Also what other Diamond Select Toys and Gentle Giant Ltd. items are you excited about that are heading our way this year? That Hashtag Show wants to hear from you!
You can tell us your thoughts by leaving a comment below or hitting me up at starwarsnerd574. You can also join me on the Midwest Star Wars Fanatics Facebook page to chat about all things Star Wars. Also, make sure to stay up to date on all the Star Wars news by following us at ThatHashtagShow.com. More importantly, be safe, I can't wait to see you all in a couple of weeks at Celebration 2022.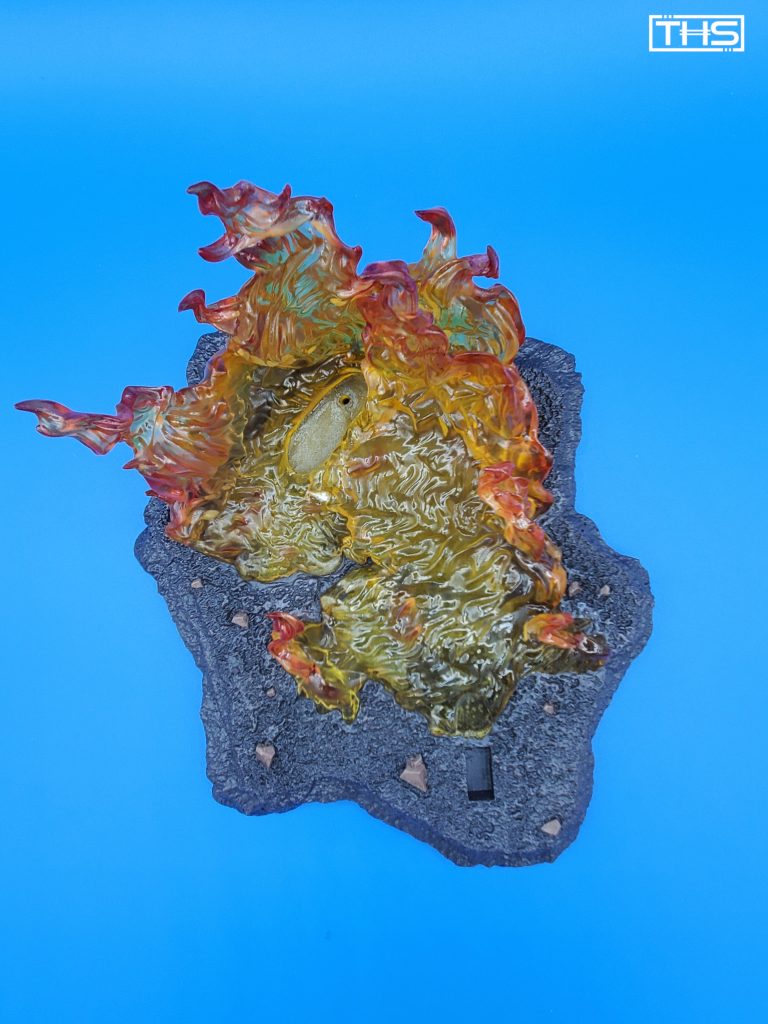 KEEP READING