Happy Star Wars Day! If you are a fan of Ahsoka Tano you will want to check out the new lightsaber hilts now available at shopDisney. The new Ahsoka Tano Legacy LIGHTSABER Hilts – Star Wars: Galaxy's Edge – Limited Edition pays homage to Ahsoka Tano in Star Wars: The Clone Wars. These limited edition hilts retail for $400 and are only limited to 2000. You can your Ahsoka Tano Legacy LIGHTSABER Hilts at shopDisney.com. You can check out the official details below.
Update: [It now appears that the Ahsoka hilts have sold out]
Ahsoka Tano Legacy LIGHTSABER Hilts – Star Wars: Galaxy's Edge – Limited Edition
Feel at one with the Force with these Lightsaber hilts inspired the famous Ahsoka Tano. Ahsoka, former Padawan to Anakin Skywalker and a veteran in the battle of the Clone Wars, is known for her strong leadership and skill. With these detailed recreations of Ahsoka's Lightsaber hilts you can begin your destiny and follow in the footsteps of one of the most recognizable former Jedi. Hear epic sound effects and see the blades glow white when you attach one of our Lightsaber Blades into each hilt, sold separately. Hilts come in a decorative box, which plays The Force theme when opened.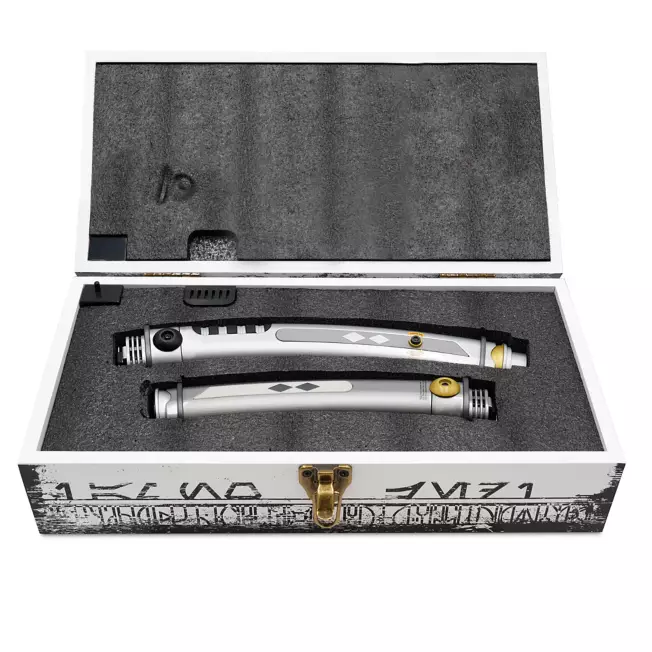 Magic in the details
Created especially for Walt Disney World Resort and Disneyland Resort
Limited Edition of 2,000
Set includes two hilts and case
Ahsoka hilts inspired by Star Wars: The Clone Wars
Includes hilt case with hinged lid, metal latch closure, and cushioned interior
When opened, case plays John Williams' The Princess Appears (commonly known as The Force theme)
Crest with Morai the owl featured on front of case with the word "Ahsoka" in Aurebesh
Aurebesh phrase on front translates to "I am no Jedi"
Push switch on hilts to activate authentic Ahsoka Lightsaber noises and illuminate attachable Lightsaber Blades in white, sold separately
Motion sensor included in both hilts
Battery case in handle
Coordinates with our Lightsaber Clip, Lightsaber Blades, Lightsaber Sheath and Lightsaber Hilt Stand, each sold separately
Inspired by Star Wars: Galaxy's Edge at Walt Disney World and Disneyland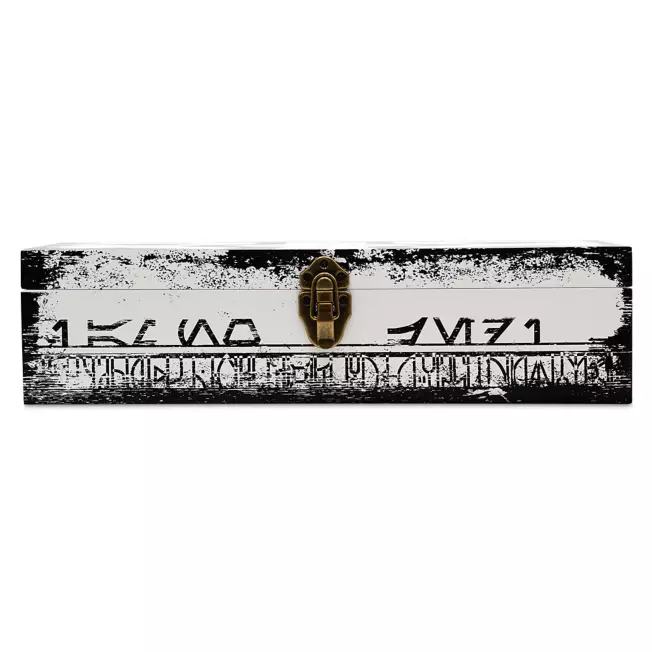 We Want To Hear From You Ahsoka Tano Fans
Are you excited about the new Ahsoka Tano Legacy LIGHTSABER Hilts? Is this a must-have for your collection? Also, what other lightsabers are you hoping to see in this lineup?
You can tell us your thoughts by leaving a comment below or hitting me up at starwarsnerd574. You can also join me at the Midwest Star Wars Fanatics on Facebook to chat about the Obi-Wan series. Also, you can stay up to date on all the Star Wars news by following us at ThatHashtagShow.com. More importantly, be safe, I can't wait to see you all at Celebration 2022.
Source: Hasbro
SEE ALSO: