As a film with weighty moments that, um, let's just say, celebrates the past, Spider-Man: No Way Home gives many opportunities to be emotional and be thrilled. Including a couple of scenes that give great hope for the future of Spider-Man and the Marvel Cinematic Universe, here are 15 emotional and thrilling moments from what I think is probably the best Spider-Man film out of any and possibly the third-best film in the entire MCU.
(Warning! Spoilers for Spider-Man: No Way Home follow.)
15. EMOTIONAL: ANDREW GARFIELD'S SPIDER-MAN SAVING MJ SINCE HE COULDN'T SAVE GWEN STACY
In The Amazing Spider-Man 2, Garfield's Spider-Man doesn't save Gwen Stacy (Emma Stone) from her fall. However, he finds redemption when he saves MJ from her fall.
14. EMOTIONAL: MJ AND NED LEEDS SAYING GOODBYE TO TOM HOLLAND'S PETER PARKER, KNOWING THEY WOULD BE FORGETTING WHO HE IS
I felt really bad for MJ (Zendaya) and Ned (Jacob Batalon) and absolutely horrendous for Peter.
13. THRILLING: HOLLAND'S SPIDER-MAN SLIDING ACROSS SNOW AND ICE IN THE FINAL SCENE BEFORE THE CREDITS BEGAN
I thought about how much my 6-year-old son would love that part. That said, who says such moments are just for 6-year-olds?
12. EMOTIONAL: WHAT THE THREE PETERS TALKED ABOUT WHEN THEY FIRST MET
It was powerful that when the three Peter Parkers first met, they shared in traumas of having lost those they loved: Holland's Peter in losing his aunt, May Parker; Tobey Maguire's Peter in losing his uncle, Ben Parker; and Garfield's Peter in losing his girlfriend, Gwen. This was even more powerful since it points out that losing someone they love was a key moment for each of the characters' heroes' journeys, and since it came just after Holland's Peter lost May. That Maguire's Peter and Holland's Peter could relate to each other in feeling great hatred and vengeance after experiencing each of their tragedies was also excellent from a storytelling perspective.
Garfield was really strong in this scene, when he acted his Peter talking about losing Gwen.
11. EMOTIONAL: THE RETURN OF DOC OCK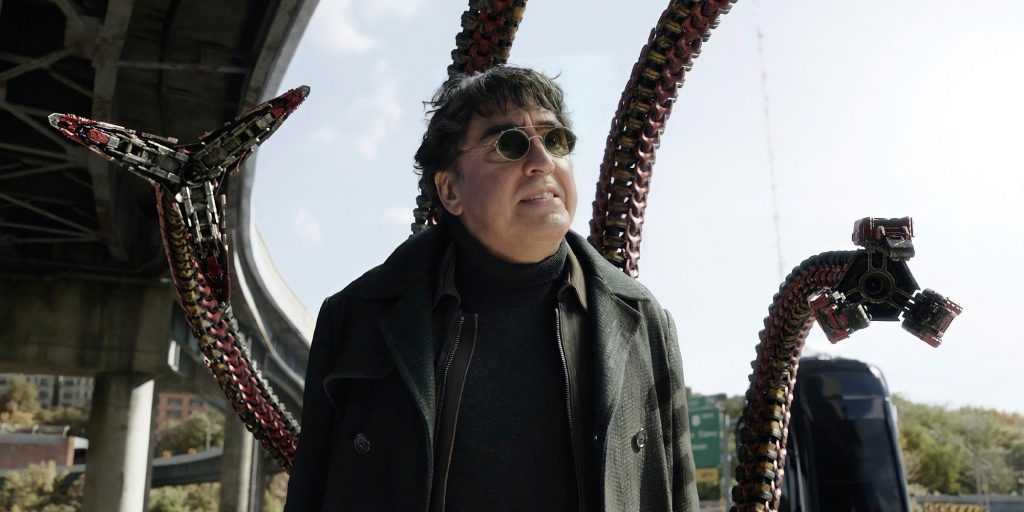 With a tear running from my eye, I thought, "I can't believe I am watching this right now" when seeing Dr. Otto Octavius Alfred Molina) fight Holland's Spider-Man. I thought I saw the last of Molina's Doc Ock when I saw Spider-Man 2 for the last time at 17 years old. (And frankly, I've never thought until now if any other version of the character would return to the silver screen.)
10. THRILLING: THE PROMISE OF A CROSSOVER BETWEEN TOM HARDY'S VENOM AND HOLLAND'S SPIDER-MAN
In a scene that further established that Eddie Brock/Venom (Tom Hardy) was in Holland's Spider-Man's universe after it seemed that he transported there in the mid-credits scene for Venom: Let There Be Carnage, the Venom symbiote remained in the universe even when Brock transported out of it.
It was also interesting that when Brock transported out, it looked the same as when other characters in No Way Home, including Garfield's and Maguire's Spider-Men, did.
9. EMOTIONAL: MAGUIRE'S SPIDER-MAN STOPPING HOLLAND'S FROM KILLING GREEN GOBLIN, GIVING HOLLAND'S A LOOK OF "THIS IS NOT WHAT WE DO AS SPIDER-MEN"
It commented on the shared noble calling of any Spider-Man – and spoke to the hero in all of us. And it's impressive that Maguire's Spider-Man saved Green Goblin (Willem Dafoe) since Green Goblin tried to kill Maguire's Spider-Man.
8. THRILLING: THE ENTRANCE OF GARFIELD'S PETER
Despite villains to his and Tobey Maguire's Spider-Man being known to be in No Way Home, despite it being known that the multiverse is explored in the film, and despite rumors of Garfield and Maguire being in the film, I was somewhat surprised to see Garfield show up, at least since it came long before the film's final scene. (That's when I estimated that he and Maguire would make their entrances in this film.)
7. EMOTIONAL: THE ENTRANCE OF MAGUIRE'S PETER
I said "Oh my God" out loud once Maguire's face became visible for the first time in the film. And Maguire's Peter, along with Garfield's Peter, came into Holland's Peter's universe in the wake of Holland's Peter losing the adult who cared and provided for him. It was beautiful storytelling.
6. THRILLING: THE APPEARANCE OF EVIL DOCTOR STRANGE FROM WHAT IF…? IN THE END-CREDITS SCENE/TRAILER OF DOCTOR STRANGE IN THE MULTIVERSE OF MADNESS
I was already thinking while the credits were rolling (before this scene came up after I saw the Brock/Venom mid-credits scene, and while that incredible theme for the MCU Spider-Man was playing) about how blown away I was by No Way Home. And then I saw Wanda Maximoff's (Elizabeth Olsen) reaction to Dr. Stephen Strange (Benedict Cumberbatch) asking her about what she knows about the multiverse. Then evil Doctor Strange from "What If…?" appeared.
Once all was said and done, all I could think at the end of the scene/trailer of Multiverse of Madness was how incredible the mythology is that Marvel Studios has put together.
5. EMOTIONAL: MAY: "WITH GREAT POWER COMES GREAT RESPONSIBILITY"
This line meant so much to me as a teenager when I heard it for the first time when watching Spider-Man. The memory of that impression upon me many years ago all flooded back when May (Marisa Tomei) said it.
4. THRILLING: THE THREE SPIDER-MEN SWINGING AND TAKING THEIR SIGNATURE POSES
This happens near the end of the film and the money shot is each of them being perched on top of a structure in a way for which they have become known. It was just incredible on a primal level for any fan of all three of the Spider-Men.
3. EMOTIONAL: GREEN GOBLIN STABBING MAGUIRE'S SPIDER-MAN
I screamed, "No!" when this happened. The second Maguire's Spider-Man was stabbed, I thought he was going to die. (And though it would have merited bawling, since he was stabbed as thoroughly and violently as he was, he should have died.) I thought he was about to give his life for Holland's Peter.
The moment was also emotional because it was shocking. At least for me, I was too engrossed in the moving scene of Maguire's Spider-Man stopping Holland's Spider-Man from killing Green Goblin, and the "why" and unspoken words between the heroes behind it, to even consider that Green Goblin would stab Maguire's Spider-Man. Let alone that it would have seemed that Green Goblin wouldn't have done that to the person who just saved him!
2. THRILLING: MAGUIRE'S PETER PULLING DOWN THE COLLAR OF HIS SHIRT TO REVEAL HIS SPIDER-MAN SUIT UNDERNEATH
I cheered when this happened, yelling "Yeah!" (What made this possible was also a nice touch; Maguire's Peter's suit was under his street clothes, whereas Garfield's Peter was wearing his suit outwardly. In their movies, it's often this way.) The feeling that made me cheer was the feeling you get that a legend could still be or still is adept at his craft, like when Rocky Balboa (Sylvester Stallone) gets that look in Rocky Balboa when a virtual version of him loses in a virtual fight on TV or when Kobe Bryant dropped 60 points in his final NBA game. The feeling was a confirmation of "Tobey's Spider-Man's still got it!"
1. EMOTIONAL: MAY PARKER'S DEATH
I cried fairly hard in this scene. I didn't see May's death coming as she was running downstairs away from villains. That means the emotions came faster once Green Goblin's glider rose, invoking the scene where the glider kills him in Spider-Man.
And folks, this doesn't seem to be an MCU death that will be undone.
And how about that acting from Holland, as Peter was experiencing that she was dying and died, and from Tomei, making a tear come out of her eye while lying down with her eyes open?
On my 90-minute drive home from the theater where I saw the film, I was thinking what a Merry Christmas it is because this film is so good. (I saw the film before Christmas.) I was specifically thinking about May's death at the time.
For more on Spider-Man, make sure to check back to That Hashtag Show.
Keep Reading: