THIS IS A NON-SPOILER REVIEW OF THE FIRST 8 EPISODES, OF TED LASSO SEASON TWO.
For some reason, I have been putting off watching Ted Lasso… Even after being encouraged by so many others to check it out. Maybe it's because I'm not the biggest fan of sports and I know next to nothing about football. But, finally, I decided to give it a shot after kindly being provided the first eight episodes of season two from Apple. And I am so pleased that I did. Ted Lasso is so much more than just a sports show or a broad comedy. It is a series that is brimming with heart and empathy. And even though I believe that this second season starts out a bit rocky… I still think it's one of the best shows on television right now.
WHAT IS THE SECOND SEASON ALL ABOUT?
The second season of Ted Lasso follows the Richmond Greyhound English Football team as they try to climb the ranks after their game with Manchester, last year. They are joined by a new team therapist named Doctor Sharon (Sarah Niles) who begins to bring out the very best, and the worst of the team… to bring them closer together.
HOW DOES THE SEASON START OUT?
In both seasons of this show, Ted Lasso takes a couple of episodes to really find its footing. It wasn't until episode three of the first, that I really understood what the show's overall tone was. And with this second go-around, the showrunners have pretty much tried to up the ante in every aspect. The supporting players are all getting much more screen time and back stories, the football matches are more plentiful, the dry wit and broad comedy is more pronounced than ever before, and the gut-punching emotional moments are amplified, as well as the darker, heavier ones.
Ted Lasso is juggling so many different moving parts in this season that it feels a little lost in its first four episodes. This is never more apparent, than in its pilot, when we get a throwaway story with Dani Rojas and an unfortunate incident with a dog. One of the things I wanted to see more than anything in this season was for this character to get more development, as he seemed all, but a cliché so far. And with this storyline, the showrunners did Rojas little justice, and started out the season in a very disjointed way. In the fourth episode we are given a Christmas theme, that although sweet, seemed like the very definition of filler.
DOES IT GET OUT OF ITS SLUMP?
So, it was much to my delight that when episode five rolled around, I found the show to find its groove again. And luckily, it continued that and grew upon it, in the installments after. "Ted Lasso" is so unbelievably good because it is a show, unlike any other, in the most refreshing way.
Our lead protagonist is a thoughtful and optimistic man. Who is also not afraid to let his flaws be laid bare. Our characters who all started out as cliches have found a way to grow into authentic realistic people, who you can relate to and root for, despite the mistakes that they might make. And whereas so many products of entertainment nowadays revel in the negativity and nihilism of the world, this series is firmly rooted in compassion and empathy… without ever being cloying. How the showrunners have been able to pull this off, is beyond me.
But, I found "Ted Lasso" to lose sight of many of these things, in pursuit of greater ambitions, in the first four episodes of season two. Only to course correct, in the most spectacular of fashions, with stand-out Nick Mohammed getting a much-deserved and uplifting Nate-centric episode. From there, the series has figured out its juggling act, and is now kicking with full ferocity.
WHAT MAKES TED LASSO SO GREAT?
One of the many things that makes Ted Lasso so great is its ensemble cast. And the seven Emmy nominations for performers alone, proves that. Jason Sudeikis is an actor that I have always enjoyed. But, he has never really been given the opportunity to show his range until this show. He has given this All-American blue-collar man so much depth, under the mustache and Southern drawl. Unfortunately, in season two Lasso does take a backseat for just a bit, until the showrunners find their place for him again… but, his lack of screen time for that period, does show what an impact Sudeikis makes on this show.
The rest of the cast is, of course, outstanding. And I am so pleased that many of these supporting players are getting their time in the spotlight, as well. The biggest stand-out for me though, is Hannah Waddingham as Rebecca, who has taken a character who could have been so one-note, and brought her to life in such a joyous way. Rebecca continues to be a conflicted and complicated character that is always surprising, and Waddingham steals every scene she is in.
DOES SEASON TWO REACH THE HEIGHTS OF THE FIRST?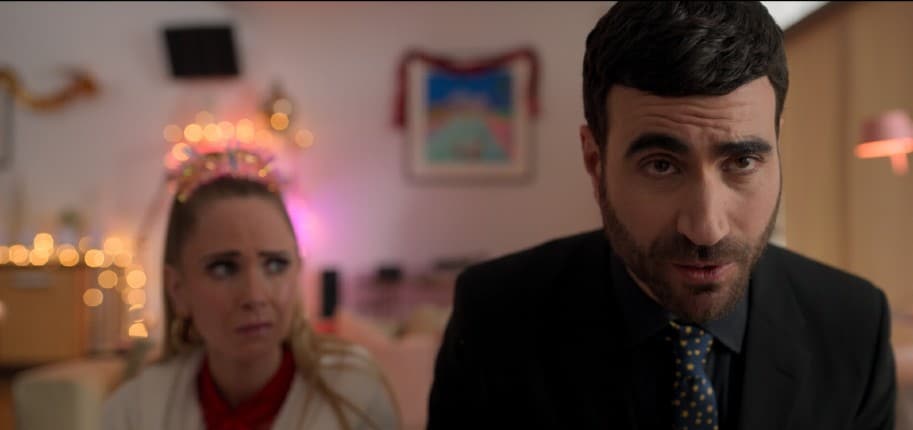 "Ted Lasso" Season Two started off a little bit messy in its growing pains, although still quite enjoyable. As it progressed, however, it pulled itself together and has reached the heights of the first. It takes serious risks that go down darker paths. Yet, is still able to harness that fun-loving, goofy, heartfelt sense of love for the world… that so few shows have been able to do, before.
Ted Lasso Season Two Premieres Friday, July 23rd on Apple TV+, with new episodes premiering weekly.
For more Rants, Reviews and Rankings, make sure to stay tuned to That Hashtag Show!