Quest's End Whiskey combines two of my favorite things: Whiskey and Geek Culture! From Matthew Lillard, actor and co-founder of Beadle & Grimm, along with screenwriter Justin Ware and Blue Run Spirits co-founder Tim Sparapani, fantasy illustrator Tyler Jacobson, as well as Dungeons & Dragons game designer Kate Welch comes a drinking experience to entice the Fantasy Table Top Gamer!
QUEST'S END WHISKEY AND A FANTASY TALE!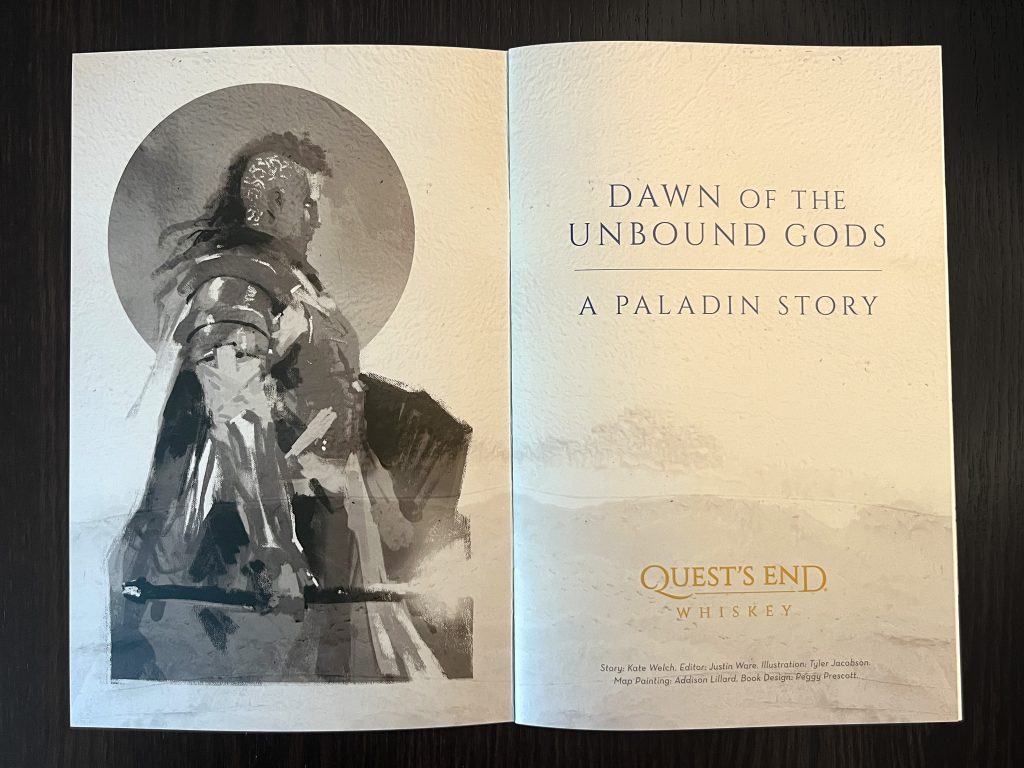 So, Quest's End Whiskey will be slowly rolled out with each bottle inspired by your favorite Fantasy Classes and Creatures! First up is Quest's End: PALADIN. The flavor profile is described as having notes of vanilla and fruit with an undercurrent of spice. To me, that sounds approachable, smooth, and not overly aggressive.
For a fun twist, each Whiskey release will be accompanied by a different fantasy story written by Kate Welch. In case you're unfamiliar, Welch is a Professional Dungeon Master, as well as the first female game designer in Dungeons & Dragons 5th Edition. So, first up in the narrative is "Dawn of the Unbound Gods. A Paladin Story".
"The most important aspect of the story creation for QUEST'S END was simply writing good fantasy," said Welch. "It was important to all of us to celebrate and respect fantasy and gaming fans through our work."
When creating this initial bottle they wanted to be inspired by the nobleness of the Paladin in her story, but also reflect their fighting spirit.
The gorgeous bottle is designed by fantasy illustrator Tyler Jacobson. Jacobson is a world-renowned artist and illustrator whose portfolio includes numerous works for Dungeons and Dragons, Magic: the Gathering, and more, including the cover art for the 5th Edition Player's Handbook and Dungeon Master's Guide.
Alé Ochoa, a former Whiskey Scientist and Blender at TX Whiskey, created the unique flavor profile for the super-premium whiskey. Her bourbons have won top awards at the San Francisco Spirits Competition, World Whiskey Awards, and American Whiskey Masters. As one of the few Latina master blenders in the whiskey industry, she brings a unique perspective and incredible talent to the creation of Quest's End.
WHERE CAN YOU GET IT?
So, the super-premium blend of aged barrels from Kentucky and Indiana, Quest's End, will premiere in October with Quest's End: PALADIN. The following year, 2024, will see the release of Rogue, Warlock, and Dragon. 
Each new release will be limited and named after a character, weapon, or location in a larger serialized story. The flavor profile of each release will be inspired by the role of the character in the story.
Available exclusively at www.questsendwhiskey.com and www.seelbachs.com