Southern California is the world's capital when it comes to horror haunts. Of all the haunts, the bigger they get, the less personable they feel. If you make your way to Halloween Horror Nights, you get an excellent horror experience, but it doesn't feel personal. Delusion, however, is about as personal as you can get for a horror/Halloween attraction. Instead of being shuffled through a haunted house with thousands of other people per hour, you're put through a theatrical story with a group of 10 people. Those ten people become part of the story and part of the show. At points, you're whisked away by characters to other places to be terrified.
This year's show features an anthology of the best stories of Delusion's past. It turns out the entire story was put on by a character named The Author. The characters of the past are trying to find her to include themselves in new stories, keeping their lives going through her words. Each story is like its own time period, trapped in stasis. As you move through, you see characters like Ruth, Manny Manners, Esther, and others throughout the attraction's decade-plus history. Writer/Director Jon Braver dove deep into the catalog, bringing out characters that haven't been dusted off in over ten years.
The name of the game is interactive horror theater, and you get that and more with Delusion: Nocturnes & Nightmares. Without spoiling anything about the actual story, there are scares, action, and it makes great use of the surroundings of it's Pomona mansion(s).
Like the past two years, Delusion returns to the double mansion setup but with some tweaks. The first mansion is a setup and staging area complete with a bar, a magician, a special easter-egg area in the attic, and characters walking around for you to chat with. The actors here are top notch, spouting information about the story, and keying you into what you can expect. The signature drinks are all themed around characters from the show, which is a nice touch.
It's not as decorated or detailed as previous years, but that makes sense considering the show is taking from so many different stories. You can't theme the entire front house like you can with a singular story. Then, there's an area outside with bathrooms and the food/drink tents. There, you can get light appetizers and bites, or even more themed cocktails. For VIP tickets, you can go to the special VIP area, which is attached to the actual mansion where most of the story takes place in the back.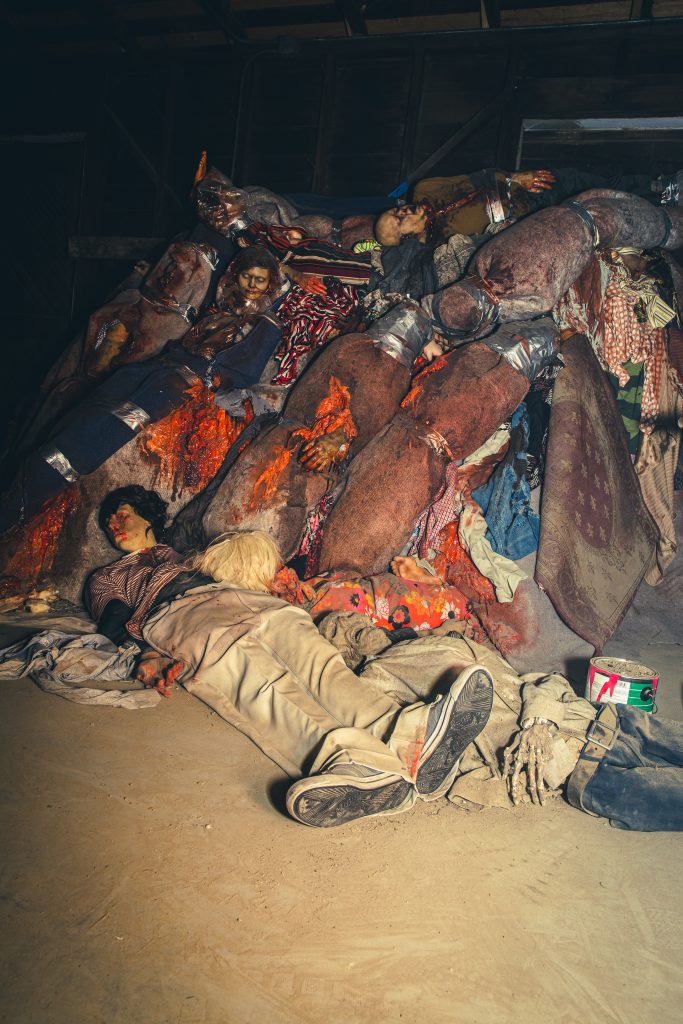 If you're on the fence about the VIP experience this year, you do get to be part of the show. You can dress up and join in on the scares with the actors and other groups going through the attraction. It's a nice touch and makes for a fun bit to see if you can scare the other groups. There are also some special VIP easter eggs in the room alongside a separate bar.
While this is a celebration of everything previously done at Delusion, don't think of it as a greatest hits album. Jon Braver and his team aren't just recycling previous elements. They're updating them and stitching them together into one big story. It's a masterful way to do the story that all fits together, transports guests through time, and gives you plenty of terror along the way.
Sometimes with Delusion, it isn't even the things that actively scare you. The mansion and story are filled with sections that play with your mind. Every dark corner could have a monster behind it. You're told to go up against walls with holes that could feature things grabbing you; or they couldn't. The design of your route is just as scary as the actual theatrics going on.
The way Delusion: Nocturnes & Nightmares wraps up a decade-plus-long saga of stories is wonderful. It even leaves the book open, just enough, for some more in the future. Jon Braver and his entire team have crafted a terrifying story that is well worth your time and money.
Visit Delusion's website here, to get tickets and for more information.
For more on Halloween, make sure to check out THS Fright-A-Thon, the horror content marathon.
Keep Reading: