(This review contains Star Wars: Ahsoka – Part Four: Fallen Jedi spoilers.)
Sometimes, when watching a Star Wars production, you get the sense that it represents the most significant factor that makes the franchise special: remarkable storytelling.
Star Wars: Ahsoka – Part Four: Fallen Jedi gives that sense.
And I am not saying that just because of the episode's final scene. The episode overall provides an engaging storyline and powerful explorations of characters.
Let's start with some of the best examples of that.
Fallen Jedi of Star Wars
Baylan Skoll (Ray Stevenson) is the Jedi-taught, villainous mercenary. While confronting Ahsoka Tano (Rosario Dawson), it's powerful that Skoll says he is from Anakin Skywalker's time and knows what Anakin became. Baylan's perspective on Ahsoka leaving Anakin is interesting. In response, Ahsoka avoided that. It was disappointing since she was in the right in doing that in Star Wars: The Clone Wars. (I say that despite having cried when she did.) And most of these powerful character explorations are done during the clash of lightsabers!
Further, Ahsoka finding herself in a lightsaber duel with someone familiar with Anakin is tremendous. As is the choreography of the fight and the story it gets at. It's a story that regards the Fallen Jedi subtitle, it seems. And a subtitle that seems to have a double meaning, which follows two individuals perceived as fallen Jedi in Baylan and Ahsoka. "Jedi" seems to be plural there.
Connecting Star Wars storylines
At least from a fan perspective, Lucasfilm President Kathleen Kennedy, Ahsoka creator Dave Filoni, and Lucasfilm deserve praise for doing something seen in The Mandalorian season 3: connecting storylines within the Star Wars franchise. Through the latter show, the First Order from the Star Wars sequel trilogy was essentially made an extension of the Empire. And embers of the Empire produced something greater just a handful of years after the Empire seemed dead after the Battle of Jakku, which stems from Star Wars: The Force Awakens. The battle took place one year after the events of Star Wars: Episode VI: Return of the Jedi.
Those embers are also alive in Ahsoka and may produce something greater, given what happens in the show with Grand Admiral Thrawn. But Baylan and his surviving the Jedi purge connected different points in the timeline. They act as a throughline from Anakin that directly intersects Ahsoka's currently unfolding story arc.
Other fantastic story beats in Star Wars: Ahsoka – Fallen Jedi
Other story beats are fantastic as well. Baylan's apprentice, Shin Hati (Ivanna Sakhno), tells Sabine Wren (Natasha Liu Bordizzo), "You have no power." Then Sabine shoots at Shin as a result of her training in Mandalorian ways, from where Sabine draws much of her unique power. That is an example of the degree of artistry by which Filoni has written the show thus far. It's also great that Sabine cares about Ahsoka so much that she tries to use the featured map as leverage to save Ahsoka, even though Ahsoka wants Sabine to destroy the map.
Further, the dark exploration through Baylan of the reality of just how much Ahsoka is a warrior is fascinating. (I overwhelmingly buy it.) Sabine usually shouldn't trust Baylan. However, even though he is a villain, he has a compelling reason to carry out his word. Doing it capitalizes on Ahsoka's leaning against carrying out the mission to save Ezra. Also, the episode makes a perfect point that saving Ezra Bridger risks ushering in the continuation of the Empire. (I can't believe I hadn't considered that.) And the fact that if Ezra (and Sabine some, too) benefits so much, the entire galaxy is threatened is a tremendous conflict and dichotomy. Sabine being conflicted by Ahsoka and Baylan's action plans is also excellent.
A familiar face
Anakin Skywalker (Hayden Christensen) makes the final scene so tremendous from a primal level, at least. The optic of Anakin looking so warmingly and caringly at Ahsoka is tremendous. As is her optic. She seems more like a Jedi apprentice again. She's so happy. It looks much like a child seeing a parent again. Not playing the down note of Vader's theme at the scene's end makes it uncertain whether Anakin has some evil intent.
Hopefully, Disney is not playing with the audience here as they have done in Star Wars trailers, going back to trailers for The Force Awakens. Viewers have been led to think one thing when it was total misdirection.
Also, the final scene features the World Between Worlds, first seen in Star Wars Rebels. The World Between Worlds is the perfect place to bring Anakin and Ahsoka together. It's smarter doing it through Anakin as a Force ghost because it makes Anakin, who is physically dead, more real.
Lots of possibilities
Also, many storytelling possibilities are possible through the scene being in the World Between Worlds. Notably, Anakin is beyond the spaces where characters from the past were in Rebels in the World Between Worlds. He is in the same place where Rebels characters were in the present.
Let the newest Star Wars theory-fest begin.
Other Notes
There was a droid fight! Such are unusual in Star Wars! And it looked incredible!
Ahsoka's hands help deploy the Force while holding a lightsaber! That's also unusual!
Dawson is great as Ahsoka overall. That said, I'm not a fan of the extended closing of her eyelids as the character. That's only because she does it too often. It's fast losing effect in the show.
Ahsoka's T-6 Jedi shuttle among red leaves, as it was, is gorgeous.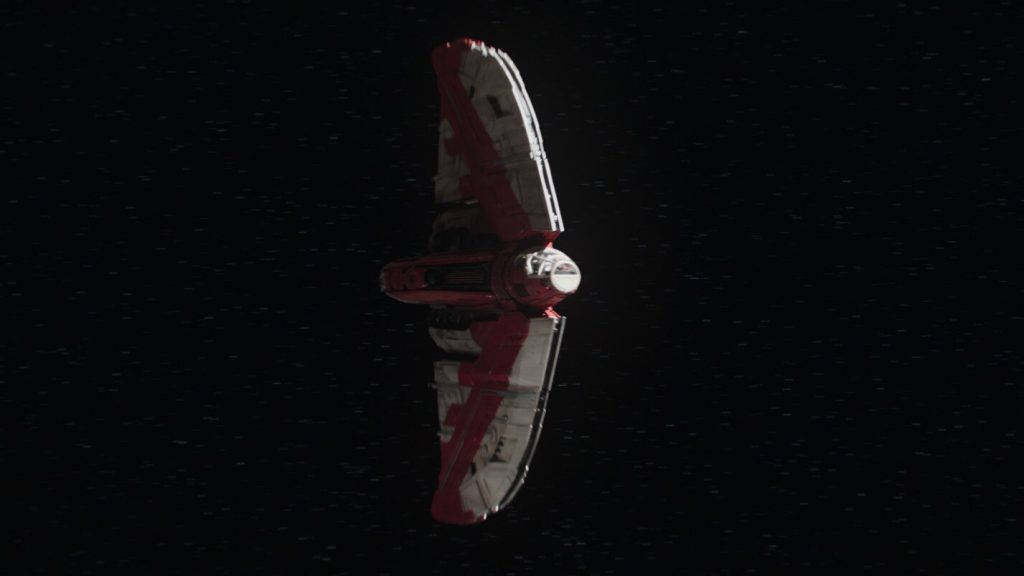 "Heir to the Empire" – Ahsoka said the thing!
Morgan Elsbeth sounds more like the name of an archivist than a Star Wars name. And I don't mean a Jedi archivist like Jocasta Nu from Star Wars: Episode II – Attack of the Clones.
It's awesome that Sabine is training to be a Jedi but fights like a Mandalorian. So awesome.
Captain Carson Teva (Paul Sun-Hyung) has been in Star Wars: The Mandalorian, Star Wars: The Book of Boba Fett – and now, Ahsoka! We have a low-key crossover!
Camera shots of X-wing fighters invoke certain images from the Star Wars original trilogy.
Baylan says he lost faith. That makes sense since he is a fallen Jedi, but in believing in the Force (he uses it), doesn't he still have faith? Remember that in Star Wars: Episode IV – A New Hope, Luke Skywalker asks Han Solo, "You don't believe in the Force, do you?"
There was an excellent camera shot of one of Dawson's eyes just above where lightsabers in the duel clash.
Ahsoka Looks Smooth In Combat Plus Other Star Wars Tropes
Ahsoka moves amazingly when fighting Baylan. (The body cartwheel, essentially! And in kicking Baylan in midair.) I wonder how much of it is Rosario Dawson's achievement. She tried to do much of the fight choreography, for what it's worth. And endured "insane" training, she said.
Viewers see amazing shots of the X-wings on fire and spinning out of control.
"I've got a bad feeling" – a famous line is back after it didn't make it in at least a handful of Star Wars productions.
A screen wipe after Huyang (David Tennant) calls for Sabine and Ahsoka, after an aerial view of the droid, is solid and so Star Wars.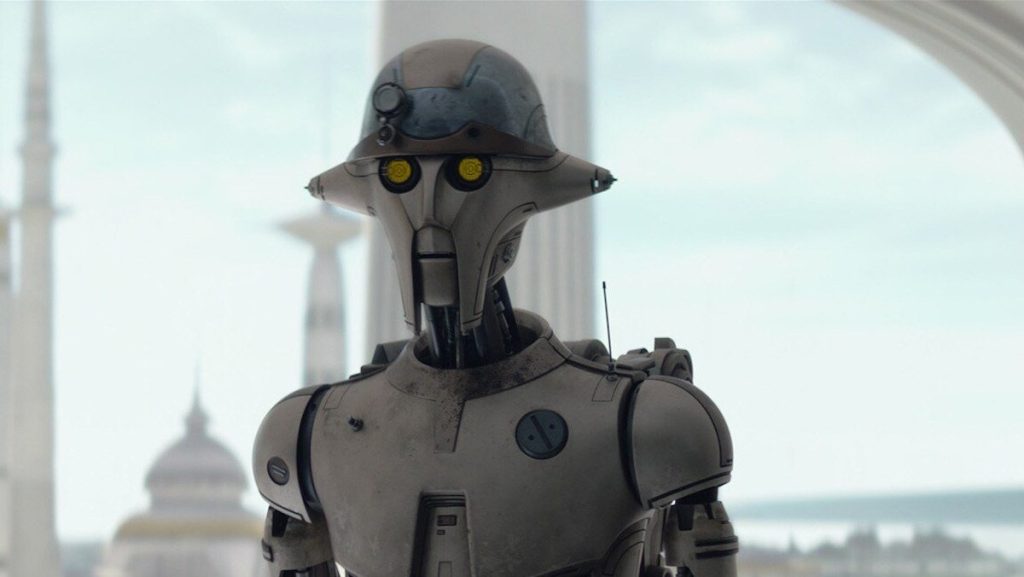 Anakin is introduced by him saying "Snips," his nickname for Ahsoka in The Clone Wars. Ahh! And I said, "Oh my God," out loud upon realizing that Anakin was in the episode. Christensen looks good overall as Anakin from late in The Clone Wars and Star Wars: Episode III – Revenge of the Sith. Christensen looks too old for the character from that point in the timeline but better than he looks as Padawan Anakin in Star Wars: Obi-Wan Kenobi. It's fun to see Christensen as Anakin as he appeared in episodes two and three.
Also, I'm happy for Christensen for his continued presence in the franchise.
Ships And More Star Wars
Ten minutes and 34 seconds into the episode, I said (also out loud), "Isn't it amazing that we're still getting Star Wars?"
Often enough, Ahsoka's head tail/lekku doesn't seem real. It has creases, and the ends move unnaturally relative to the head-tail in The Clone Wars and Rebels. However, it's great to see that it is longer than when Ahsoka first appeared in The Mandalorian.
It's always great to see the Home One starship. The ship, which has been in several Star Wars productions, was first initially seen in Star Wars: Episode VI – Return of the Jedi. Seeing it again brought a smile to my face.
The best part of watching Ahsoka: since it is a Star Wars' Star Wars, it feels so good to watch it, at least if you've been a longtime fan. Much of it feels like core Star Wars films and the sense of wonder they bring.
Five stars out of five for Star Wars: Ahsoka – Part Four: Fallen Jedi.
Keep Reading: