If you're not familiar with Fright-A-Thon, it's a two-month-long celebration of all things Halloween, Horror, Spooky, Scary, and Fall. Do you like scary movies? What's your FAVORITE scary movie?
The annual tradition for Fright-A-Thon is to hand out a curated movie marathon for everyone to follow along with as the days count down to Halloween. Starting today through October 31st, two distinct sections will be between the months. All of September is for those out there who exclaim on Twitter or Facebook: "THERE ARE NO ORIGINAL IDEAS IN HORROR ANYMORE! IT'S ALL JUST REMAKES!" For the entire month of September, besides a couple of exceptions, the movies will all be from 2022 or 2023 and are mostly original films. If you want to see new horror highlights, that month is for you.
October is all classics and underrated movies you might have missed from the 80s and 90s. If you're looking for some gems you might've missed out on, that month is for you.
The change from August 31st to September 1st signifies something. It signifies a change to crisp air rolling in. The blinding light of summer fades away into orange and black tones. The march to Halloween begins. That creepy feeling at the back of your neck picks up just a little bit more each day as you get closer to the inevitable festival of horror.
Some movies will be left off, but I wanted to fit Halloween Ends on the list to rewatch that movie and give it a second look after a disappointing review. If you don't like the movie that day, that's the beauty of being a horror hound: you can always watch a different movie. Enjoy the 2023 Fright-A-Thon: Something Old, Something New In Horror.
September 1st: Prey (2022)
Prey sounds like it shouldn't have worked. It's a brilliant idea that sounds like something you'd think of after a long night with your buddies. "What if we put the Predator in the time of the Comanche tribe and had them fight?" It goes deeper than that, but Prey overcomes some of the bloat that the Predator has seen in recent sequels to bring an amazing experience. It goes back to basics and makes the Predator terrifying and fearsome.
Plus, Disney finally got around to putting the damn movie on 4K.
Read our 98% review of Prey here!
September 2nd: Evil Dead Rise (2023)
The Evil Dead series continues its streak of not having a bad movie with Evil Dead Rise. It might not have Bruce Campbell starring in the film, but this movie is just as mean-spirited, gross, frightening, and stunning as any of the other films in the series. Lee Cronin and Co. took some notes on the previous films but gave us exactly what we want out of an Evil Dead movie. Think of it more like a side story or something else happening in the universe than a sequel.
Check out our 94% review of Evil Dead Rise here!
September 3rd: M3GAN (2023)
M3GAN came out at the beginning of 2023 and took the world by storm. Because horror decimates the box office any chance it gets, it made a lot of money on a small budget. Universal and Blumhouse were so pleased with the movie that they gave it an order for a sequel before it was out of theaters. Going back to this one, it was a lot like Child's Play, but with more commentary on modern human technology and life. Bitingly hilarious, it fits right in with other horror movies released this year, plus, it was PG-13.
Check out our 92% review of M3GAN here!
September 4th: Sick (2023)
So what you're saying is that Kevin Williamson (writer of Scream and I Know What You Did Last Summer… and Dawson's Creek, which is a different brand of horrifying) wrote a new horror flick, and it got dumped on Peacock? Well, for those that didn't check this one out, Sick takes that special time we all had to go through in 2020 and adds slasher tropes to it.
This combines the trademark writing of Williamson with a fun slasher that makes for a pretty good time watching.
September 5th: Skinamarink (2023)
This next run of movies highlights just how awesome Shudder is and why you need to subscribe if you love horror films. One film that debuted on the platform in 2023 was Skinamarink.
I can't think of an experience like watching Skinamarink for the first time. The movie has almost no dialogue. It has no discernableble faces. All of it takes place in the director's childhood home, and the only actors are two children who have been transported to this nightmare state. As for music or score, it doesn't have that. This is about as experimental as it gets. I loved it, some have hated it, but if you love horror, you need to give it a try.
September 6th: Scare Package (2019)
We here at THS love a good horror anthology. Horror short stories are always the best ones, because they get the scare in, and they get out before staying for too long. That formula translates really well to Scare Package, which combines a frame story and seven different horror stories that pay homage to decades of the past. The film is full of laughs and classic tropes that get skewered like the characters in the film. This one is also available on Shudder or they have an excellent Blu-ray release as well.
September 7th: Scare Package II: Rad Chad's Revenge (2022)
If one horror anthology is enough, how about a sequel anthology that ups the body count, the stakes, and the hilarity? That's what you get with Scare Package II: Rad Chad's Revenge. It even comes with a title that feels like a direct-to-video sequel. Whatever happened in the first film, you can add more to it with this sequel. This one also has an excellent Blu-ray with plenty of special features, or you can watch the movie on Shudder.
This was one of my best movies of 2022, and it came in pretty late in the year, so if you missed it, give it a shot now.
September 8th: Barbarian (2022)
I was going to include Prey and Barbarian back to back to complain more about how they both don't have home video releases, but after Disney gave us the gift of Prey on Blu-ray/4K, Barbarian gets to stay alone here. This one released in theaters and is part of some weird previous agreement with 20th Century Fox/Studios, so it's tied up from that home video release. I think that's the issue, or it's just Disney being jerks and not giving us what we want. Either way, this movie is not exactly what you expect, go into it with an open mind, and don't look up any spoilers.
September 9th: Scream VI (2023)
This new era of Scream under the guidance of Radio Silence has been amazing. Scream VI gave us Ghostface in New York. We can all be happy that this was a Jason Takes Manhattan kind of situation. We got plenty of footage on subways, on the streets of New York, and a finale that gave us some truly excellent Ghostface moments. It was missing Neve Campbell, but here's hoping we can get one more outing with Sidney Prescott in the Scream series. If you missed out on Scream (2022) and this one, you can easily make this a double feature.
Check out our 92% (SPOILER FREE) review of Scream VI. You can watch this on Blu-ray, 4K, or Paramount+.
September 10th: Nope (2022)
What were you expecting out of Nope? The marketing and early trailers showed almost nothing about the film, and what we got was even better than I could have ever expected. It was triumphant filmmaking from Jordan Peele that gave us his own version of Jaws. If you love movies, you need to see this. It's like a classic Summer Blockbuster and horror flick rolled into one. There are some truly terrifying scenes involving the "creature" in this film. That's all I'll say, because I want everyone to go into this one with an open mind and no preconceived notions. It's that much fun.
Check out our 95% (SPOILER FREE) review of Nope here. You can watch this on Peacock, Blu-ray, or 4K.
September 11th: X (2022)
Ti West captivated audiences with his devilish film X. The new-age Texas Chain Saw Massacre (yes, the original Tobe Hooper masterpiece has a space in between Chain and Saw) mixed with a porno shoot gave horror audiences what they crave, bloodshed and new stories. Little did we know that it would kick off a trilogy of films surrounding Mia Goth's character that culminates in MaXXXine.
September 12th: Pearl (2022)
We got Pearl in the same year as X, and somehow Mia Goth brought forth an even better performance in this film. She was a tour de force, totally deserving of award recognition, but because it's a horror movie, she didn't get any. It's a prequel to X, giving us the backstory for her character in that film. It might be a little less TCM and more 70s-style thriller, but Pearl deserves a watch for those out there looking for some NEW horror.
September 13th: Day Shift (2022)
We had plenty of vampire films that were in the vein of Twilight for a long time. After that reign of terror, we finally started getting fun vampire movies like Day Shift. The movie follows Jamie Foxx and Dave Franco who are vampire hunters for hire. This one comes from that John Wick-style of action, but gives us vampires as well. Netflix put this one out last summer, and while it's still got that Summer feel, it makes for an excellent watch in the vein of Fright Night or Blade.
You can watch this one on Netflix.
September 14th: Mad God (2021/2022)
It's really hard to describe Mad God. It might be cheating because Phil Tippett worked on it for decades. It came out in 2021 for film festivals, but the wide release on Shudder was in 2022. The movie follows The Last Man as he descends into worlds we can barely comprehend. It has some of the most amazing puppetry, effects, and visual styling I've ever seen in a film. Don't ask anyone what the movie means or what the actual story is. Just pop this one on, and enjoy it.
You can watch it on Blu-ray or on Shudder.
September 15th: Hellraiser (2022)
Wow. This one was a breath of fresh air after plenty of Hellraiser sequels that were crapped out with no thought to keep the license. It dropped on Hulu last year and gave us a new take on Pinhead with an excellent performance by Jamie Clayton. This takes it back to basics and doesn't try too much. The Cenobite designs are magnificent, they're as gross and beautiful as you'd imagine. Unlike those later sequels, this movie also gives a meaningful story with the humans and makes the Cenobites fearsome once again. This one only has a DVD release in Europe, otherwise, you'll have to check it out on Hulu.
Check out our 93% review of Hellraiser.
September 16th: Talk To Me (2023)
Talk To Me goes to show that movies don't have to have a huge budget to make audiences feel fright and other emotions. It took the box office by storm, making a huge amount of money off a small budget. The supernatural flick gave us a dose of emotion with the plot as well. Don't scoff because it's A24 and was dumped in July. This movie still brings some horror for any horror hound out there.
September 17th: V/H/S/99 (2022)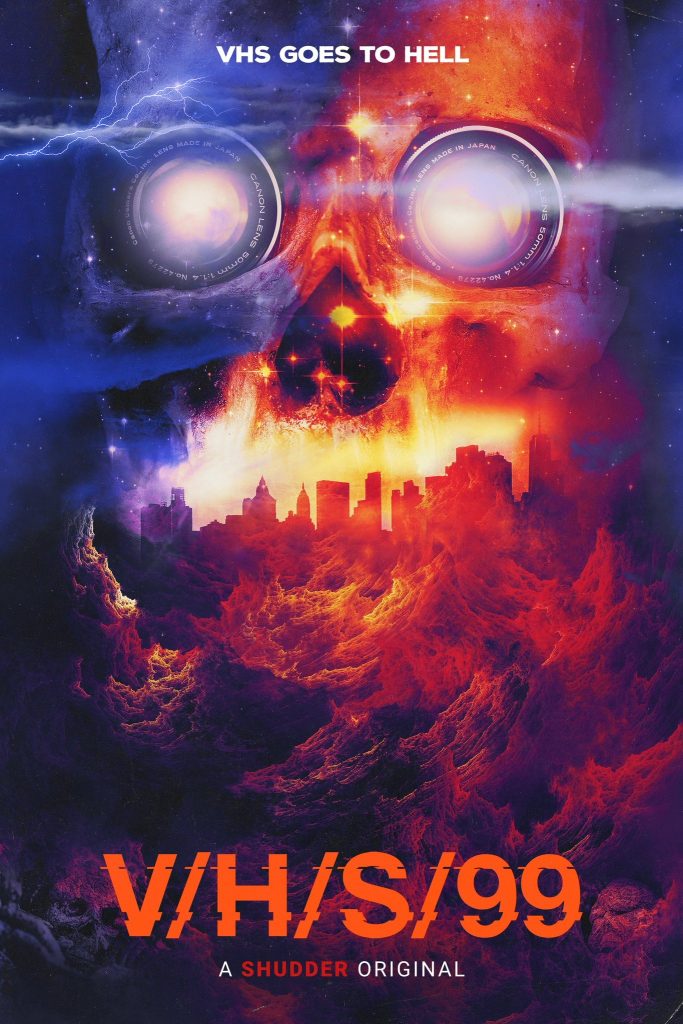 Remember what I was saying about anthology horror? Well, V/H/S does that, and gives platforms to some of the most visionary and up-and-coming directors in horror. This time around, we got some horror focused on the turn of the millennium. If you grew up in that time, V/H/S/99 is right up your alley. You get five tales of terror, including one, as someone with claustrophobia, that is absolutely terrifying. This one is well worth your watch, and we've got V/H/S/85 coming out this year!
You can watch this one on Blu-ray and on Shudder.
September 18th: Orphan: First Kill (2022)
The first Orphan is one of the best 2010's horror films out there. So when they announced a PREQUEL, starring the original actress, Isabelle Fuhrman as Esther. Through some great makeup work, stunt-doubles, body doubles, and other camera tricks, they got the most out of this story and gave us a great prequel to Orphan. Feel free to watch this one in a double feature, but for the Halloween Movie Marathon, it's just this one.
You can watch this on Paramount+ or on Blu-ray.
September 19th: The Boogeyman (2023)
I'm a veteran of horror movies. I don't get scared very easily. The Boogeyman made me terrified in the theater, and I had to sleep with the TV on for the first time in years. It was that scary. It's based on a short story from Stephen King, so you know it's got a pedigree. That original short story is only a scene in the film, but how Rob Savage brings this one to life with some truly excellent performances from Chris Messina, Sophie Thatcher, Vivien Lyra Blair, and David Dastmalchian. To tie it all together, this is PG-13.
You can watch this one on Hulu, Digital, and soon on Blu-ray.
Check out our 96% review of The Boogeyman.
September 20th: Bodies Bodies Bodies (2022)
Bodies Bodies Bodies takes what Scream laid forth for slasher movies and brings it into the modern era with some commentary on human life today. It kicks off with a group of 20-somethings having a hurricane party. Someone ends up dead after a party game gone wrong. It combines mystery and slasher genre tropes to give us a new-age take on a classic horror genre. A24 continues its streak of excellent horror movies that take the box office by storm.
This one is streaming on Showtime and has a Blu-ray release.
September 21st: Texas Chainsaw Massacre (2022)
Time for one of the more "divisive" entries on the marathon. Texas Chainsaw Massacre was dumped onto Netflix in February 2022 with little to no fanfare from the streamer. People at the time crapped on the movie for some of the more heavy-handed commentary and legacy sequel elements. Leatherface absolutely decimates people in this movie. It has a nice confrontation between Sally Hardesty and Leatherface after the first film's events. This one still doesn't have a Blu-ray release, and is exclusive to Netflix.
September 22nd: Infinity Pool (2023)
Brandon Cronenberg follows in the footsteps of his dad giving us an absolutely wild movie in Infinity Pool. If you like the body horror genre, with a bit of science-fiction and erotic thriller, this is the one for you. Mia Goth and Alexander Skarsgard are exceptional in this flick, taking us into a story that is almost indescribable. To put it lightly, this one brings a failed writer and his fiancee to a resort for a writer's retreat. Along the way, they meet another couple and it goes downhill from there.
This one has a Blu-ray and 4K release, and is streaming on Hulu.
September 23rd: Studio 666 (2022)
We'll start off with this, RIP Taylor Hawkins.
What happens when the Foo Fighters make a horror movie? You get the fun of Studio 666. The Foo Fighters have to head into a house to record their latest album. Along the way, Dave Grohl becomes enthralled in the recording, and demons come out to play. It features cameos from horror and metal legends like John Carpenter and Kerry King. It's hilarious and surprisingly gory; don't mistake this one for a cheap promotion for the Foo Fighters. They do a great job in this film.
Grab it on Blu-ray or watch on Prime Video.
September 24th: Exorcist: Vengeance (2022)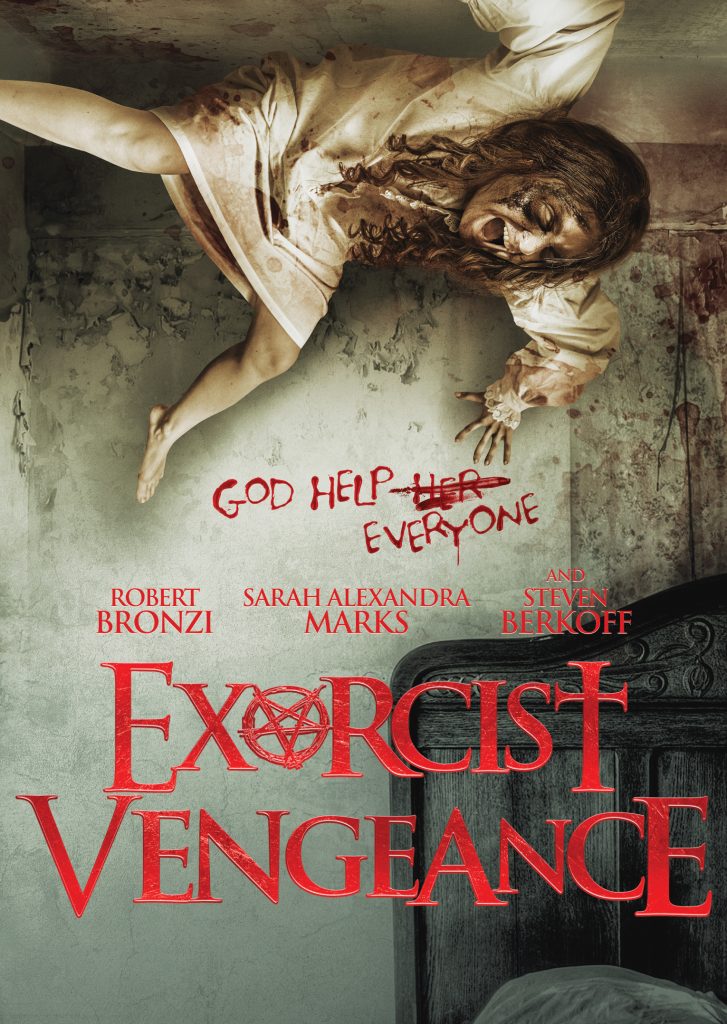 No, this isn't a new Exorcist sequel you've never heard of. This features the work of Robert Bronzi. Take a look at the IMDb score for this one; it's a paltry 2.9 out of 10. However, when you take into account that this is a low-budget horror film that happens to star a Hungarian guy who looks exactly like Charles Bronson, you get a pretty fun demonic possession flick. This isn't merely a retread of The Exorcist either. It closely follows one of those later career Bronson films. For fans of stuff like that, this one is a fun watch.
Check it out on Tubi (with ads).
September 25th: We Have A Ghost (2023)
We're rounding into our more family-friendly section of the Halloween Movie Marathon. This time, it's the recent Netflix movie from Christopher Landon. He directed Freaky, which was absolutely exquisite, and he returns with this heartwarming ghost story starring David Harbour, Anthony Mackie, and Jahi Winston. This one might not be the scariest movie out there, but it's perfect to watch with your kids or young family members.
September 26th: Spirit Halloween (2022)
Everyone reading this has hopefully been to Spirit Halloween.
Spirit Halloween: The Movie stars Christopher Lloyd and Rachael Leigh Cook, but features a young cast that gets stuck in a possessed Spirit Halloween store overnight. It's not high cinema folks, but seeing animatronics and other decorations possessed by Christopher Lloyd is well worth your watch. This one is a cute movie that is perfect for all ages.
Check it out on Prime Video or Blu-ray.
Make sure to give your local Spirit Halloween some love this Halloween season also.
September 27th: The Blackening (2023)
The Blackening came out earlier this year and took on some of the biggest and worst offenders for horror movie tropes. Like Scary Movie and Scream before it, this one was all about the problems, situations, and other issues that African-American characters run into in horror movies. And it skewered them all in hilarious fashion.
This one is available on Prime for rental.
September 28th: Smile (2022)
Another of the 2022 "Horror Dominated The Box Office" Winners, Smile came out of nowhere, was destined for a small death on streaming, and yet, it got a theatrical release, one of the best marketing strategies in movie history, and absolutely smashed the box office. It's got some great effects, and a third act that'll chill your bones. If you missed out on this one because it was "a new horror movie", you owe it to yourself to watch it.
It's available on Paramount+ and on Blu-ray.
September 29th: Saw X (2023)
As of this writing, Saw X hasn't been released in theaters, but it's on this list because it looks like it'll be bringing the Saw series back from mediocrity. After seeing the thunderous reaction that the trailer created at Midsummer Scream 2023, this movie looks to take the series back to its glory days. It'll be the longest movie in the series, but come September 29th, Saw X might be well worth a watch.
This one releases in theaters on September 29th.
September 30th: Terrifier 2 (2022)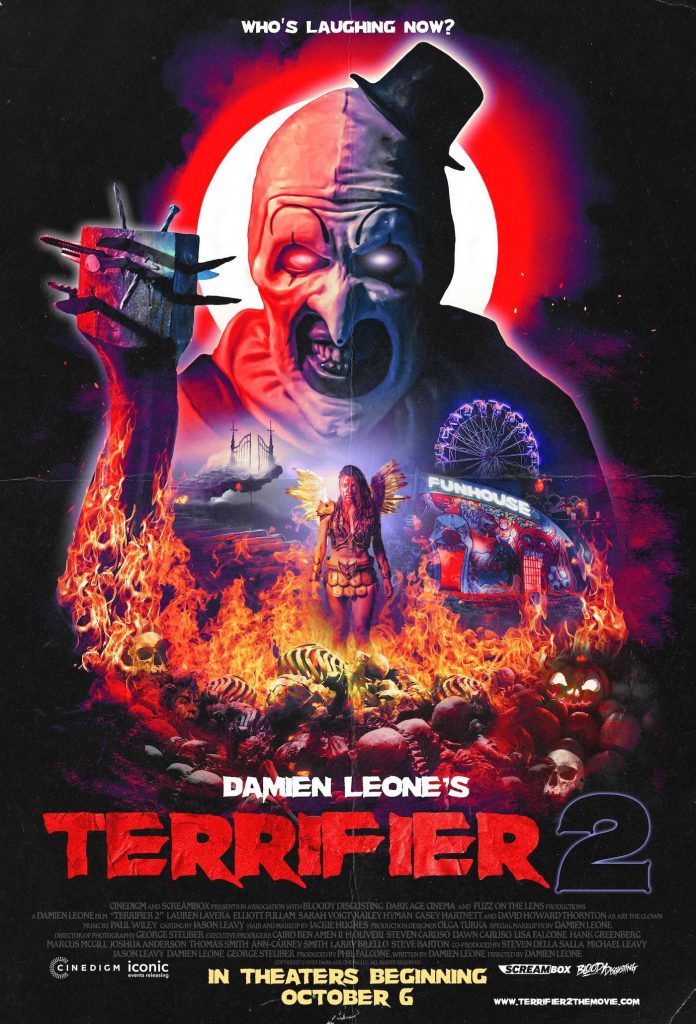 Well, we've reached the end of our modern trek into the horror genre. Time for THE movie of 2022 for horror fans. Love it, hate it, either way, Terrifier 2 gave us a true runaway hit that made mainstream news. I don't really care if it was media conjecture that people were passing out, fainting, or walking out of screenings of Terrifier 2. It means that horror made the mainstream once again. It was yet another successful slasher flick that took the world by storm.
You can watch Terrifier 2 on Peacock and Screambox, and it's available on Blu-ray and 4K.
October 1st: Trick Or Treat (1986)
Now it's time to celebrate some classics that you might not have seen or might not have seen in a long time. Trick Or Treat is a celebration of all things 80s. It celebrates the biggest musical and movie genres in heavy metal and slashers. You get an absolutely kick-ass soundtrack from Fastway alongside some cameo appearances from Gene Simmons and Ozzy Osbourne. It might play right into the satanic panic BS of the 80s with its plot, but Trick or Treat gives some of the best of the 80s.
Currently, Trick Or Treat doesn't have an in-print Blu-ray, but it's coming on 4K later this year.
October 2nd: The Exorcist (1973)
This one is all about celebrating the legacy and what William Friedkin gave us with this film. It's the finest horror movie ever made. That's not a question for me. It gave horror movies a legitimacy that they were sorely needing at the time. It's one of the most frightening movies ever and if you've never seen it, this is a true horror experience. It's getting a sequel in The Exorcist: Believer later this month, but you've gotta check out the original before watching that one.
October 3rd: Wes Craven's New Nightmare (1994)
We're in the era of "meta horror" and it turns out that Wes Craven did it years before he did it in Scream. He did it in New Nightmare. It's one of the best entries in the Nightmare on Elm Street series that goes into what would happen if Freddy was a real force in nature. What if he went after the actors and actresses that made the original movies and the only thing keeping him at bay is the movies getting made? It's a brilliant idea from Wes Craven that just goes to show how much of a master of horror he is.
It also helps that it makes Freddy Krueger legitimately scary again for the first time in a long time.
This one is available on Blu-ray and streaming on Max.
October 4th: Slumber Party Massacre II (1987)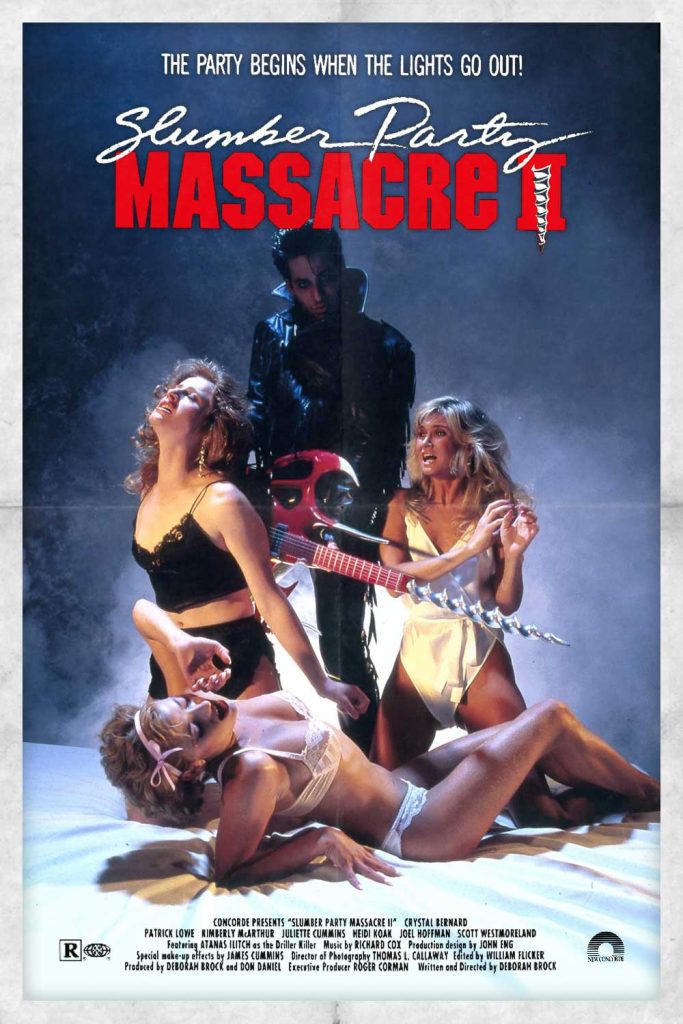 This one continues with the stranger sequels subtheme of the 2023 Halloween Movie Marathon. Slumber Party Massacre II continues from the first film but adds some strange supernatural elements to it. Are the events of the film actually happening? How did someone get a drill guitar like that? I don't know, but it all adds up to an excellent sequel. It's one of the most rocking horror movies out there and if you miss out on watching Trick Or Treat on the 1st, you can make for an excellent double feature.
This one is streaming on Shudder and has an excellent Blu-ray/4K release from Scream Factory.
October 5th: Hello Mary Lou: Prom Night II (1987)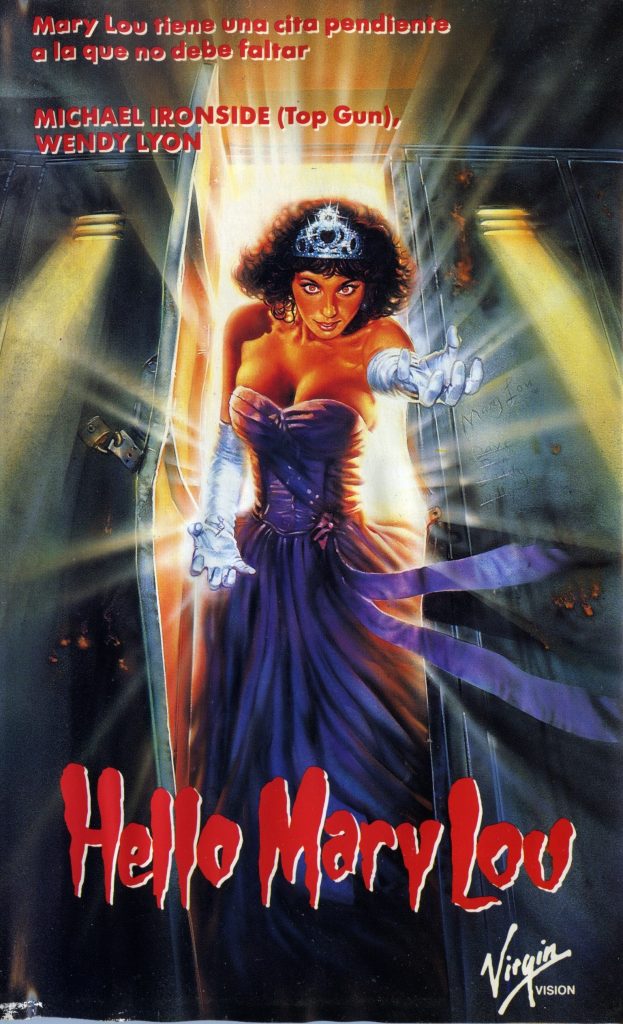 Does this have anything to do with the original Prom Night? No. Is it still awesome? Yes. This was one of those situations where they made a movie, and then slapped a known title on it after the fact. No matter any studio shenanigans, Hello Mary Lou: Prom Night II is a fantastic horror movie. It's got Michael Ironside, which means it's automatically upgraded because he makes everything better. The tortured spirit of a former Prom Queen comes back thirty years later to exact her revenge.
This one isn't readily available on Blu-ray or 4K, but you can watch it on Peacock, Shudder, Tubi, and Freevee.
October 6th: The Exorcist: Believer (2023)
Here's one of the two new movies in this section of the Halloween Movie Marathon. The Exorcist: Believer does something similar to Halloween (2018), where it sort of forgets that any sequels to the original film happened. Now, with The Exorcist, there's one direct sequel, two prequels (one of which Renny Harlin convinced the studio to give him $80 million to do, while the other one was filming, go Renny), and then Legion (or The Exorcist III), which doesn't really have to do with the original film that much.
This time around, we've got another possession, but it's two young girls instead of one. Returning from the original film is Ellen Burstyn, and it also stars Leslie Odom Jr.. We'll have to see how this one turns out, but you can catch it in theaters on October 6th.
October 7th: Body Bags (1993)
This was one of my John Carpenter blind spots. Now, I'm a little mad that I hadn't watched Body Bags sooner. It's another horror anthology, this time with three stories and a wrap featuring John Carpenter as The Coroner, his version of The Crypt Keeper. Carpenter directed two of the segments: "The Gas Station" and "Hair"). Tobe Hooper directed the other segment, "Eye". It's got an awesome soundtrack, like you'd expect from a Carpenter movie, but it's also got some of that Twilight Zone/Creepshow/Tales From The Crypt "be careful what you wish for" magic.
This one has an excellent Blu-ray release from Scream Factory and streams on Tubi, Freevee, Peacock, and Shudder.
October 8th: Phantom Of The Mall: Eric's Revenge (1989)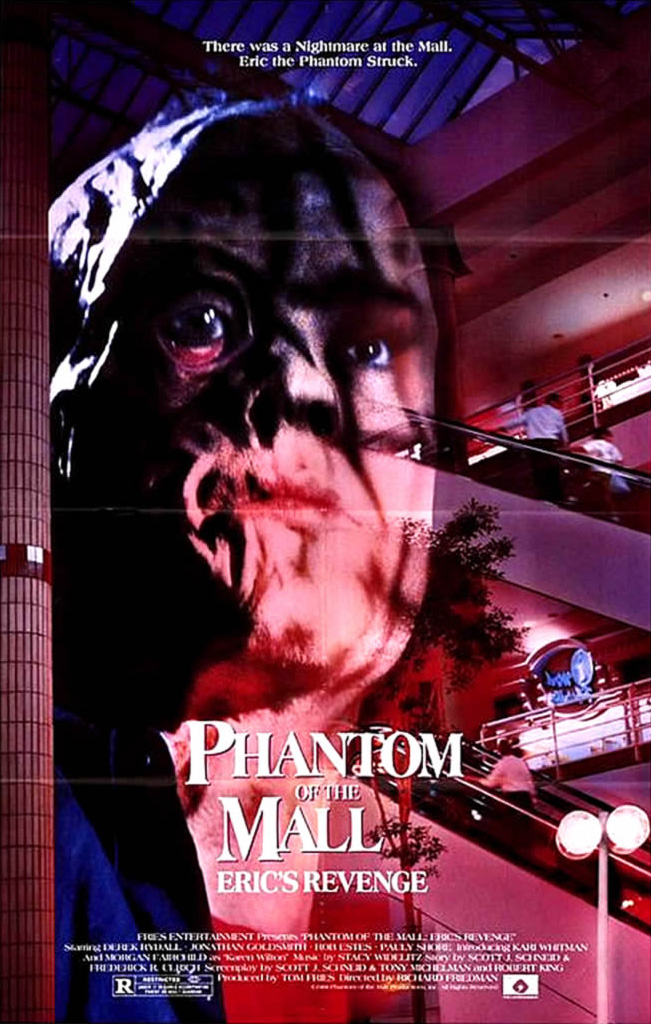 Is there an original Phantom of the Mall? No. This isn't one of those gimmicks like with Prom Night II, this was just the filmmakers trying to get you to watch a movie, thinking it was a sequel. This is your classic case of corporate greed in the story with land developers desecrating the burial place of a man who burned alive in his house. The fire? Well, those scummy real estate developers set it. Let the killing begin. This one is pretty silly at points, but it's that fun kind of cheese from the '80s.
This one has a stunning Blu-ray from Arrow Video and is available to stream on Shudder.
October 9th: Doom Asylum (1987)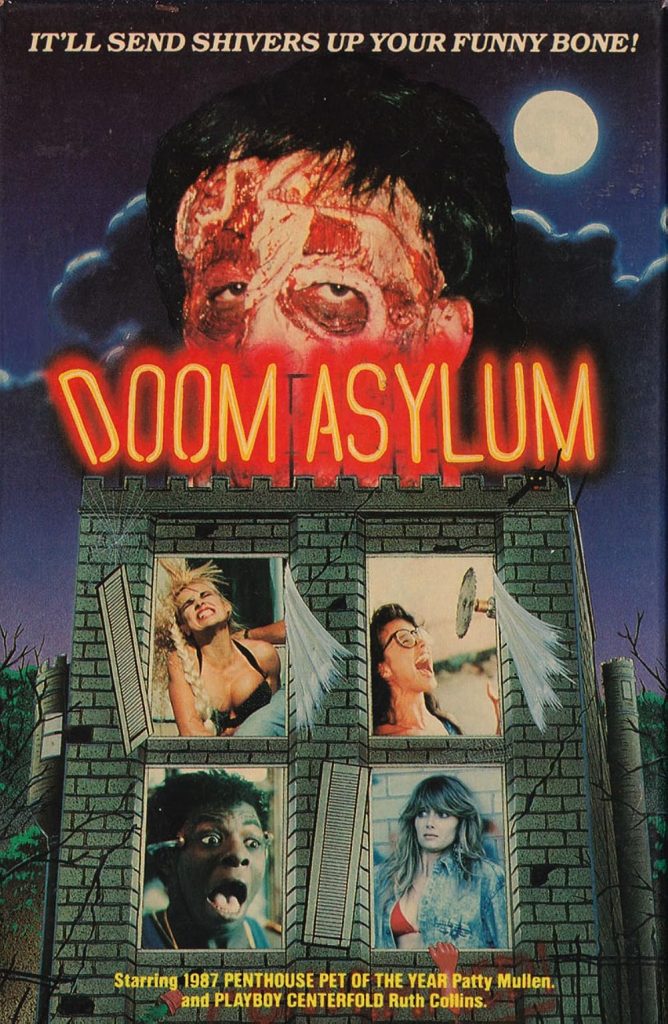 If you want even more cheesy '80s slasher weirdness, look no further than Doom Asylum. It's hard to describe this one, but it starts off with a car crash, and then leads to a punk gang, and a girl that calls her boyfriend "mom". It's not for those super serious people who want "ONLY ELEVATED HORROR". The only thing that Doom Asylum will elevate is your happiness because you'll be giggling along with it. It was filmed on location at an abandoned asylum, so it's got that bit of realism going for it.
You can watch this one on Blu-ray from Arrow Video or streaming on ScreamBox.
October 10th: Ticks (1993)
Hmmm, that poster might say Infested, but this movie is called Ticks here in the US market. This is another B-movie creature feature that pays homage to the days of the '50s and giant insect movies. It features some pretty big stars for the time in Seth Green, Alfonso Ribeiro, and Clint Howard. A group of teenagers head to a California wilderness retreat, but they don't know that it's inhabited by bloodsucking ticks. It's got that early '90s aesthetic and charm, and if you like creatures, this one has some terrific effects.
Watch it on 4K from Vinegar Syndrome or on Freevee, Tubi, or Pluto TV streaming.
October 11th: Dressed To Kill (1980)
Now for a classic from Brian De Palma, and it's not Carrie. Dressed To Kill features an absolutely jaw-dropping performance from Michael Caine. The story is simple, a mysterious blonde woman kills one of a psychiatrist's patients, and then goes after the high-class call girl who witnessed the murder. This one cuts it pretty close between horror and mystery/drama, but it's still got those elements of horror. It has a twist you won't see coming, but this one is perfect for an October night.
It's available on Blu-ray and streaming on Tubi, Freevee, and Pluto TV.
October 12th: Superstition (1982)
This one I'm not entirely sure whether they were trying to be serious or not. Superstition tells the story of a Church that put a witch to death in 1692 that has sworn vengeance on all who live there. A new family moves into the church and people start dying. A hunky priest gets involved with the murders and has to work together with a detective on the case.
Now, that sounds pretty stock for a horror story, but Superstition has some pretty decent creature effects but the laugh-out-loud moments in the film that come out of nowhere are worth the price of admission here. Watch it for yourself and decide whether they are serious or not?
This one is available on Blu-ray, but not on streaming at the moment.
October 13th: 976-EVIL (1988)
This was what Robert England was doing while he was on a break from A Nightmare On Elm Street. It's a shame that this movie was budgeted horribly and the studio behind it didn't give any more money to finish the third act. The original script has some pretty insane and inventive set pieces, but the finished product didn't get to film some of it. Even through those issues, 976-EVIL has a great cast and a premise that might not make sense to the youth of today, it still works.
This one is readily available on Blu-ray or on streaming on Tubi.
October 14th: Halloween 4: The Return Of Michael Myers (1988)
This is the best "actual" Halloween sequel. I won't be taking any questions. You can read my Halloween series ranking here for some more context. This movie just takes the series back to basics after trying out a "Halloween anthology" idea that didn't pan out because people suck. It's got some great kills, a not-so-great mask for Michael Myers, but it does the job of updating the story. There's plenty of places they could have gone from this, including the best route, making Jamie Lloyd the new Michael Myers. That would have been the most interesting, but they went safe with the sequels after this. If you can call the Cult of Thorn safe.
This one has an excellent Blu-ray and 4K release from Scream Factory, and streams on Shudder.
October 15th: Killer Klowns From Outer Space (1988)
Time for more silly fun. At this point, everyone knows about Killer Klowns From Outer Space, but have you seen it? If you walk into a Spirit Halloween every year, they have plenty of merchandise from the movie, but the actual movie might get lost for some people. It's got some of the best clown makeup and costumes in any movie and is just a hugely fun movie. The soundtrack from John Massari is top notch and one of the best in horror. No one can resist the "Killer Klown March".
This one is available on Blu-ray and streams on MGM+, Prime Video, and Tubi.
October 16th: Trick 'R Treat (2007)
This one either goes on October 1st, or helps you get through the middle part of October waiting for actual Halloween to get here. Trick 'r Treat is another anthology, but it tells its stories in a way that fits them all together. Surrounding it is the spirit of Samhain, Sam. The adorable little monster ties the whole thing together. It took me way too long to watch this movie, but it's about time we actually get a sequel or more from Michael Dougherty and Trick 'r Treat. Don't let the poster sway you, this one captures all the essence of Halloween in just under an hour and a half. If you haven't seen it before, it'll forever be part of your Halloween experience.
This one has an excellent Blu-ray from Scream Factory and is available to rent on Prime Video.
October 17th: Halloween III: Season Of The Witch (1982)
Now for another controversial one, even though it really shouldn't be controversial. If you just called Halloween III: Season of the Witch, Season of the Witch, it would be one of the most beloved and classic horror movies ever. It's got Tom Atkins, stonehenge, creepy masks, and takes us back to the old days of Halloween, when people were getting sacrificed to the gods. Well, the owner and operator of Silver Shamrock wants to take us back there with his new line of masks. People hate this movie for no good reason, and it sucks, because they're missing out on something awesome.
You can watch the absolutely stunning 4K or Blu-ray from Scream Factory or rent in from Prime Video.
October 18th: Poltergeist (1982)
You never remember just how great Poltergeist is, until you rewatch it. The movie is a stone-cold classic and yes, for all the dummies out there, it was 100% directed by Tobe Hooper. Watch the movie, if you can't see that, you don't know Hooper's movies. This is all wrapped up in a PG rating for a truly horrific movie. The tree attacking, the clown, and some of the ghosts all add to one of the best horror movies ever.
This one is available on Blu-ray and actually in select theaters right now. Or you can rent it on Prime Video.
October 19th: Young Frankenstein (1974)
Time for a bit of a lighter section of the Halloween Movie Marathon, with Mel Brooks's classic Young Frankenstein. The comedy starring Gene Wilder skewers the tropes of Universal's classic monster movies and adds in the most hilarity that a horror movie has ever seen. Remember folks, there are lots of sub-genres of horror. They're allowed to make you laugh every once in awhile. It doesn't get much funnier than this.
This one is available on Blu-ray and streaming on Max.
October 20th: Dracula (1931)/Frankenstein (1931)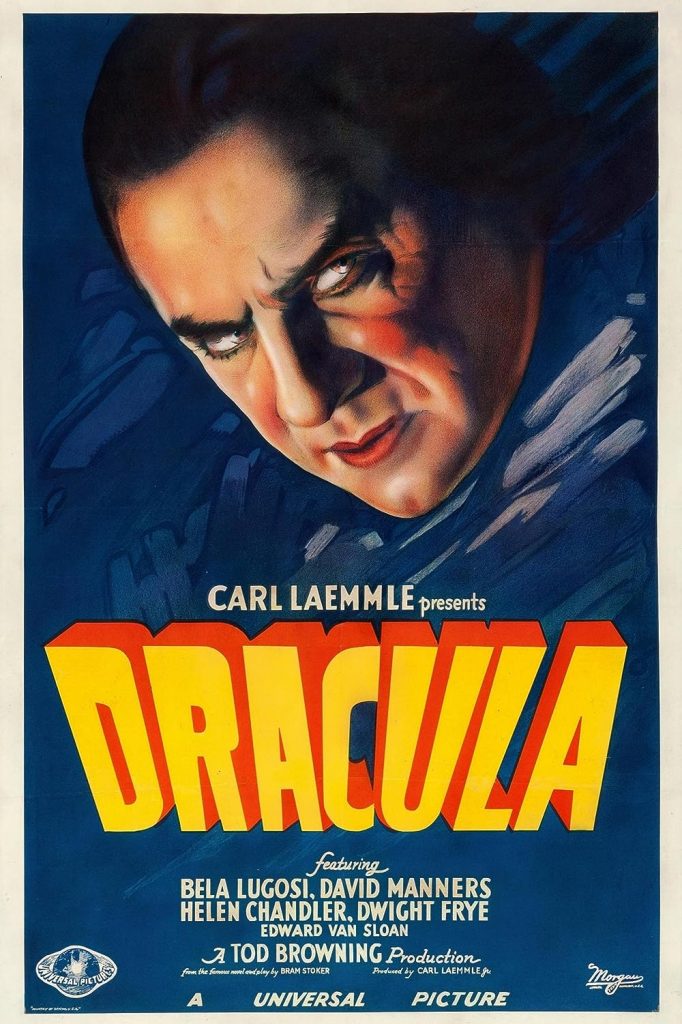 Time for the only non-Halloween double feature on the Marathon this year. Previous years have had plenty of double and sometimes triple features, but this time around, I'll give you the best of the best. Dracula and Frankenstein are the bedrock upon which our current horror movies are built upon. You gotta pay tribute to the originals and not enough people have seen these. They're both stunning in their atmosphere and performances, for a real treat, check out the Spanish version of Dracula. it was filmed on the same sets as Dracula, but somehow gives enough new to warrant a look.
These are available on 4K, Blu-ray or for rent on Prime Video.
October 21st: Ravenous (1999)
I hadn't seen Ravenous before earlier this year, and wow, this is a hell of a movie. It's got a bit of a mixed tone but that stems from some issues while filming, sometimes it doesn't know exactly what movie its trying to be, but across the board, its entertaining as hell. There's some fantastic performances from Guy Pearce, Robert Carlyle, Jeffrey Jones, and Neal McDonough here. The finale is a battle between superhuman cannibals and it doesn't get much better than that.
This is available on Blu-ray and for rent on Prime Video.
October 22nd: The Monster Squad (1987)
The Monster Squad continues a string of celebration of those classic Universal Monsters with a lineup featuring Dracula, The Wolfman (he's got nards), The Mummy, Frankenstein's Monster, and The Creature From The Black Lagoon. This Fred Dekker-directed piece of Halloween fun is great for all ages, and man, it just captures that feeling of being a kid around Halloween. There's a different feeling on the wind, the leaves turn, and it's all about being spooky. Watch it to feel young again, and dance to the film's montage song.
This one is available on Blu-ray and streaming on Pluto TV.
October 23rd: The Blob (1988)
Oh no, it's a remake. Well, it's a remake that knows how remakes should work. You shouldn't just do a remake for the sake of doing it, update the original to the time you're making the movie, and you get something special. It does enough to pay homage to the original and '50s monster movies, but adds some terrifying new visuals and gross effects. The shady government cover-up makes this one truly scary.
Check it out on Blu-ray or the new 4K from Scream Factory.
October 24th: Prince Of Darkness (1987)
Another Carpenter classic that sometimes slips between the cracks of his other movies. Sure, he's known for The Thing, They Live, Halloween, and Big Trouble In Little China, but this and Into the Mouth Of Madness seem to get lost for fans. Don't let that happen and check out Prince of Darkness this Halloween season. It's got all the apocalyptic dread of his other films, but with some awesome effects, Alice Cooper, and a great performance from Donald Pleasence. It was his first non-studio film since Escape From New York, and Carpenter is unshackled in this one.
It's available on Blu-ray and 4K from Scream Factory and you can rent it on Prime Video.
October 25th: Pieces (1982)
Pieces is billed as some sort of Texas Chain Saw Massacre competitor, when it really isn't. Just because someone is doing gruesome things to body parts, doesn't mean that it's competing. Considering that almost every slasher owes a bit to Tobe Hooper and TCM, you could say it's still borrowing from that film. This one, however, follows a more '80s slasher story and structure. It's got some absolutely gaudy kills but ends up getting left off a lot of '80s slasher lists, so do your homework and watch Pieces.
This one has multiple excellent Blu-ray releases (trust me, I've bought two of them) and is streaming on Shudder, Peacock, Pluto TV, Screambox, The Roku Channel, and Tubi.
October 26th: Night Of The Creeps (1986)
In case you didn't notice here at THS Fright-A-Thon we F**KING love Tom Atkins. Night of the Creeps might be his finest hour, and it's a damn fun monster flick that harkens back to the classics while also giving a modern ('80s modern) take on those films. It's got some awesome creature effects to go with an absolutely badass third act. Any movie with a flamethrower is good enough for me. Fred Dekker does it again writing and directing this one. It also does one of my favorite things in horror movies, naming characters after famous horror directors like Carpenter, Romero, Cameron, and Raimi.
You can watch this on Blu-ray from Scream Factory or rent it on Prime Video.
October 27th: Five Nights At Freddys (2023)
Well, it's been quite a long time, and Blumhouse basically got beat to their own movie with the excellent Willy's Wonderland, but Five Nights At Freddy's is finally coming out. The movie stars Josh Hutcherson and Matthew Lillard. Check out some of the trailers like this one that just released recently for a better look at the film. They got actual puppetry going on set, so we can hope this one lives up to fans' lofty expectations.
Check it out in theaters on October 27th.
October 28th: Fright Night Part II (1988)
Fright Night Part 2 was one of the first movies I wrote about back in 2020 for Fright-A-Thon. I fell in love with the movie over the pandemic, watching a ripped HD copy from YouTube over and over again. Somehow, this sequel hasn't been watched by nearly as many. It had an extremely limited release because of circumstances outside of the movie's control. The story involves the Menendez Murders, and because of that, it's tangled up in a hellish mess of rights. Don't let that stop you, though, there are DVD copies and one of the best bootleg Blu-rays available for this. Here's hoping Cinemuseum can give us all a release to be proud of.
It also has one of the best vampire performances from Julie Carmen and her gang in the film. You really don't want to miss this one.
October 29th: From Beyond (1986)
Now for a tribute to the legendary Stuart Gordon. His name doesn't get discussed with luminaries like John Carpenter, Sam Raimi, Tobe Hooper, Wes Craven, or George Romero as a master of horror, but it should. His work in the '80s and '90s on films like Re-Animator, Dolls, and From Beyond is truly legendary stuff. From Beyond also has some of the best special effects work out there and flips the script on gender roles with Barbara Crampton and Jeffrey Combs's characters. It's gooey and gross, but From Beyond is perfect in this runup to Halloween.
You can watch this one on Blu-ray from Scream Factory, on 4K from Vinegar Syndrome, or
October 30th: WNUF Halloween Special (2013)
This is it, the WNUF Halloween Special. This is a Halloween tradition now, because you can't watch something other than Halloween on the holiday, so you watch the WNUF special on Halloween Eve. The Eve of All Hallows Eve, if you would. This one starts off like any other classic news broadcast about Halloween hijinx and then gets stranger and stranger from there. It comes complete with fake Halloween commercials to make the entire thing look as authentic as possible. For those with a projector during a Halloween party, this is THE perfect movie to throw on for people in the background. it sets the tone and mood perfectly.
Watch this on Blu-ray from Vinegar Syndrome.
October 31st: Halloween (1978)/Halloween II (1981)
Well, what else could it be? What else can I say at this point? You get your big ass bowl of candy ready, you carve up some Jack 'O Lanterns, and you wait for kids to show up at your doorstep. As the night goes through, something strange happens: the light of the pumpkin casts a bit darker, a bit different. By the time Halloween II rolls around, the trick-or-treaters are all gone for the night, replaced by something more sinister, kind of like the tone of the second movie. The kills are bigger, better, and more violent. The mood changes, the wind picks up, and by the time Laurie Strode is carted off at the movie's end, the Jack 'O Lanterns are all but extinguished, ready for another year, and awaiting their time to shine again.
Happy Halloween Everyone!
For more on Horror, make sure to check back to That Hashtag Show.
Keep Reading: