The anime adaptation of The Ancient Magus' Bride manga by Kore Yamazaki has, among other things, some deliciously animated foods. Mostly thanks to Silky, but others get their cooking in the spotlight as well. Thus, it's only natural that a collaboration cafe featuring some delicious and slightly creepy theme foods would be the next logical step. Alas though, this collab is only for a very specific region of the world. Specifically: the manga and anime's home nation of Japan.
The Ancient Magus' Bride Minatomirai Cafe: Details
Japanese entertainment news website Comic Natalie has just revealed that Cafe Fan Base will be doing a collaboration with The Ancient Magus' Bride to have a themed cafe. As you can see by the key visual above, this is going to be one of the more extensive and well-thought-out collabs. The focus of this collab, as you might expect though, is going to be the food. Is it a cafe, after all.
The centerpiece of this cafe's menu is the Elias Curry above. As you can see, it's a remarkable imitation of Elias Ainsworth from The Ancient Magus' Bride. The white rice mimics his boney face, while the black curry mimics his shadowy sludge-like form. Then you have the bread(?) horn, one side of which is black to match the curry. But the best touch has to be the sprigs of rosemary on either side of the curry. They resemble the thorny vines Elias summons for his attacks, which completes this Elias meal quite well.
It's not just the Elias Curry though. This Mintaomirai cafe will also feature foods and drinks based on Chise Hatori, Ruth, and other members of the cast from The Ancient Magus' Bride. From black Mont Blanc desserts to represent Ruth, to Zoe's Gorgon Pasta to simulate his head noodles, this cafe looks like it has it all.
Alas though, this The Ancient Magus' Bride collab cafe is in Japan only. It will only be in Cafe Fan Base cafes in Kanagawa and Yokohama. The collab will run from September 1, 2023 to October 1, 2023; so if you plan on traveling to Japan to experience this collab, then you might want to hurry.
Bonus: Menu
For those of us who can't afford a trip to Japan for this collab, we have the next best thing. We have a full menu from that The Ancient Magus' Bride cafe. This even includes merch that the cafe will sell for the collab. Thus, you can experience the cafe visually below: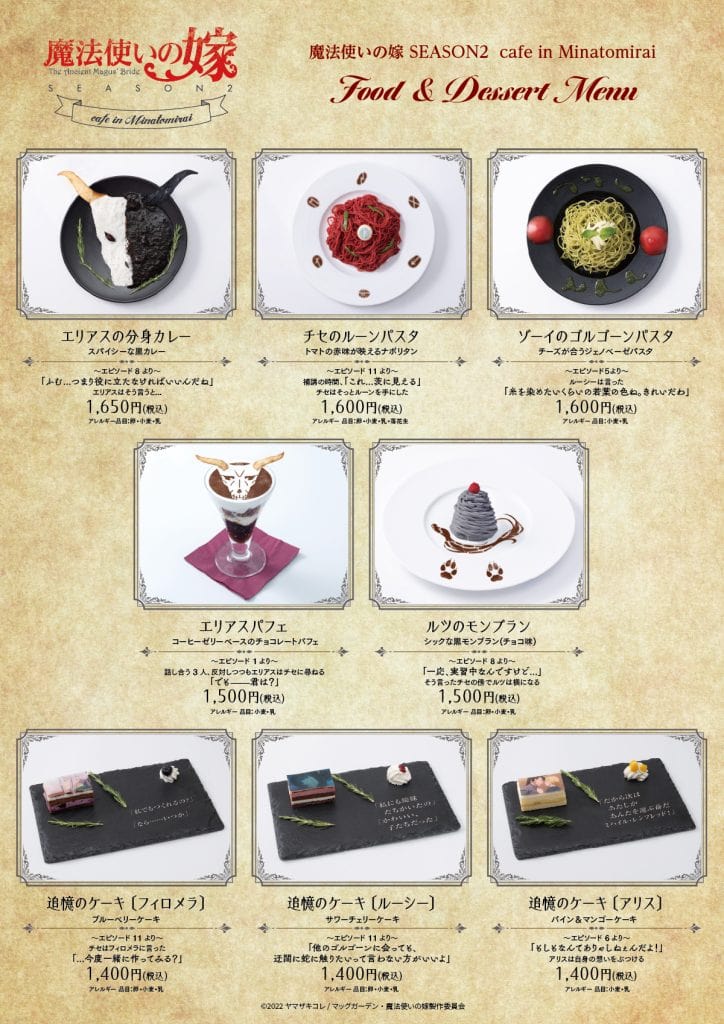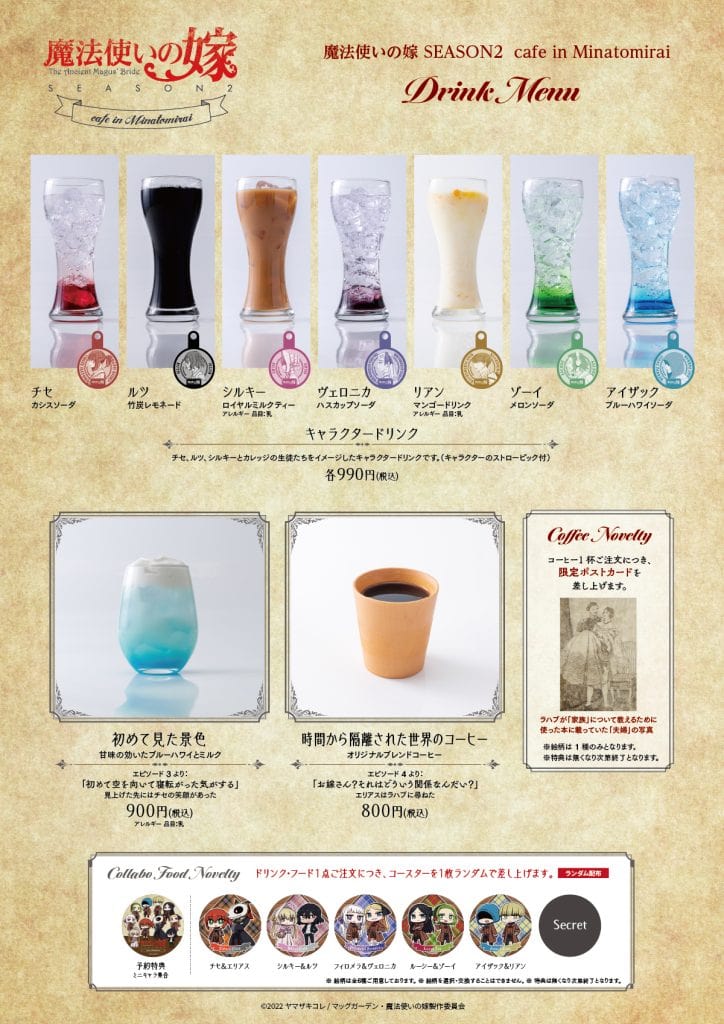 Source: Comic Natalie