Do you enjoy a smart home? Do you enjoy pretending to wield magic? Well, the people over at The Cauldron have the next great smart home device for you! Check out The Cauldron's Wizard Smart Switch! This new Smart Home Hub is a trio of magical objects – Magic Wand, Runestone, and Smart Plug – that when combined allows the Wizard to control the plugged-in electronic device of their choice with the touch of a magic wand!
"When designing the Wizard Smart Switch, our guiding mental image was that of an adult teaching a child to read. What could be more magical and special than reading your favourite fantasy book together before bedtime, only to then say goodnight and then turning off the lights with a real life magic wand. It's pure magic."

The Cauldron Co. co-founder David Duckworth.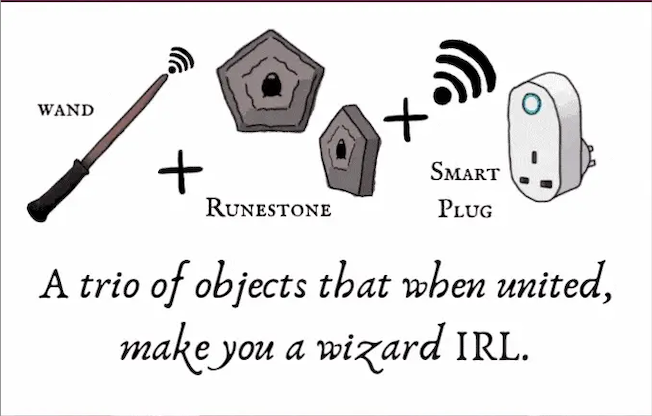 THE WIZARD SMART SWITCH IS A FANTASTIC MAGICAL ADDITION TO YOUR HOME!
The Cauldron sent me The Wizard Smart Switch to check out for myself. Now, I love a smart home. I already use smart plugs and devices, and I found it to be a really fun addition. Who doesn't love to pretend to be a Wizard?
The setup of the device was really simple. After charging my Runestone I paired it with the Smart Plug and I was on my way. The instructions are simple and very easy to follow. Next, I needed to choose the best option to make my life easier. Isn't that the point of the smart plug?
The key to using a device like this is to set it up with something inconvenient. So, a lamp or fan you always have to get up to turn on. Another great option is something on the opposite side of your bed that way you don't have to get up to turn whatever it is off and on.
CHECK OUT OUR VIDEO USING THE WIZARD SMART SWITCH!
PROS AND CONS
Pros:
Fun Design
Versatile use of the Runestone. You can set it on a shelf or hang it on the wall.
Easy-to-use interface
Compatible with a variety of devices
The battery on Runestone lasts a decent amount of time.
Fast Charging
Cons:
Bulky Plug
Keeping up with the Wand
Quality of material
Price Point
Overall, I think The Wizard Smart Switch is a fun gadget to add to any home. That said, it is a little pricey coming in at $128. In the end, it comes down to whoever is willing to pay it or not.