Spy x Family Ch. 81 finally gives us a long-awaited matchup between West and East. Westalis and Ostania. WISE vs. SSS. Really, this entire chapter reminds us that the backdrop of this otherwise funny and goofy family comedy is a bloody Cold War-esque spy thriller.
Spy x Family Ch. 81: Details
Spy x Family Ch. 81 is the latest chapter (after the mini-arc of Ch. 79 and Ch. 80) of this action comedy (although distinctly less comedy in this chapter) spy manga series by Tatsuya Endo. Casey Loe once more returns as the translator, with Rina Mapa also making a return as the letterer. Shueisha originally published this manga in Japan under their Jump Comics+ imprint in their magazine Shōnen Jump+. Viz Media is the company publishing this manga in the NA region.
Spy x Family Ch. 81 made its debut on May 28, 2023. You can read this chapter for free on Shonen Jump at Viz Media. Note that this chapter will remain free for 2 chapter releases after this one. Upon the release of the third chapter, Ch. 81 will go into the Shonen Jump vault. Once there, you'll need a paid Shonen Jump subscription in order to read it and all previous chapters.
On a side note: an anime adaptation of Spy x Family premiered on April 9, 2022, and is currently ongoing as of this writing. In fact, season 2 of the anime will premiere sometime in October 2023. You can watch all currently available episodes of the anime on Crunchyroll or Hulu.
Warnings: spoilers for Spy x Family Ch. 81 below. If you want to watch the spy story turn very deadly serious all of a sudden, then stop here and come back once you've survived the shootouts.
Spy x Family Ch. 81: Plot Summary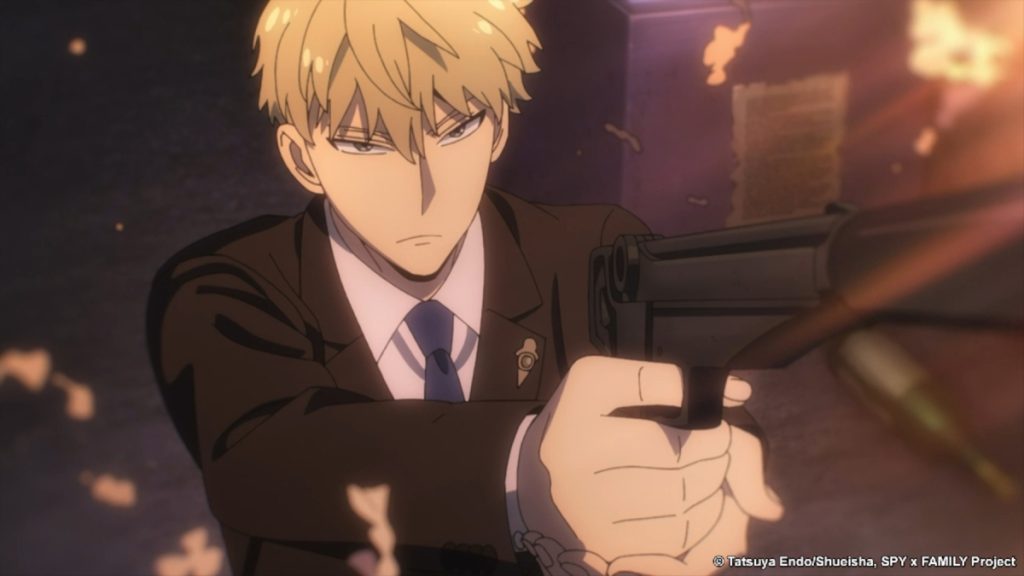 Spy x Family Ch. 81 more or less picks up from where we last left off in the previous chapter, but not quite in the way you'd expect. The chapter begins with the SSS mole (who turns out to actually be an Ostanian deep cover agent who went by the name of Winston Wheeler while working for WISE) who stole all those WISE files fleeing pursuit by at least 3-4 WISE agents, with one of them even in a car. Unfortunately, the mole is just as deadly as Loid, and not only evades captures but also takes out 3 agents.
Thus, Loid (aka. Twilight) and Nightfall are both tasked with capturing or killing "Wheeler" and retrieving the intel he stole from WISE. Complicating the mission is that Ostania's SSS wants that intel and has deployed virtually every agent of theirs into the field to ensure that it arrives safely, including Yuri Briar. Unfortunately, if the SSS succeed, WISE will likely have to pull the plug on all their active operations in Ostania to protect their agents. This includes Operation Strix, which means that if Loid fails, he'll have to abandon his newfound family. He's certainly not going to let that happen, no matter who or what stands in his way.
Twilight Meets His Match at Last?
Unfortunately, not only is "Wheeler" good at spy work, but he's also one step ahead of WISE at every turn. After changing his appearance, he heads to the rooftop of the building he's in to scout for WISE agents trying to spot him as well as for SSS agents trying to help him. Once he's made said agents, he then changes his appearance once more to head outside and makes contact with the nearest SSS agent, who turns out to be an undercover Yuri. He then passes instructions to the SSS through him to make contact with him at a nearby park.
Once there, "Wheeler" makes contact with a scar-faced SSS agent, who welcomes him home. Wait, is this really the end of WISE active operations in Ostania, and thus the end of Operation Strix? I smell a Loid throwing a monkey wrench in the works here, but we'll just have to find out in the next chapter of Spy x Family if this is the case.
Spy x Family Ch. 81: The Good
Spy x Family Ch. 81 marks the start of a very serious and dramatic spy thriller story, and that's always a good thing. As great as the cute comedy is, the dark spy thriller parts are just as good. Tatsuya Endo shows off his drama skills here in this new arc, which he probably wants us to notice more than the family comedy. Still, we'll happily take both alternately and appreciate that the story is now taking a pretty dark turn here.
In particular, this arc gives us a lot of potential for a showdown between Loid and Yuri. Not the comedic showdowns they had over Yor, but a deadly serious one. Only time will tell if Endo will turn the story in this direction.
Spy x Family Ch. 81: The Bad
If you only like the cute family comedy aspects of Spy x Family, then Ch. 81 might not be for you. But don't worry, Tatsuya Endo will get back to it at eventually. We'll just happily wait and enjoy this dark turn in the meantime.
For more on Anime, make sure to check back to That Hashtag Show.
Keep Reading: