Calling Spider-Man: Across The Spider-Verse the best-animated movie of recent memory or of all time is a disservice. It takes animation and the special animation style in this movie and puts it into a category. Saying that feels like a pat on the head of animation for being really good. This movie transcends that label. It transcends everything that you might think or feel about animated movies. Across the Spider-Verse is just a nearly-perfect movie regardless of whether it is animated, live-action, or whatever else.
The pre-credits for Across the Spider-Verse get you sucked in, and the film never lets that attention go. It might be the longest animated movie ever made, but it doesn't feel anywhere close to the two-hour and twenty-minute runtime. This is a bigger, better, wilder, and more explosive movie than its predecessor. That movie feels almost cute in comparison. The sheer number of Spider-People/Things/Animals in this film will make your head spin.
The only thing that I can bring up that remotely drags Spider-Man: Across The Spider-Verse down is the number of Spider-People. Sometimes it's jarring how many are on screen. At other times, it's almost distracting to try to keep track of all the various Spider-Man variants on screen. For some of the bigger ones, there are nametags shown on the screen. Most of them, unless you're looking out for them, frame-by-frame, you will miss, though. Luckily, that's really the only complaint about Across The Spider-Verse.
Not Just A Sequel, It Redefines This Mythos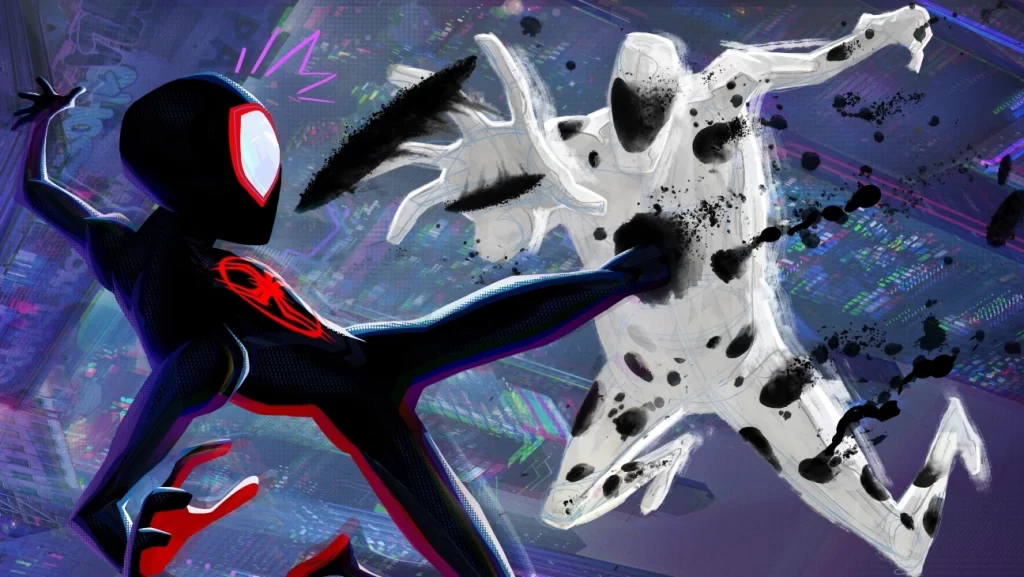 Across The Spider-Verse features a great range of voice actors, including Shameik Moore (Miles Morales), Hailee Steinfeld (Gwen Stacy), Oscar Isaac (Miguel O'Hara), Issa Rae (Jessica Drew), Brian Tyree Henry (Jefferson Davis), Luna Lauren Velez (Rio Morales), Jason Schwartzman (The Spot), Daniel Kaluuya (Spider-Punk), and Karan Soni (Spider-Man India). Those aren't all the voice actors in the film, but it would be spoiling some to list any others.
Out of them all, Gwen Stacy gets much more to work with here than in the first film. This might still be Miles Morales' story, but Gwen Stacy is a bigger key to this story. Her and Miles' story is intertwined with the overall plot, and it gets a heartbreaking wrinkle to the whole thing.
Oscar Isaac as Miguel really steals the show from everyone else, though. He's the MVP of the film leading to one of the most triumphant moments for Miles near the end of the film. At certain points, he verges into mania, but this is a voice performance for the ages.
Karan Soni and Daniel Kaluuya as their respective Spider-Men are both highlights as well. They're both very funny with the delivery of their lines, and they steal the show in the first half of the film.
Spider-Man Like You've Always And Never Seen It
The biggest thing and most interesting narrative that Across The Spider-Verse proposes is the idea that every Spider-Man has the same narrative to follow. There's grief, there's tragedy, there's heartbreak, and they all face it. Spider-Man might be the most tortured hero in Marvel's catalog. However, the movie also questions that narrative in a very metatextual way. It uses the Spider-Man mythos to question everything that we know and expect out of a Spider-Man movie or series.
Besides the narrative, the animation here is among the most beautiful out there. The first film gave us plenty of scenes that you could pause and see absolute beauty. This time around, it feels like every scene, every frame, every pixel is stunning. For people that like making their computer or phone background images from a movie, this is going to be in heavy rotation.
Through it all, Spider-Man: Across The Spider-Verse is as close to a perfect sequel as you can get. It feels very much like The Empire Strikes Back in all the best ways. It's dark, and dreary, but still retains that level of hope that you felt from the first film. This story retains what made that first film special, but blows it out of the water with an expansion of Spider-Man mythology and animation style.
For more Reviews, make sure to check back to That Hashtag Show.
Keep Reading: