Yellowstone: Season 5 Part 1, arrives on DVD and Blu-ray on May 9 from Paramount Home Entertainment. Fans can now head back to the ranch and dive into the first 8 episodes of Season 5, along with never-before-seen exclusive bonus content. The bonus content features interviews with cast members and explores the relationships between fan-favorite couples Rip & Beth and Kayce & Monica. There is also a feature that provides an in-depth look at the iconic music of Yellowstone. This new content will help prepare fans for the conclusion of Season 5 when it debuts this November.
YELLOWSTONE SEASON 5 SYNOPSIS
Determined to protect his land and legacy at any cost, John Dutton takes his fight to the halls of government in the most explosive season of Yellowstone yet. But with greater power comes further scrutiny…of his family, his land, and the morally questionable measures he's taken to protect them both. As new threats emerge and old enemies return, John, Beth, Kayce, Rip, and Jamie learn that power has a price.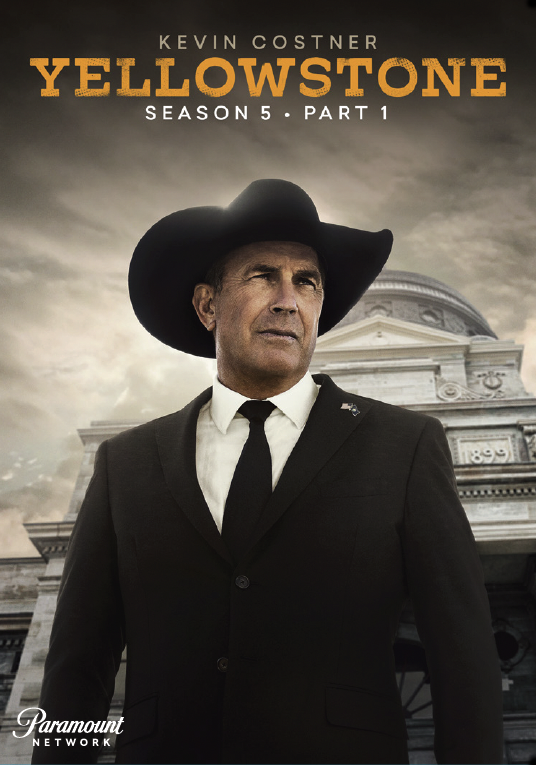 "Yellowstone's record-breaking performance proves we've tapped a cultural nerve and unleashed a passionate audience from the center of the country to each of the coasts." said Chris McCarthy, President, and CEO, of Paramount Media Networks. "Kevin Costner leads our incredible cast who make the Duttons America's favorite family and, this new season is sure to be another one fans won't want to miss."
"We are honored to be able to bring audiences another season of Yellowstone. The continued growth in viewership and the recent recognition from the guilds bolsters our commitment to continue to bring groundbreaking entertainment to audiences," said executive producer David C. Glasser, 101 Studios. 
BONUS CONTENT
The release includes exclusive bonus content and never-before-seen interviews with Kelly Reilly, Cole Hauser, Kelsey Asbille, and Luke Grimes. The cast members reflect on their off-screen friendships, on-screen romance, and the levels of passion and complexities their characters face in pursuit of love. Plus, take a closer look at the iconic music of Yellowstone and how composers Brian Tyler and Breton Vivian translate the epic visuals and sweeping vistas into a musical landscape.
Undeniable Passion: Beth & Rip/Monica & Kayce (Only on DVD & Blu-ray – Includes exclusive interviews)
Musical Crosscurrents with Composers Brian Tyler & Breton Vivian (Only on DVD & Blu-ray – Includes exclusive interviews)
Giving Everything to This Land: Yellowstone Returns (Only on DVD & Blu-ray)
Inside Yellowstone: Season 5
Inside the Real Yellowstone Ranch
Yellowstone: Inside the Phenomenon
Behind the Story for every episode
Stories from the Bunkhouse for every episode
WE WANT TO HEAR FROM YOU
Sound off and tell us what you think! What did you think about Part 1 of Season 5 of Yellowstone? Also, what are your thoughts about Yellowstone ending after this season? That Hashtag Show wants to hear from you.
You can tell us your thoughts by leaving a comment below. You can find me on Twitter at TheIndianaSlone. Also, stay up to date on all your Pop Culture and Entertainment news by following us at ThatHashtagShow.com.
KEEP READING