Star Wars collectors have seen some amazing collectibles this year. From the hit Disney+ series The Mandalorian to Star Wars Celebration, there has been no shortage of collectibles to add to our shopping carts. One collectible that has stood out to me this year is the Gentle Giant Ltd. Star Wars Celebration exclusive Jaxxon Premier Collection Statue. That's right now fans can take this green smuggler rabbit home and add it to their collection. Well, thanks to Gentle Giant Ltd. I was able to get my hands on this statue to review for you.
Star Wars – Jaxxon Premier Collection Statue
I was really disappointed that I was not able to attend Star Wars Celebration this year. But at least I was able to add one of the exclusives to my collection. I really enjoyed reviewing this statue because it is not one of your usual characters. Jaxxon first appeared in the Star Wars world in 1977 in the comics. Since then we have seen him a few times on comic covers and in a Dark Horse Star Wars Celebration exclusive story comic book. Now you can bring Jaxxon home in statue form. This piece is limited to 1500 pieces and retails for $200. You can get your Jaxxon today at Gentle Giant Ltd.
A Gentle Giant LTD release! He's the most unbelievable Star Wars character of all! Straight from the classic Star Wars comic books, the green-furred Lepi known as Jaxxon is the newest Premier Collection statue! Standing approximately 10 inches tall, with twin blasters drawn and dejarik table at his side, this sculpture of the rabbit-like captain of The Rabbit's Foot is exclusively available at New York Comic-Con and is limited to only 1500 pieces. He comes packaged in a full-color box with a numbered certificate of authenticity.

Source: Gentle Giant Ltd.
Star Wars – Jaxxon Premier Collection Statue Review
When doing my reviews I look at many things. Those things are packaging, sculpt and paint quality, and displayability. I also always like to get the negatives out of the way first so we can always finish up on the good stuff. So without any more waiting here are my cons and pros of the Star Wars Jaxxon Premier Collection Statue.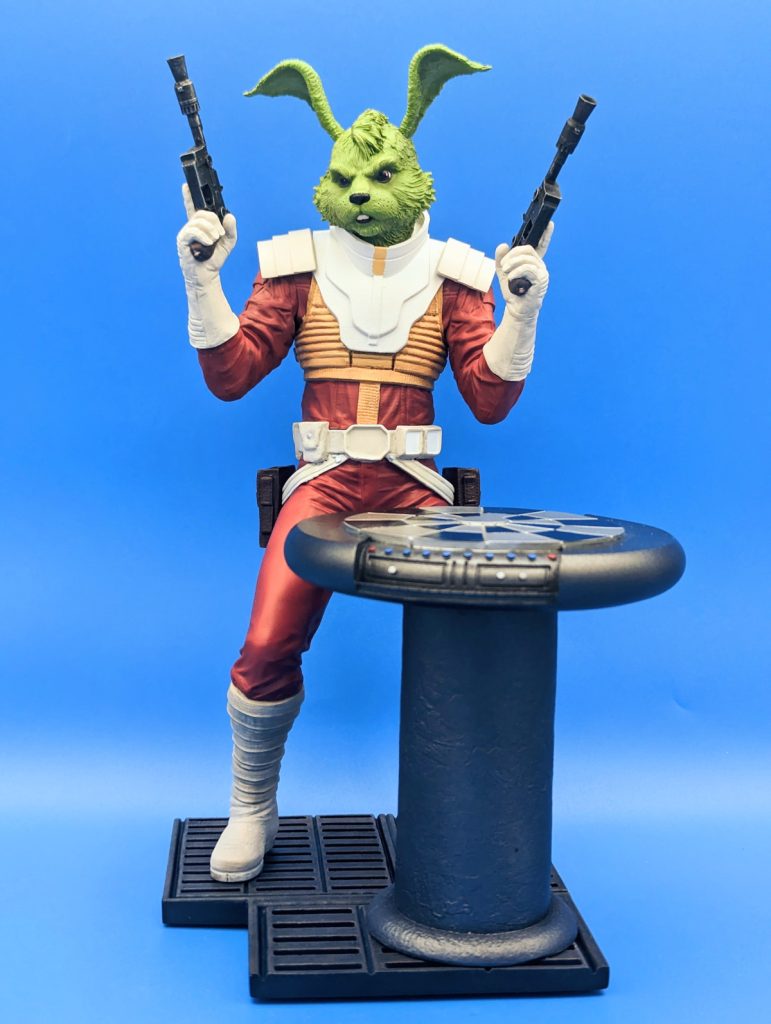 Cons Of The Star Wars – Jaxxon Premier Collection Statue
OK, let's talk a look at some of the cons of the Star Wars – Jaxxon Premier Collection Statue. Once again like most products from Gentle Giant Ltd. that I have reviewed there are very few flaws with this piece. So here are the few things that stood out with this piece.
Now this could vary from statue to statue, but after I attached Jaxxon to the base he was kind of shaky. So if I moved the piece Jaxxon would wobble.
If you are a fan of interchangeable parts you will not get that with this statue. It comes with two pieces, Jaxxon and his base.
Now I know this is a Star Wars Celebration Exclusive but this piece is priced a little higher than some of the other Premier Collection statues.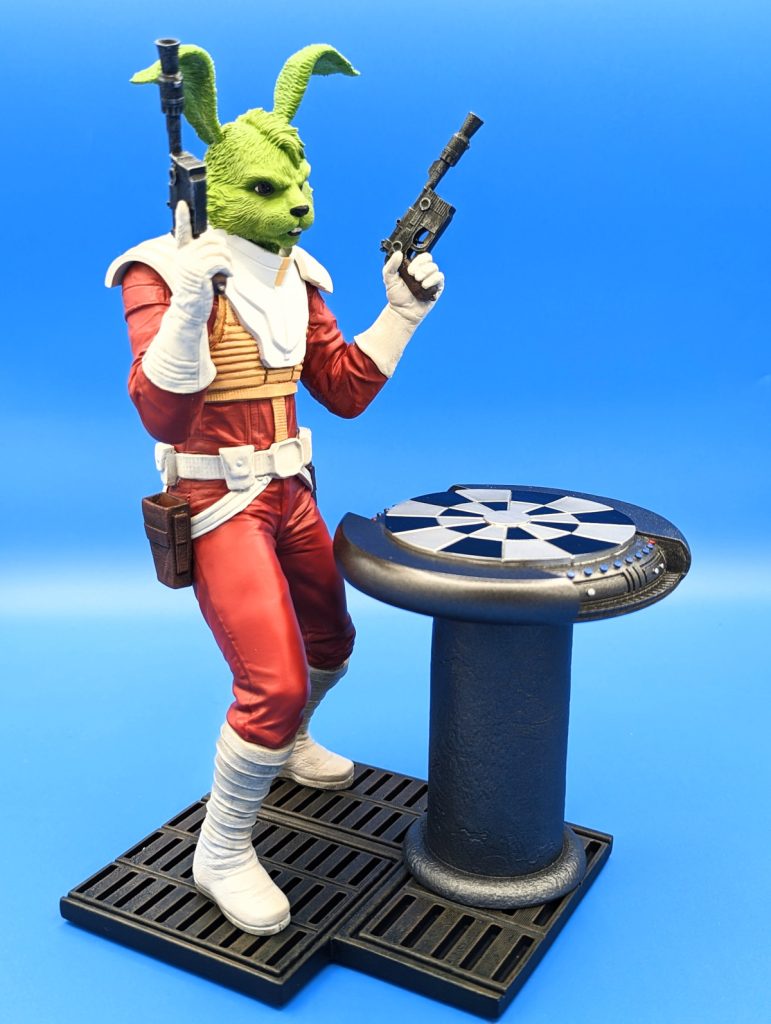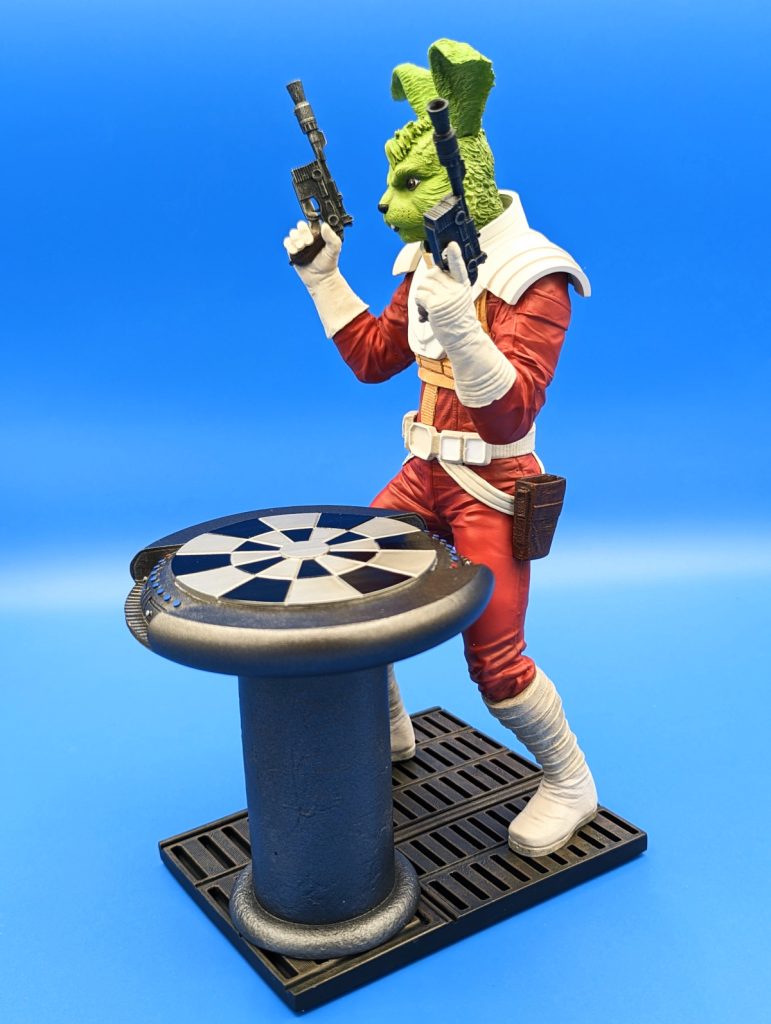 Pros Of The Star Wars – Jaxxon Premier Collection Statue
Now that we got those pesky cons out of the way let's take a look at all of the good things the Star Wars – Jaxxon Premier Collection Statue has to offer.
If you are someone that wants to leave it in the box you are in luck. Like most of Gentle Giant's statues, the box art looks great and the back of the box also gives you a summary of the statue.
This Premier Collection Statue is packaged very well as it is encased in a styrofoam block. It also has plastic around the statue, base, and parts to protect the paint job.
Jaxxon Premier Collection Statue comes with just the statue and the base for it is very easy to assemble and display.
The sculpt of the statue and the base look amazing. This is one of the most detailed bases since the dejarik table is built into it.
The paint job on this statue and base does an amazing job of bringing this statue to life. This is what I would want a live-action Jaxxon to look like.
While most statues just have the base this one gives you a little extra to the look of it with the dejartik table built into the base.
The base is heavy making it hard for the statue to slide around. Also, the base is narrower than some of the other statues so it is easier to display in your collection.
Each statue comes with an individually numbered certificate of authenticity.
My Final Thoughts
Once again Gentle Giant knocked it out of the park with the Star Wars – Jaxxon Premier Collection Statue. This is not only a good-looking statue it is a unique character that we really don't see a lot in collections. The sculpt and paint job looks amazing and when looking closely at the statue I can not even find any flaws. As I said early the cons of this statue are very few, and even with the slight wobble on the base it is not enough for me to give it a bad review. This Jaxxon statue is a must-have for any Star Wars collector that is looking for a unique piece in their setup.
WE WANT TO HEAR FROM YOU
What are your thoughts on Star Wars – Jaxxon Premier Collection Statue from Gentle Giant Ltd? Is this a must-have for your collection? Also, what other items from Gentle Giant Ltd. are you looking forward to? That Hashtag Show wants to hear from you.
You can tell us your thoughts by leaving a comment below or hitting me up on any of my social media platforms at NerdyVet574. You can also join me at the Midwest Star Wars Fanatics on Facebook to chat about all things from the galaxy far far away. Don't forget to stay up to date on all the Star Wars news by following us at ThatHashtagShow.com. More importantly, be safe, We can't wait to see you all at Celebration 2025.
SEE ALSO: